Try this Seafood Menu for New Year's Eve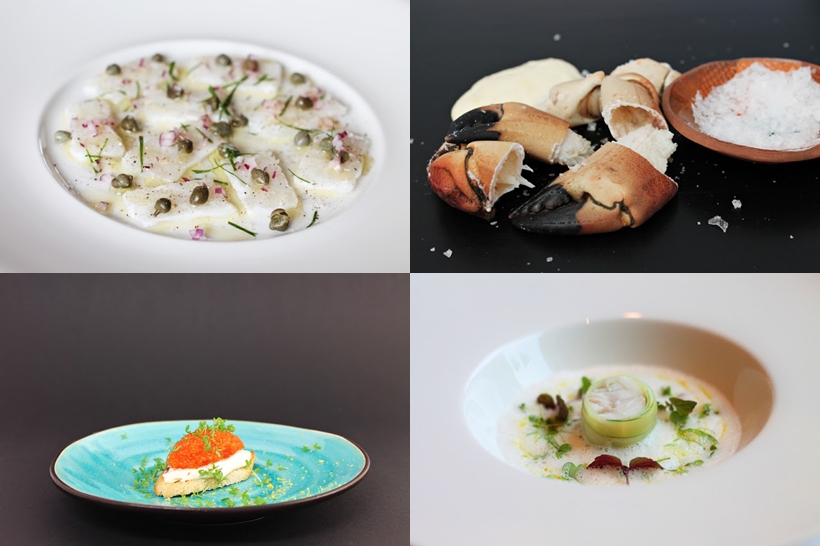 For me seafood on New Year's Eve is a must, it just brings that extra little something. So we have put together a menu for all you seafood lovers. So try this seafood menu for New Year's Eve.
So it's time for some seafood. This menu comes in three servings. We start with three different appetizers for the first serving then move on to a cod carpaccio as a starter and for the main course we are going for more cod. The dessert is up to you, enjoy and happy new year!
Seafood Menu for New Year's Eve
Appetizers
Oysters with grapefruit, onion, chilli & chives
Crab claws with aioli & salt
Roe on toast with cress and lemon crème fraiché
Starter
Cod carpaccio with capers and red onion
Main course
Cod with fennel, champagne sauce & fresh herbs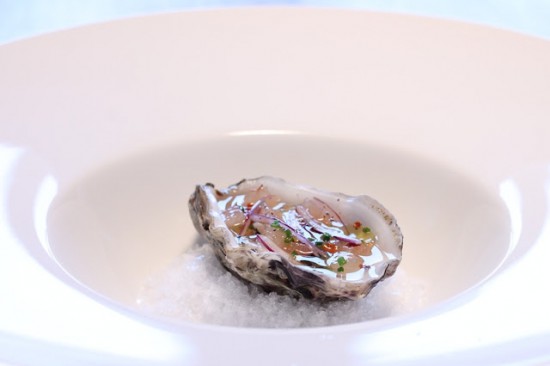 Oyster with grapefruit, onion, chilli & chives
serves 4
I made the recipe so there will be two oysters for each person, just adjust it to how many you are serving or how much you like oysters.
8 fresh oysters
1 pink grapefruit
1 red onion
fresh chives
lemon juice, from one lemon
1 tsp chili flakes
1 tbsp olive oil
Open the oyster and place on some salt or crushed ice to keep it standing. Cut filets from the grapefruit and cut into dices. Slice onion and chives. Add grapefruit, onion, chives and some chili flakes to the oyster. Finally squeeze some fresh lemon juice and add a few drops of olive oil on top. Serve immediately.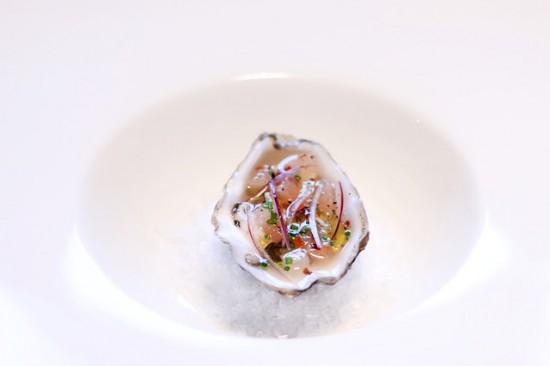 Crab claws with aioli & salt
serves 4
Not much to it, if you can't find raw crab claws then it's fine to use cooked if you have a good place to buy shellfish, and if you're feeling extra lazy go ahead and buy the aioli as well. If not then follow the recipe below.
600g raw crab claws
salt
dill (optional)
water
People like to put beer, sugar and all sorts of things in the water when they cook shellfish, I prefer salt, water and dill. Bring water to the boil, add the salt  and if you're using dill then that too. Taste the water, it should have about the same saltiness as sea water, somewhere between 3-5%. When the water is boiling add the claws and bring the water to boil again. Then remove from heat and let cool in the water. You can serve them warm or cold.
Now time for aioli, you'll need
2 egg yolks
1 tsp Dijon mustard
1 clove of garlic
1-2 tbsp vinegar
2 dl / 7 oz neutral tasting vegetable oil
salt, pepper
I use half a teaspoon of mustard and a small clove of garlic for each egg yolk but adjust according to taste. Whisk the egg yolks with the mustard, vinegar and crushed garlic, add some salt and pepper right away.
Add the oil slowly and whisk during the whole process, stop adding oil when the aioli is thick enough. Season with mustard, garlic, vinegar, salt and pepper according to taste. Good luck!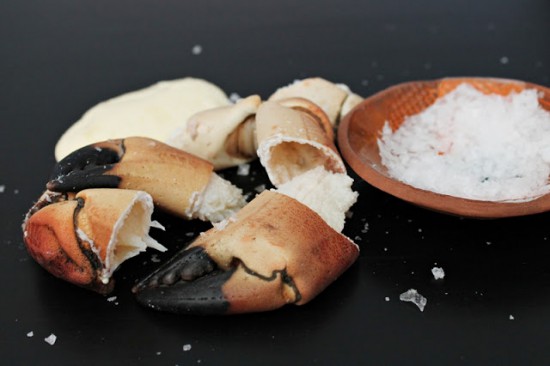 Roe on toast with cress and lemon crème fraiché
Good tasting roe on grilled bread with some lemon flavored crème fraiche and fresh cress to give it a bit of spice. Classic, simple, elegant and great tasting.
This is very simple to make and is usually very appreciated, you can use any good tasting roe you like. For these pictures I used lump roe which is a really cheap one with a rough saltiness and hard pearls that pop in your mouth. It´s not the ideal roe but a great alternative when you're on a budget.
If you can afford it on your budget you can go way higher and usually the quality and taste will be adjusted with what you pay.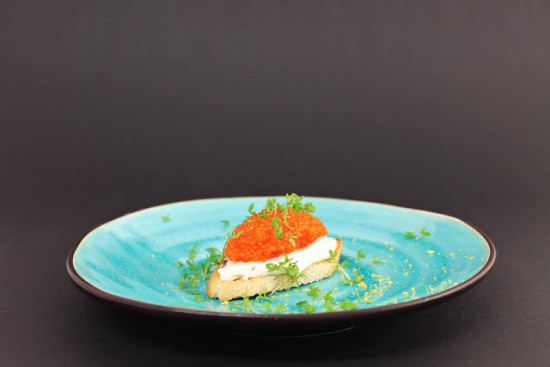 Roe on toast with cress and lemon crème fraiché
serves 4
4 slices white bread
150g / 5,3 oz roe of your choice
cress
100g / 3,5 oz crème fraiché
1 lemon
salt, pepper
Cest the lemon and combine with the crème fraiché, season with salt and pepper and let sit for one hour to let the lemon taste develop. You can also add lemon juice if you want more acidity and lemon taste.
Slice the bread and grill, let the bread cool off and then spread the lemon crème fraiche on top, add a spoonful of roe on top and finish off with some fresh cut cress.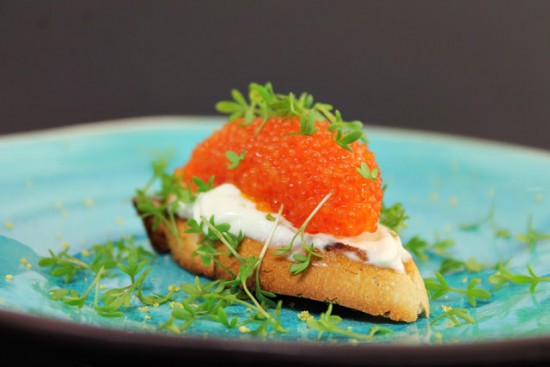 Cod carpaccio with capers & red onion
serves 4
One of my favorite recipes of all time, very refined taste and super easy to make. Just make sure to get a super fresh cod.
300g / 10 oz fresh cod fillet
3 tbsp capers
parsley
1 red onion
3 tbsp olive oil
2 + 2 tbsp lemon juice
black pepper
salt
Slice the cod in thin slices, salt the cod and squeeze over some lemon juice. Let marinate for about 20 minutes. Finely dice the red onion and cut the parsley into a fine julienne. Arrange the cod on a plate and add the onion, new lemon juice, salt, olive oil, parsley and capers. Serve immediately.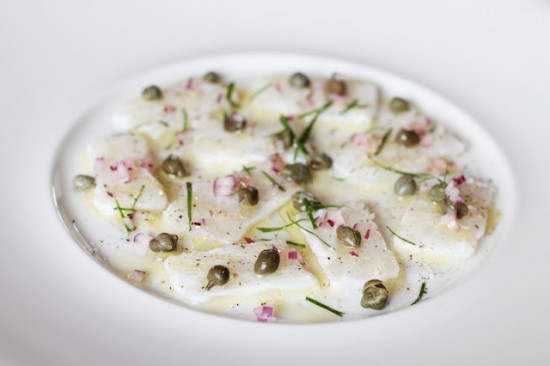 Cod with fennel, champagne sauce & fresh herbs
serves 4
This recipe was originally made in the size of a tapas, luckily it works great when making it bigger as a main course. You'll need something on the side, maybe some steamed vegetables or potatoes.
I shaved the fresh fennel and then wrapped it around the cod fillets and fixated it with cling film. Then I poached the fish in water for about ten minutes. This may look a bit tricky and it can be but it´s a fun way to present the fish in a new way. It makes no difference for the taste of the dish so if you don't want it to get to complicated then just serve the fish with the fennel lightly cooked on the side.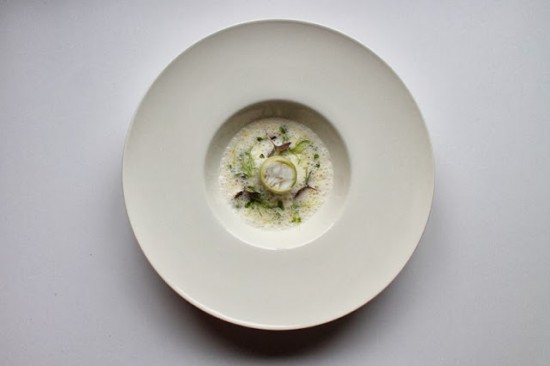 600g fresh cod fillets
3 dl champagne or dry white wine
4 fennel / anise bulbs
5 dl fish stock
3 dl heavy cream
2 shallots
fresh herbs, dill, cress, fennel
salt, pepper
butter
Season the cod with salt and pepper, shave the fennel lengthwise and put them side by side on top on a sheet of cling film so that almost the whole piece of film is covered. Put the cod fillets on the fennel and wrap the whole thing around the fish. Make sure the film don't get stuck in between the fennel.
Steam or poach the fish for about ten minutes, you can carefully stick a thin knife to check if it´s done before opening the package. Dice the shallot and cook on medium heat in butter until soft, season with salt and pepper and then add the champagne, let it reduce by half and then add fish stock and once again let it reduce by half.
Add the cream to the sauce and let it reduce a little bit more, season to taste and the mix the sauce using a handheld mixer. Before serving add a few drops extra of champagne. Remove the film from the fish and carefully slice it and place in a deep plate, add the sauce and fresh herbs. Serve.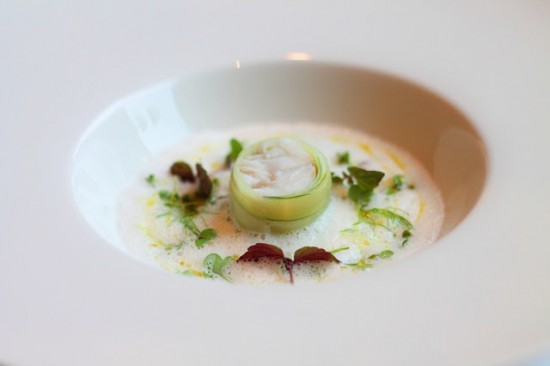 New Year's Menus at Ateriet
We've rounded up some of our favorite recipes and created a few different menus based on different themes. We've left out the desserts and focused on the starters and main courses. Most of the recipes are served in small bites but they are all easily scaled up to work great as main courses. You can check out all of the menus under our tag New Year's at Ateriet.
If you recognise some of these recipes they have been posted before on my previous food website Delicious Tapas and some of them have been featured here at Ateriet before. Happy New Year!