Smoked Salmon with Horseradish Cream and Chive Oil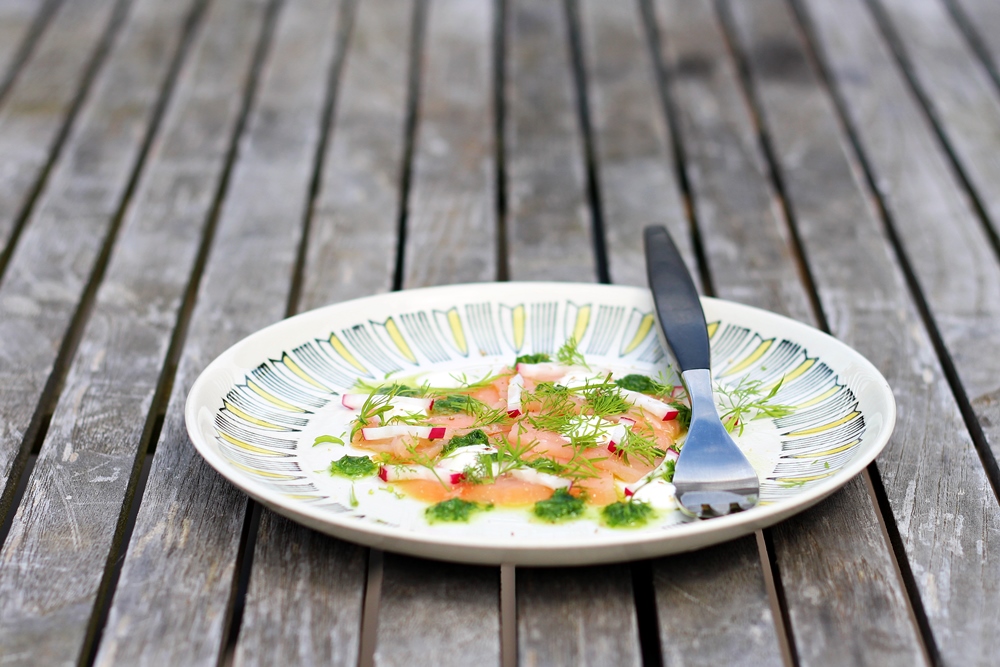 Learn how to make smoked salmon with horseradish cream, a great appetizer on any day, but it will be amazing during spring and summer.
Smoked salmon can be used in so many ways. So if you get stuck in your cooking and need to come up with something new then getting some smoked salmon might be a good idea. It is very versatile and can be used for pasta dishes, garnish soups, appetizers, pizza and sandwiches. This time I was in the mood for a fresh spring or summer appetizer so I made a horseradish cream, added a simple chive oil, a bit of dill and to add some crunch some raw radishes, that´s all it needs!
Smoked Salmon with Horseradish Cream and Chive Oil
serves 4 as an appetizer
About 8 oz / 225g smoked sliced salmon
0.4 cups / 1 dl creme fraiche
1 piece of horseradish, about the size of half a thumb
4 tbsp chopped fresh chives
dill
4 tbsp olive oil
salt, pepper
8 radishes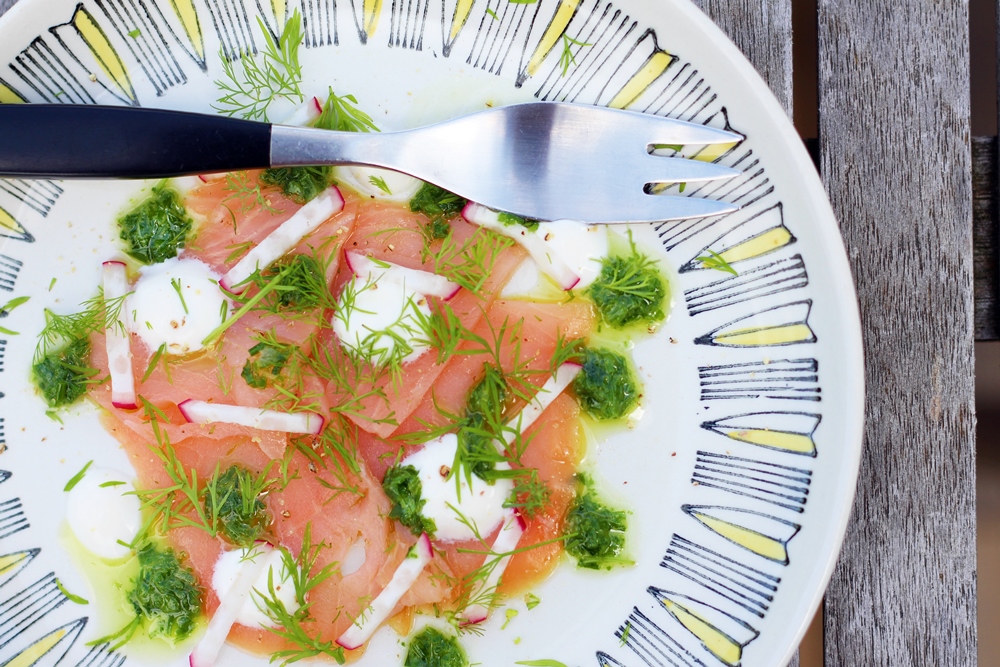 Peel and grate the horseradish and combine with the creme fraiche, season with salt and pepper. Leave to rest for about one hour to two hours. Do not add any extra horseradish if you think it is too bland because the flavor will get stronger after marinating.
In a blender mix the chives with the olive oil, salt and pepper, wash and cut the radishes into thin strips. Add the smoked salmon to a plate, add the horseradish cream, chive oil, some dill and the radishes, serve!
This is one of those dishes that you can experiment with and easily turn into something else. Just to name a few examples, why not make exactly this dish but put on a fresh bagel or a nice piece of toast? Or skip the horseradish and toss it with some fresh pasta? That will turn this exact dish into something else, make it bigger and add salad and lunch is done, make it smaller and serve it on a buffet. The possibilities are endless, just try things out. What's the worst that can happen?
If you want to try a completely different salmon recipe I've got this Salmon Crudo with Pickled Pear that is quite nice as well, enjoy and good luck!