Soft Boiled Egg with Broad Beans & Shrimps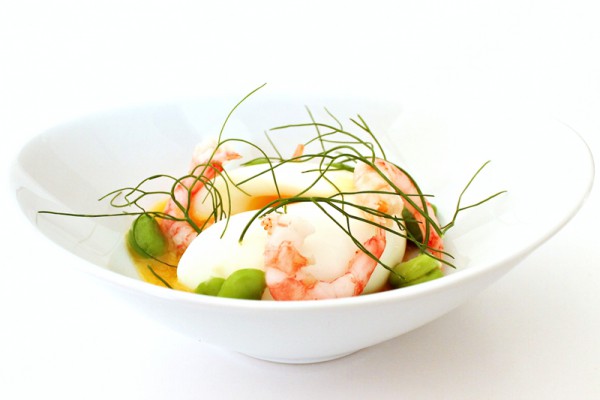 Sometimes you need dishes take can get done in minutes. This is one of those dishes, a perfectly cooked egg, a handful of fresh shrimps, some broad beans and dill and you've got yourself a great appetizer. Let's make Soft Boiled Egg with Broad Beans and Shrimps.
Not much effort goes into this recipe but that's one of the charms of tapas and appetizers, you can keep it as simple as you like. I used frozen broad beans when I made this and I think they work great but if you have fresh ones then you should, of course, use them.
Like I already mentioned this is almost not even a recipe, more like good things put together. I serve it in a small bowl but you can serve it in other ways as well. Why not like a toast or on a regular plate with some croutons and a few leaves of arugula sprinkled on top? That's the beauty of simple food like this, you can just add or remove what you don't like and put on more of the things you do love.
Soft Boiled Egg with Broad Beans & Shrimps
serves 4 as an appetizer
4 eggs
Fresh Dill
4 tbsp broad beans, peeled
1 handful, about 25 fresh shrimps
salt
Peel the shrimps and broad beans. Set aside. Boil the egg, I boiled this one for five minutes and added it to already boiling water. You can adjust if you want it boiled more, but remember that the creaminess of the yolk is a big part of this dish. If you overcook the egg it will not be as good. Once the eggs are done peel them and then add one egg to each serving bowl. Sprinkle with salt, add the beans and shrimps to the bowl and then cut up the egg. Add the dill on top. Serve!
For more recipes check out my full coverage here. If you are on the hunt for other egg recipes I have a small collection of a few great ones here.