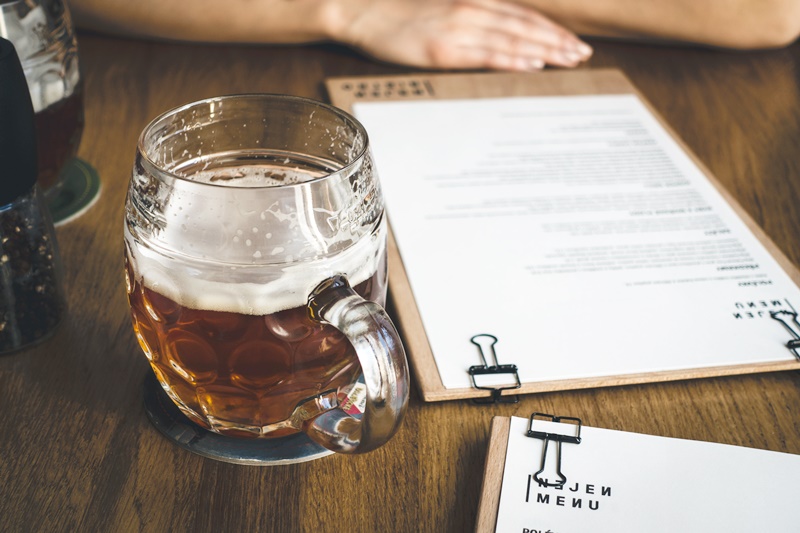 Time to listen to music about beer, tag along as I list 10 songs about beer that you should hear. Let's talk beer and music.
I'm not sure how this started but at one time I started to notice that I had slightly too many songs in my playlist about drinking than what is normal. Now I'm not sure what is normal but at least twenty songs in one of my lists was related to drinking.
So I started to dig a little bit deeper and as it turns out there is lots of music being written about drinking and beer in particular. When you think about it does make sense. Most music (at least the good stuff) is created under the influence of some sort of substance so once the normal songs about love that went wrong is done inspiration needs to come from somewhere else. That's where beer steps in.
So since this is a place for food and food culture it made sense to make a list of 10 songs about drinking beer that you need to hear. (Note: It makes no sense, I just felt like doing it). Some of these are really great songs, some are not. But they are all about beer, enjoy.
Let's start out strong with this folk punk song by Jesse Stewart. The song was put up on Youtube in 2014 and have been a favorite for many since then, including me. The song is a cover by the not so great version
Cry Tunes by Donnie Dumphy
. The video have more than two million views which is a lot if you consider that folk punk is not the biggest genre out there.
Jesse Stewart who makes this version is available with more songs on Youtube and most streaming services, sadly the sound quality is rarely great. There is no question about the love for beer in this song, the chorus goes like this.
Cold, cold beer, don't you ever worry I am right here
Never live without you, don't care what I amount to, no
Talkin bout cold, cold beer, don't you ever worry, I am right here
Can't ever live without you
The song Beer by Reel Big Fish was one of my favorite songs in the 90's when I was under heavy influence of ska punk with sing along chorus. When it comes to that genre this is a great one. I'm actually humming along as I write this. The song was on the Reel Big Fish debut album Everything sucks released in 1995.
Beer! by Psychostick is sort of psycho. The video is done karaoke style but I don't see this one being a huge hit at Karaoke bars worldwide. If you love screaming beer is good you will love it though. From the views on Youtube there seems to be many of you that likes to do just that since this video has over 7 million views.
Beer in Mexico is a song from Kenny Chesney. This could be the worst song about beer I ever heard. The song was the fifth single from Kenny Chesney's album The Road and the Radio. According to the liner notes of the album the song was written while Kenny was on vacation in Cabo, Mexico for Sammy Hagar's birthday. I had no idea that Kenny and Sammy were on such bad terms with each other.
Wheeler Walker Jr is a character made by comedian Ben Hoffman. Wheeler Walker Jr released his debut album in February 2016. The album is called Redneck shit. Part of the fun thing about it is the highly offensive language. According to the
Wheeler Walker Jr wiki page
it was the first album to reach the Country Music List in the US with an explicit language stamp on it.
Beer Drinkers & Hell Raisers comes from the Tres Hombres album first released in 1973. This was before ZZ Top started experimenting with synthesizers so there is a heavy rock and blues sound to it. In 1980 the British band Motörhead released an EP named after the song where singer Lemmy Kilminster and guitarist Eddie Clarke trade lyrics just like Billy Gibbons and Dusty Hill does in the original version.
The EP from Motörhead was a collection of songs recorded during the studio sessions of their original album Motörhead released in 1977.
The blues legend of all blues legends John Lee Hooker recorded this song called One bourbon, one scotch, one beer. Originally it was called One scotch, one bourbon, one beer and was written in 1953 by Rudy Toombs and recorded by Amos Milburn. John Lee Hooker recorded his version in 1966. Hooker did make the song his own by rearranging some of the lyrics and changing the tempo of the song.
And then I sit there, drinkin', gettin' high, mellow, knocked out, feelin' good
About that time I looked on the wall, at the old clock on the wall
About that time it was ten-thirty then, I looked down the bar at the bartender, he said
'What do you want, Johnny?', one bourbon, one scotch, and one beer
Rodney Carrington is a stand up comedian and a musician. He usually combines these two things at his shows, being funny and singing his original songs. This one is called Titties and beer. I'm fairly confident you can guess what it's about.
The band Fidlar released this one in 2012 and it takes a stab at the craft beer trend. The video features a biker who is on the hunt for people enjoying imported (if you're in the US, that is) expensive beer. He rides from house to house and warns the drinkers to stay off the imported expensive stuff and stick with cheap beer, cheap beer is also the title of the song. The video ends with that one of the previously warned drinkers try to open up a bottle of Chimay so the biker has to return and blows up the house. So stick with the cheap stuff.
I end this list with this great song by Tom Waits called Warm Beer Cold Women which must be one of the best titles for a song ever, at least if you're into slightly depressing singer songwriter music. And like your beer warm and your women cold. As a bonus this live version is from Danish television with subtitles in Danish. So if you want to pick up some Danish now is the time. The live session was aired in Denmark in 1976.
Warm beer and cold women, I just don't fit in, Every joint I stumbled into tonight
That's just how it's been, All these double knit strangers with
Gin and vermouth and recycled stories, In the naugahyde booths
With the platinum blondes, And tobacco brunettes
I'll be drinking to forget you, Lite another cigarette
And the band's playing something' By Johnnie Barnett
And the drinks are on me tonight