Spinach salad with capers, Parmesan cheese and radishes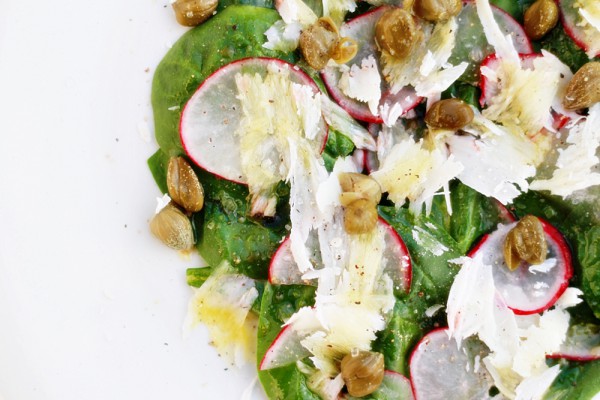 Try this simple Spinach salad with capers, Parmesan cheese and radishes. It's the perfect appetizer salad or a great side for meat or fish.
This is one of my absolute favorite salads, mostly because the first time I made it was using vegetables that I grew myself. After living in an apartment for years and not having the luxury of being blessed with a garden me and my family decided to move to a house in a smaller town.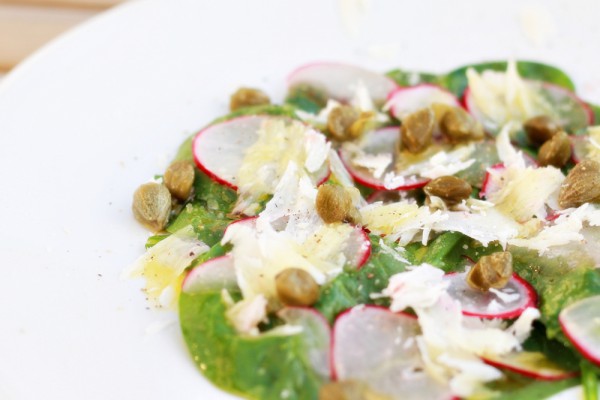 This blessed us with a garden and it was one of the first things I started working on (even though there were load of other more important things to do) and about a month or two later i pulled my first radishes and baby spinach out of the land and went for a treasure hunt in my fridge.
I came across some left over capers and I always try to have some Parmesan at hand so I combined it all and dressed it with only olive oil, red wine vinegar, salt and pepper. One of the greatest salads I´ve ever come up with. And it´s not only memories that make it great, I´ve done many times after using both home grown and bought ingredients and it great every time, so go make some!
Spinach salad with capers, Parmesan cheese and radishes
serves 4 as an appetizer or small side salad
100g / 3.5 oz baby leaf spinach
10-20 radishes
50g Parmesan cheese
4 tbsp capers
1,5 tbsp olive oil
2 tsp red wine vinegar
salt
pepper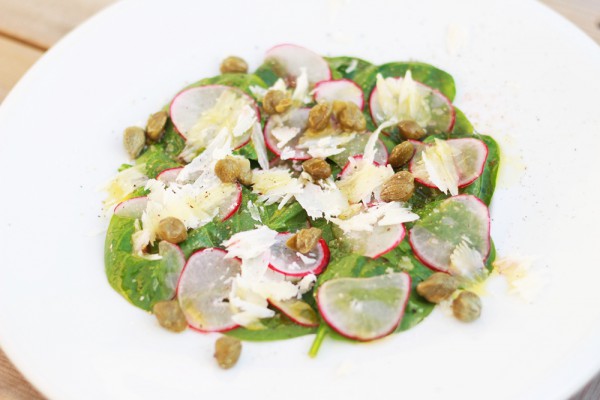 Rinse the spinach and radishes, slice the radishes as thin as you can. Dress the spinach with olive oil and vinegar. Plate the spinach and put the sliced radishes on top. Shave some Parmesan on top and add the capers. Season with salt and pepper and add a few extra drops of olive oil.