Stubbs 1968 – Great looking ads for a classic sauce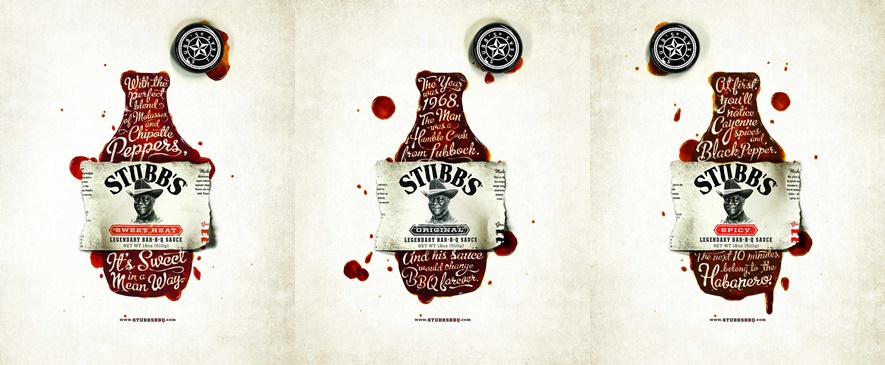 Check out the great looking ads for the classic barbecue sauce Stubbs 1968, with some saucy typography and some barbecue inspiration they make you want to start up the grill.
These Stubbs 1968 ads are made for the classic barbecue sauce Stubbs. At first glance, they don't seem that special but the more I looked at them the more I liked them. The idea is not new and not original but it looks great and it shows the product in a creative way.
The sauce has been shaped into the same shape as the glass bottle that usually holds the sauce. The label is put in the middle. And in the sauce, a description of the sauce has been written.
I love the style of the ads and how well it connects with how the regular bottle looks. Stubbs is not just a sauce, there is a real story behind this BBQ brand, let's find out more.
About Stubbs BBQ and Sauces
Stubbs was first started as a Stubb's Bar-B-Q in Lubbock, Texas in 1968 by former military man CB Stubblefield, it is him you see on the bottle today. The original building seated 75 people at the most. The place quickly became a hangout and venue for blues and barbecue. In 1985 Stubb's closed its original location and relocated to Austin, Texas in 1986. In Austin Stubb's started bottling and selling his signature sauce to friends and guests at the restaurant.
Then in 1991 Stubb's friend Joe Ely brought a bottle of Stubb's sauce to The Late Night Show with David Letterman. This lead to Stubb's himself being a guest and showing off his barbecue skills. A year later the sauce was introduced in regular stores. CB Stubblefield himself passed away in 1995. Now, what was once a small BBQ place in Lubbock, Texas is a big international BBQ brand with a big range of sauces, rubs and marinades for your next BBQ. For more check out Stubb's here. If you want to see more great food ads then check out my full collection here.