Get Sweden's best lunch at Saltimporten Canteen in Malmö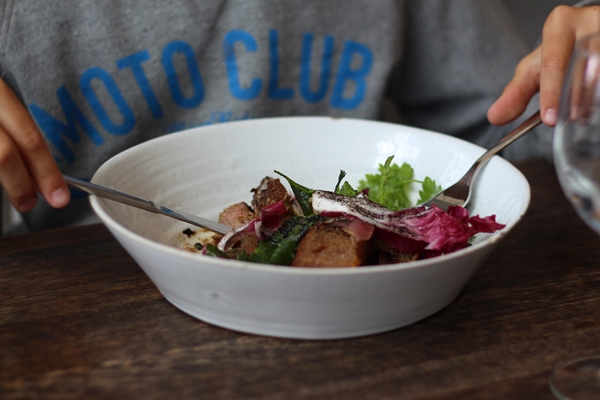 Saltimporten Canteen is a small restaurant in Malmö which serves what must be considered the best lunch in Sweden.
We have now tried out a simple lunch canteen in Malmö, Sweden a few times and found what is probably the best lunch in Sweden. The restaurant is called Saltimporten Canteen and it's not like other restaurants. It is located in the industrial harbor in Malmö. It's close to nothing. They only serve two dishes each day. You can't make a reservation. On the plus side its crazy cheap to eat there and everything we tried have tasted amazing.
The Story
Saltimporten Canteen was started in 2012 by celebrated chefs Ola Rudin and Sebastian Persson after closing their previous restaurant Trio which was considered to one of the best in Sweden up until it closed. Trio was a more traditional fine dining restaurant, they served slightly experimental tasting menus and were loved by their guests up until they closed in 2011. One part of the trio left after the closing and left Ola Rudin and Sebastian Persson without a restuarant.
But in 2012 what would be Saltimporten Canteen was started, at first without a kitchen but after a little bit of time things fell into place. Saltimporten Canteen is now situated in the Malmö industrial harbor in a building that is packed with creative companies. Other companies in the building do things like art, graphic design, photography, furniture design and advertising.
Interior
The restaurant consist of only one room with long tables where you will find your own place to sit. Don't expect too much privacy but you'll probably be focused on eating anyway. The interior is made up of white walls, wood and concrete. We can call it Scandinavian in its purest form.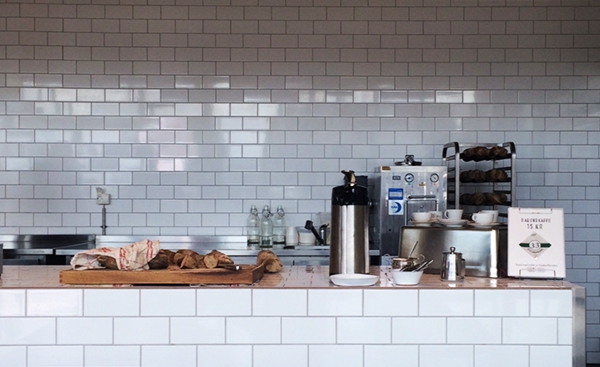 You place your order at canteen desk in the back of the room and get your food almost immediately. Along with the food bread and water are free with the lunch. There is also a small selection of beer, wine and non alcoholic drinks. There are two dishes to choose from each day. One with meat or fish and one vegetarian choice that is the same throughout the week.
The Food
The dishes are only describe with a few words of the dominant flavors and ingredients. The food is what could be called a modern rustic, there are often slow cooked meat, broths and very rich flavors but at the same time it is very fresh. There is plenty of vegetables in each dish and not very heavy on the carbohydrates. Each dish is served in a deep plate in a very simple and rustic way. All flavors and very intense and.. it just tastes great.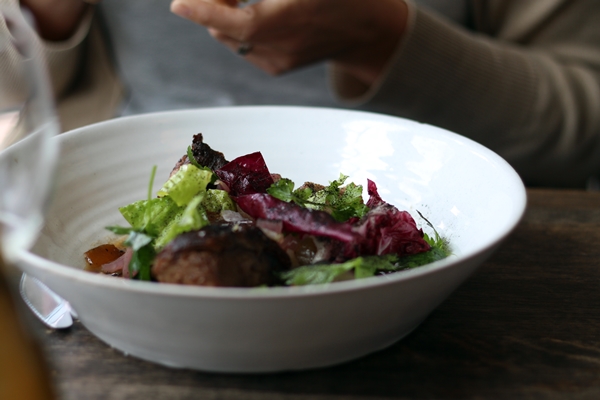 Think about a sunday stew you grandma used to serve. Only after eating it you feel more like you've had a few pieces of sushi and not like you never want to eat again. But you're still full. And you've only spent 85 kr (around $10). Doesn't sound too bad does it?
Where is it?
Late last year Saltimporten also teamed up with Fool Magazine and if you don't feel like taking a trip to the harbour you can get the same weekly menu at their office/gallery, but only for take out.
Besides serving food at Saltimporten Canteen both Ola Rudin and Sebastian Persson make food events, catering and parties on the side. And the restaurant is available for hire. Just not at lunch time.
Saltimporten Canteen is open all weekdays from noon til two, to keep up with their latest news check out their website, Instagram or Facebook.
Saltimporten Canteen adress is Hullkajen, Grimsbygatan 24, Malmö
And for the take out at Fool Magazine go to Regementsgatan 8, Malmö
Ateriet Restaurant Reviews
Ateriet loves restaurants and we eat out as much as we can. Although Ateriet's focus is not mainly reviewing restaurants sometimes we find places that are worth writing about. All those can be found under the tag Restaurant Reviews. We visit way more restaurants than we write about. It's also worth noting that we don't give out grades or anything like that, we just eat. Then sometimes we write. Enjoy.