Take a look at The Homemade Vegan Pantry Cookbook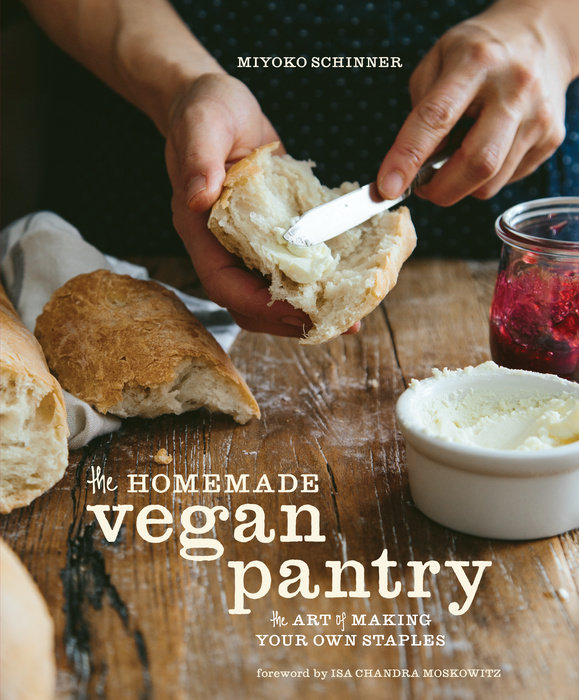 Fill your pantry with the help of The Homemade Vegan Pantry Cookbook
Meat is out and going vegan is in. At least that is what we should be doing according to many researchers opinion, both for our health and our environment. Now I do eat my fair share of meat myself but that doesn't mean that this could be reduced and one of the big problems when you want to do that is. What do I eat instead?
That is where The Homemade Vegan Pantry cookbook comes in. Author Miyoko Schinner have written a guide cookbook on how to create vegan versions of the staple ingredients that could be so hard to exclude and will make you fall back to the old stuff when you've already committed to try a vegan meal or even trying on a new lifestyle completely.
In the book you'll learn how to create vegan yogurt, butter, mayonnaise, cheese and loads of other stuff as well. And this book could be equally great for all you already commited vegans since a lot of those substitutes that already exist often are over processed and come packed with additives. Plus you'll learn stuff and will save money doing so.
The Homemade Vegan Pantry was released on the 16th of June by Penguin Random House and is available where you get your books.
About Miyoko Schinner
MIYOKO SCHINNER is a vegan chef, author of three cookbooks (Artisan Vegan Cheese, Now and Zen Epicure, and Japanese Cooking), co-host of Vegan Mashup on the Create Channel, and star of her own online show, Miyoko's Kitchen. She is a regular cooking instructor in the nationally renowned McDougall Program and at major vegan festivals and events around the country. Her vegan cheese company will begin shipping to natural foods stores in late 2014. Schinner has appeared in numerous publications and on television and radio, including VegNews, Chicago Tribune, LA Weekly, NPR, ABC World News Tonight, San Francisco Chronicle, Washington Post, New York Post, and Eating Well. Visit ArtisanVeganLife.com.