Take a stand against additives with Chipotle Taste Invaders game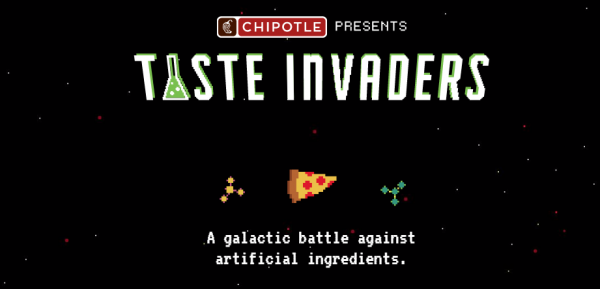 Chipotle Taste Invaders is a online 8 bit retro style game from Chipotle. In this Space Invaders style game you can help destroy food additives and enjoy yourself in the process.
Chipotle is known for their often great ad campaigns and this one is no different. Now Chipotle have made a Space Invaders style game called Chipotle Taste Invaders. In the game you are a burrito and you shoot lasers to kill the additives that are coming for you.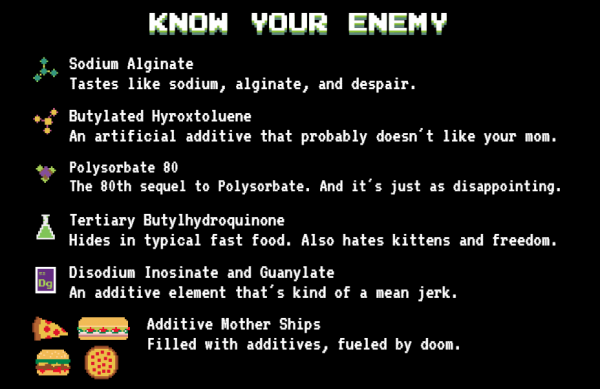 And the enemy is not nice, here is how they are described in the game.
Sodium Alginate – taste like sodium, alginate and despair.
Butylated Hyroxtoluene – An artificial additive that probably doesn't like your mom.
Polysorbate 80 – The 80th sequel to Polysorbate. And it's just as disappointing.
Tertiary Butylhydroquinone – Hides in typical fast food. Also hates kittens and freedom.
Disodium Inosinate and Guanylate – An additive element that's kind of a mean jerk.
There are also motherships in the game that look like burgers, subs and pizza slices. They are described as Additive Mother Ships – Filled with additives – fueled by doom.
So there really are no excuses, head over to Chipotle Taste Invaders and start playing. While writing this the high score is at 128,325 but I will spend most of my day trying to beat it, join me?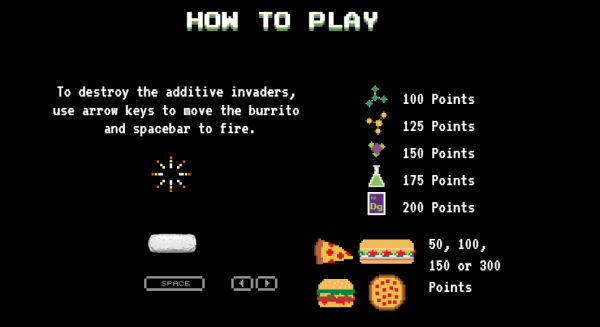 About Chipotle
Chipotle or Chipotle Mexican Grill is a fast food chain of restaurants in the United States specializing in Mexican food like burritos and tacos. Chipotle is originally the name for smoke jalapeno chili.
The company is known for using natural and organic ingredients, a rare thing in the fast food world.
Chipotle was founded by Steve Ells in 1993 who have attended the CIA (Culinary Institute of America) in New York. After noticing the popularity for tacos and burritos in the San Francisco Mission District Steve took this idea to Denver, Colorado where the first Chipotle was opened. It is said that Steve calculated that he had to sell 107 burritos per day to be profitable. After one month Chipotle was selling more than 1000 burritos per day.
Chipotle now has around 1800 locations and is one of the fastest growing food chains in the world. It is also one of the best tasting.