Textile Meat – Beautiful Food Art by Tamara Kostianovsky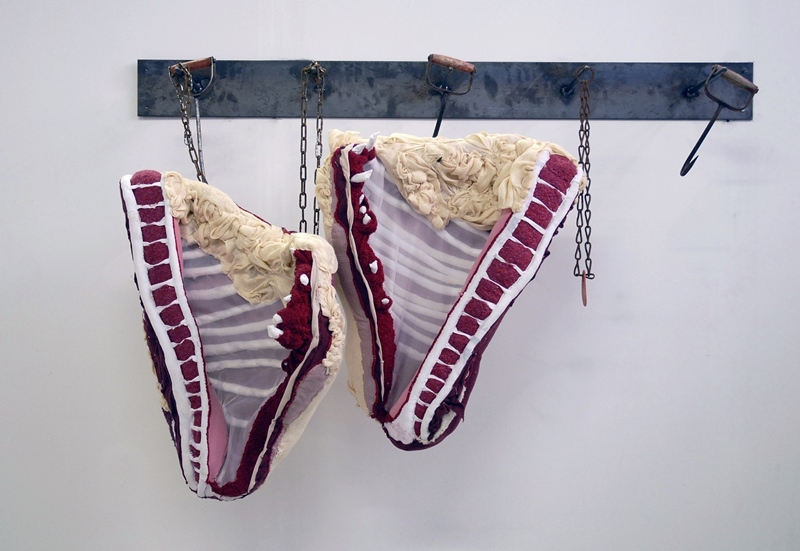 Artist Tamara Kostianovsky have made this beautiful exhibition of Textile Meat. Whole pieces of meat looking like they come straight out of the slaughterhouse all made out of textiles.
Textile Meat was the idea for the project Actus Reus by artist Tamara Kostianovsky. The exhibition features a slaughtered cow all made out of discarded fabrics.
In the project she has featured most of the parts you will end up with when slaughtering a full cow. Skin, a full carcass, legs, spines and bellies. At a quick look you almost doesn't notice that it's not real meat you see hanging on the hooks. Step closer and you'll see that all the textile meat really is just discarded fabric turned into art. Amazing project worth taking a closer look at.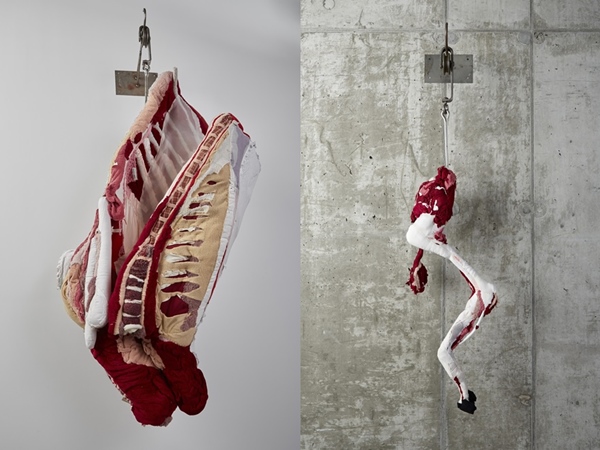 Tamara Kostianovsky's work has been widely exhibited both nationally and internationally, in solo and group shows at venues including The Jewish Museum, NY; El Museo del Barrio, NY; Nevada Museum of Art, NV; Socrates Sculpture Park, NY; Friedman Benda Gallery, NY, Magrorocca Galleria d'arte, Milan, Italy; The Volta Show, NY; Maison et Object, Paris, France; and the Urban Institute for Contemporary Arts, Grand Rapids, MI amongst others.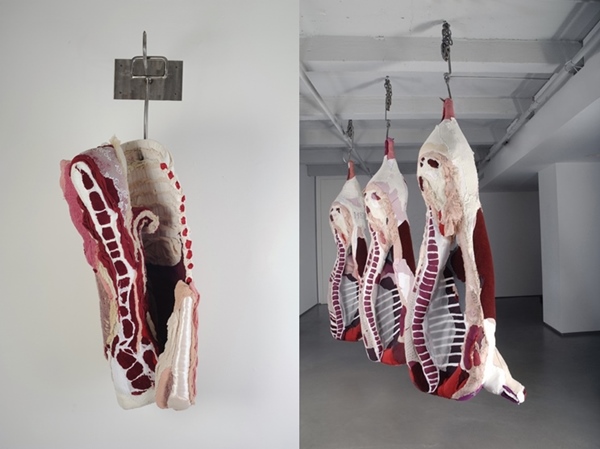 The artist is the recipient of several grants and awards. Selected awards include: The John Simon Guggenheim Memorial Foundation Fellowship, The New York Foundation for the Arts (NYFA) Fellowship, two Pollock-Krasner Foundation Grants, and a grant from The Pennsylvania Council on the Arts.
Born in Jerusalem, Israel and raised in Buenos Aires, Argentina, Tamara Kostianovsky was educated at the National School of Fine Arts of Buenos Aires, Argentina (B.F.A.) and at the Pennsylvania Academy of the Fine Arts, Philadelphia, PA (M.F.A. Sculpture). She is currently a faculty member at the School of Visual Arts, NY and a lecturer at the Museum of Modern Art, NY.