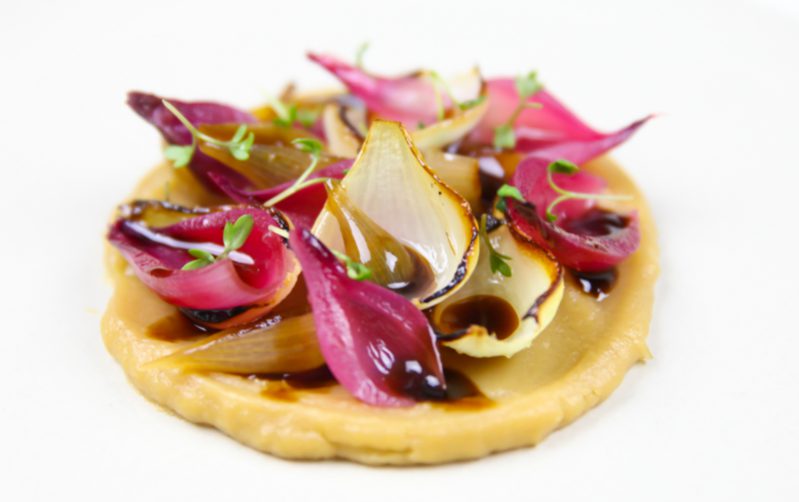 Try this great almost vegetarian appetizer, three types of onions with sunchoke cream and cress.
So I made this appetizer with three types of onions with sunchoke cream and cress. The recipe is not very complicated. It's roasted sunchokes that been puréed with butter. The three types of onions is pickled red onions, pan fried with salt and one kind that's been poached in beef stock and beer.
The plating and this way of serving onions can be seen everyday on Instagram and if you dine out regularly on any ambitious restaurant I feel confident that you have some sort of dish with onions sliced and often fried like this. But it's really a great way to do it. The size is perfect, it looks good and it retains it's cool shape.
I used small red and yellow onions for the recipe. Regular ones work too but since they are much bigger I highly recommend that you try to find small ones. Now let's get cooking.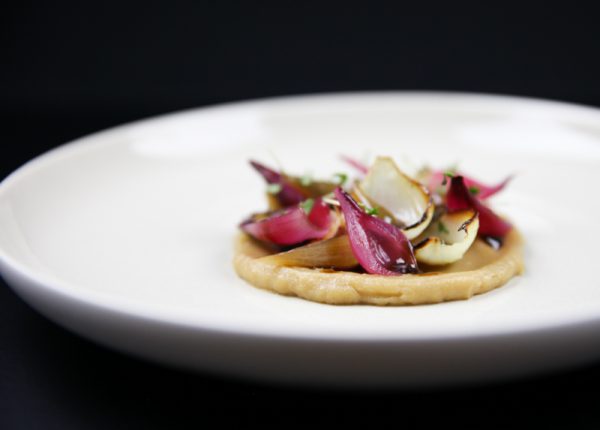 Three Types of Onions with Sunchoke Cream and Cress
Serves 4 as an appetizer
Sunchoke Cream
400g / 14 oz Sunchokes
50g / 1.7 oz Butter
2 tsp Canola Oil
Salt
Pepper
Peel the sunchokes, toss them with the oil and season with salt and pepper. Roast in the oven at 200°C / 392°F until completely soft. You want them slightly golden but not burnt, then they can turn bitter.
Once cooked remove from the oven and blend completely smooth with a handheld blender or regular blender. Add the butter and season with salt and pepper. Keep warm until serving.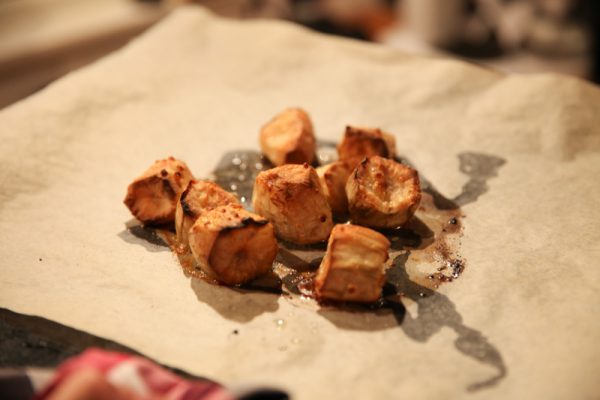 Pickled Red Onions
6 miniature red onions
1 dl / 0.4 cups sugar
1 dl / 0.4 cups white wine vinegar
1 dl / 0.4 cups water
0.5 dl / 0.2 cups red wine
Peel the onions and cut them in half lengthwise. Cut away the stem so the layers of the onion can be separated.
Combine all the other ingredients in a pot and bring to a boil. Add the onions and simmer slowly for 15 minutes. Set aside and leave to cool in the liquid.
As you see I use red wine in my poaching liquid, that's mostly to give the onions a deeper red color. I didn't have any red wine vinegar at home so I used white instead. So feel free to replace the red for white and skip the red wine if you want to.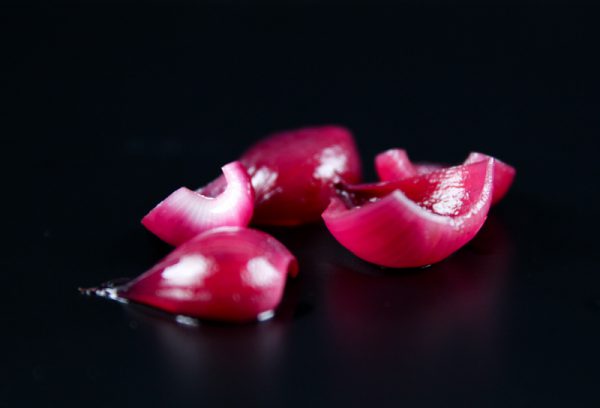 Beer Poached Onions
6 miniature onions
1 bottle 33 cl (one bottle) ale or dark beer
1 tbsp beef stock (store bought)
2 bay leaves
Peel the onions and split in half, cut away the stem so the layers can be separated. Bring the beer, beef stock and bay leaves to a boil in a pot.
Add the onions and slowly simmer in the liquid for about 20 minutes.
Pan Fried Onions
6 miniature onions
2 tbsp olive oil
Salt
Peel the onions and split in half, cut away the stem so the layers can be separated. Add the oil to a pan and sprinkle the onions with salt. Then fry them on low to medium heat with the cut side down until soft all the way through.
Be careful to not bring the heat up too fast, the trick is to get them cooked nicely without being too burnt on the frying side.
Plating
Cress or pepper cress
In the middle of a plate add about two spoonfuls of sunchoke cream. Spread it out into a circle. Allow the onions to drop of their excess liquid on some kitchen paper. Then put a few pieces of onions of each type on top of the sunchoke cream. Add a few drops of the poaching liquid from the beer poached onions. Add a little bit of cress on the top. Serve, and good luck.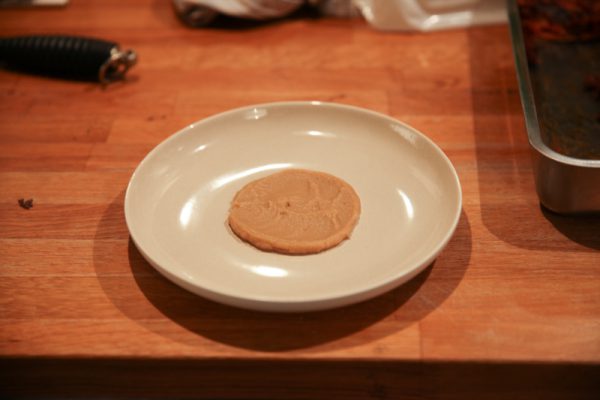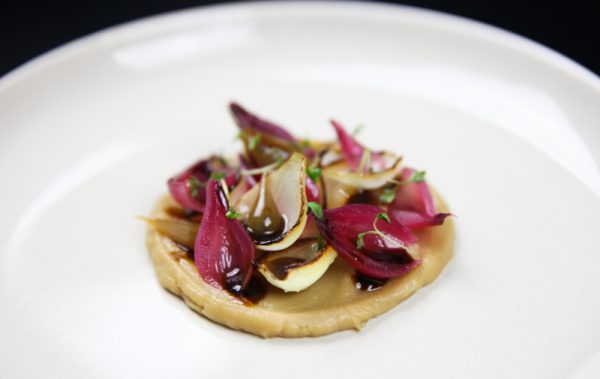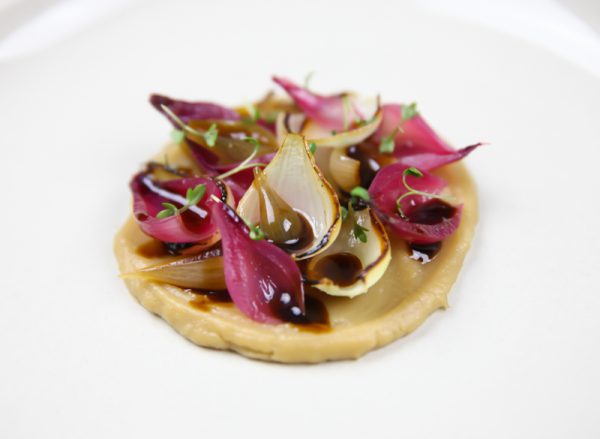 Tags: cream, onion recipes, onions, recipe, sunchoke, sunchoke recipes, vegetarian