Meet Todd Kelly of Orchids at Palm Court, Cincinnati in our Chef Q&A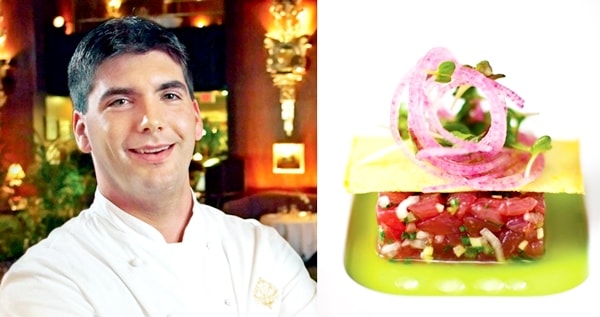 Todd Kelly is the Chef at Orchids at Palm Court, the top restaurant and hotel in Cincinnati. In this Q&A we talk about his food memories, how to drink Bourbon and his favorite taco.
Todd Kelly is the Executive Chef and Director of Food & Beverage at the Hilton Cincinnati Netherland Plaza and its Orchids at Palm Court restaurant. With Todd Kelly as the Chef at Orchids at Palm Court have been getting numerous accolades including AAA Five Diamond, Four stars by Forbes and named on of the Top 100 Restaurants in USA for Best Service for six consecutive years just to name a few.
Besides keeping Orchids at Palm Court at the top Todd Kelly also manages the other restaurants at the Hilton. I've got the chance to ask Todd Kelly some questions about his work, keep reading.
How did you become a Chef?
When I was young I moved to the Island of Mauritius in the Indian Ocean. Having grown up in New York I was not ready for the culture shock of no fresh milk, pizza, cereal etc. Comforts that i had enjoyed. My brother and I tried to recreate comfort dishes.
Fast forward a few years and i took my first cooking job on my 17th birthday and was hooked.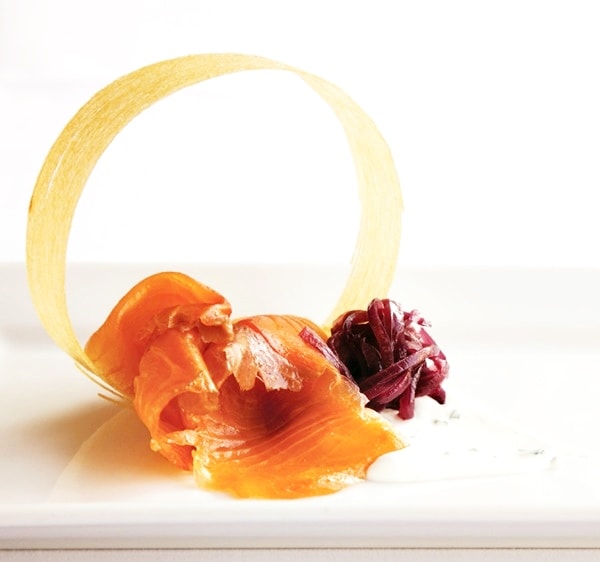 Do you have a favorite food memory?
When I was young my father was really into good food. There was a restaurant that we would go to and my father would always order the escargot. They served this really amazing French bread, my brother and I would fight over who got to dip their bread in the snail dish to soak up the garlic butter.
How would you describe your style of cooking?
Seasonal cooking with and empathies on the quality of ingredients. Vegetable forward food with interesting combinations of flavors and textures.
You not only handle the food at Orchids at Palm Court but oversees all the food at The Hilton in Cincinnati, have this changed how you think about food and your work?
It really hasn't. I still think about high-end items the same but when you have a wedding on a tight budget it is challenging to continue to be creative. It's easy to make dishes with luxury ingredients but you have to really be a craftsman to execute large volume with inexpensive/less though of cuts of meat and vegetables.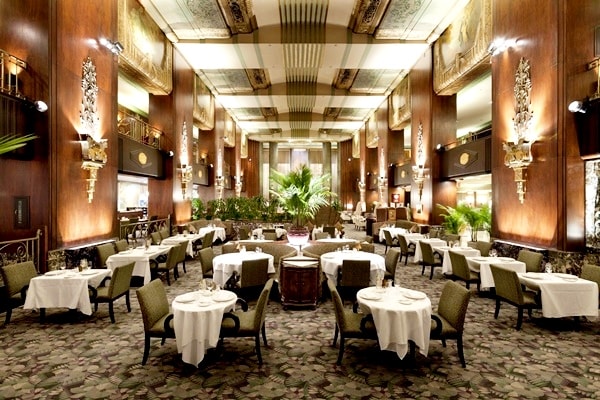 Do you still have time to step into the kitchen?
Every day! I don't work the line 15 hours a day like I used to but I like to be hands on for a few hours a day. I really enjoy the creative processes and working with the food and cooks.
I tend to spend more of my time expediting and finishing plates.
Hotel restaurants are often slightly neglected in my opinion, do you think you've had to work harder to prove yourself than if you've been a standalone restaurant?
At one time we did. Over my time here we have positioned ourselves to be the premier restaurant in the city. I think hotel restaurant in major cities don't have it so bad.
We were fortunate to be recognized by local publications as the best for years. That has parlayed into a lot of national recognition, including AAA five diamonds, Forbes 4 stars as well as the top 100 restaurant for the last 6 years by Opentable.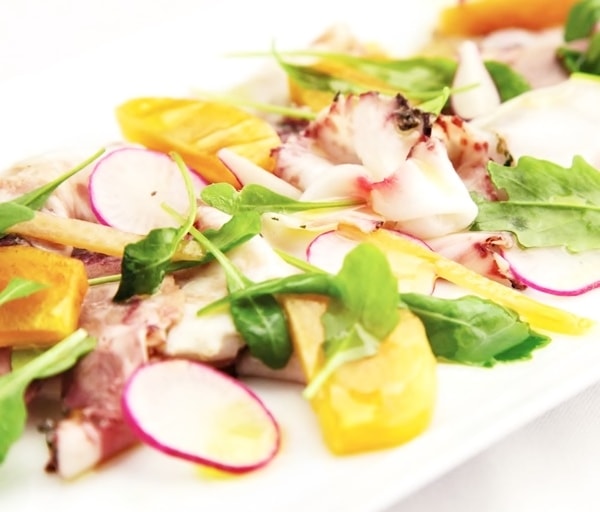 You make house-cured charcuterie, how come you started such an ambitious project?
This is just one of the many projects we tackle. We also make our own cultured butter, we have a fermenting program, we make aged cheeses from local dairy milk, we dry aged meat (100 day ribeyes), have a rooftop garden, bee hives etc….
We do this so we have the ability to control the finished product.
We could purchase some amazing hams but we look at the hogs that are available locally and we choose animals that fit what we want them to be. We know the flavor profile of the meat, what the animal has eaten its whole life. We then have control on how long we cure them and how long they age. Having full control from start to finish is important to us.
I understand that we share a love for tacos and I read that you've said that you can make a taco out of anything, do you have a favorite kind?
Simple spicy chorizo, salsa verde, queso fresco, pickled onion and some cilantro. I could eat them all day long!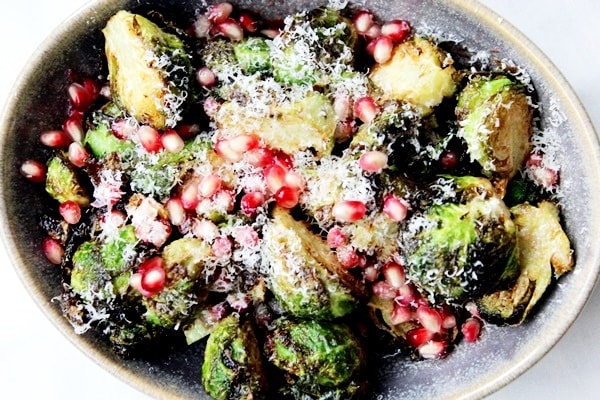 What is the dining scene like in Cincinnati?
It's really evolved over the years. It was a conservative for a while but now diners are realizing that there are really amazing things outside of their comfort zones. Currently we are serving matsutake mushroom with a smoked chicken heart and pomegranate ragout. It's one of our best seller. People love them.
What is the most overrated ingredient?
I have a list too long to type. Overrated and overused are two different things.
Usually I ask about a Chef's favorite drink but I already know it Bourbon, so how do you take it and do you have a favorite?
With our geographical location we are fortunate to have some of the best being made at our footsteps. My favorite is Four Roses. I usually drink barrel proof neat. Sometime I will have it with an ice cube or a Manhattan.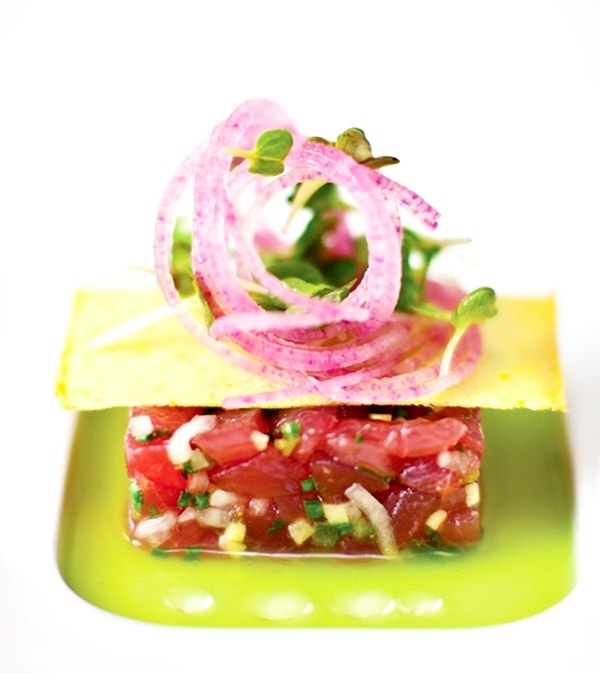 Do you have a favorite culinary destination?
New York. I grew up outside of the city and there are some of the best restaurants in the world. You also can get some of the most amazing Vietnamese, Japanese, Italian, pizza, bagels etc..
There are so many options and it's not hard to find amazing stuff!
Do you still run Marathons and if so, is there any planned?
I have run 14 marathons and somewhere in 30's half marathons.
It took me three years to get into the New York marathon and currently training for that.
Do you have a guilty pleasure in food, and if so what is it?
Pizza.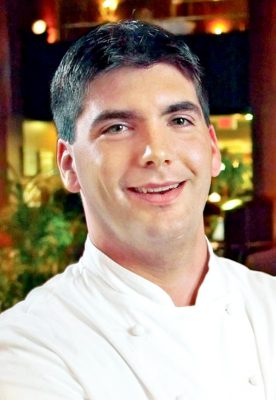 Name: Todd Kelly
Age: 40
Birth city: Port Washington New York
Current city: Cincinnati, Ohio
Education: Some college
Previous profession: Grocery cart pusher at 14.
You can connect with Todd Kelly online via Twitter and Instagram, read more about Orchids at Palm Court below.
About Orchids at Palm Court
Orchids at Palm Court is part of the Hilton Cincinnati Netherland Plaza Hotel. The restaurant offers a seasonal menu with local focus. Orchids at Palm Court have been awarded numerous accolades and is open daily for dinner. For menus and reservations please visit them online.
About Ateriet's Chef Q&A
Chef Q&A at Ateriet is my way of giving great chefs the respect they deserve. I interview chefs from all over the world with the stuff I want to know. If you know a chef I should interview or have any other suggestions don't be afraid to let me know, just leave a comment or send an email. You can read my other Chef Q&A's here or explore all these great chefs and restaurants in my Chef Q&A Map, you'll find it here.