Tomato Bruschetta with Dried Olives and Parmesan Cheese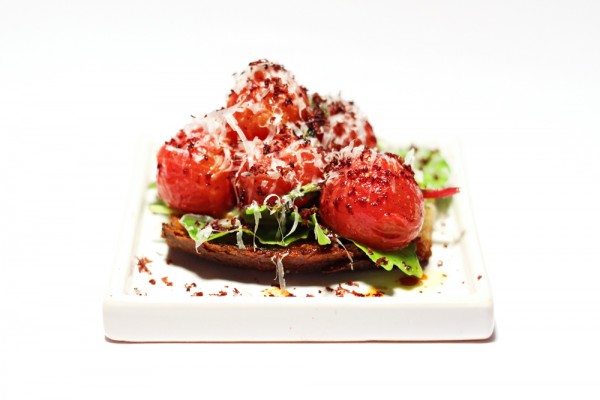 Try this update to a classic Tomato Bruschetta, with small peeled tomatoes and grated dried olives it will take your bruschetta game to the next level.
A good tasting bruschetta is a great go-to dish when you run out of ideas, usually you'll even find some stuff left over in the fridge that will work which is exactly how this one was made. I had a few tomatoes, a piece of cheese, some salad, dried olives and luckily some fresh bread.
There are only two things that are a bit complicated about this dish, first if you haven't boiled and peeled tomatoes before that could be a bit tricky if it is your first time and then the olives that I have dried in my oven, it will take a day or two so if you don't want to spend that much time simply use some good chopped olives instead.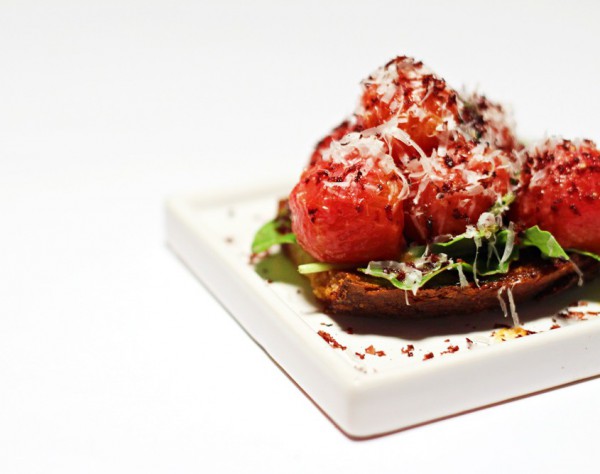 How to dry olives
The drying of olives is not difficult but it will take a few days, I use fresh Kalamata olives, that is only fermented olives which is way higher in taste and quality to see if you can get your hands on some of those in a good grocery store. Then I simply put them on a plate and let them dry in the oven on low heat (about 50°C / 120 F). If you have a dehydrator I´m sure this will work fine to but since I don't have one myself I really don't know. This took me four days to dry but I only turned on the oven whenever I was at home and awake.
Also, the olives should not get dried all the way through but only enough to be able to be grated. What I did was to simply grate an olive now and then until they were dry enough. Also if I forgot to mention it, the taste is simply amazing.
Now on with this recipe, and remember to get great tomatoes, tasteless ones will give a tasteless dish.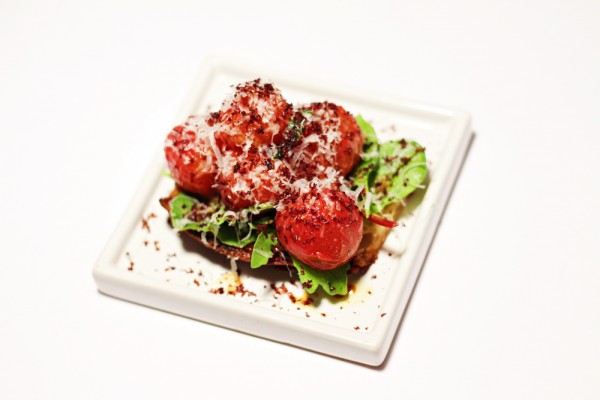 Tomato bruschetta with Parmesan cheese and dried kalamata olives
tomatoes, small
fresh basil
olive oil
dried kalamata olives
a few leafs of salad, arugula or similar
balsamic vinegar
salt, pepper
Parmesan cheese
bread, white
Bring water to a boil and keep it boiling at the highest temperature, bring out a big bowl of ice cold water and add some ice to the water if you have it at hand. Cut a small cross at the tip of every tomato, add the tomatoes a few at a time to the boiling water. Let them cook for only a few seconds, once the skin of the tomato loosens immediately remove the tomato and cool them in the ice water.
Repeat until all tomatoes are done. Then gently peel the tomatoes and put the in a oven proof tray, season them with a few leafs of chopped basil, olive oil, salt and pepper and let them dry out in the oven on low heat (about 100°C / 212 F), this will give the tomato a more intense flavor and infuse the oil and tomato with the basil.
Slice the bread and roast in a pan with olive oil, remove and place the salad on the toast, then the tomatoes and add some of the oil as well. Grate the Parmesan cheese and the olives on top, serve.