Vegan Melon Tartar with Tomatoes, Mint and Black Pepper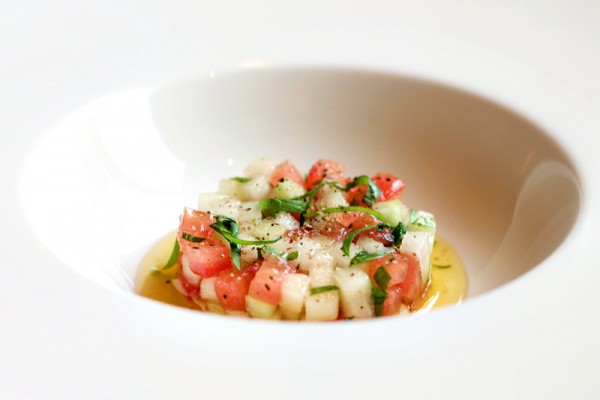 Do try this Vegan Melon Tartar with fresh tomatoes, mint and black pepper. A fresh and delicious appetizer that happens to be vegan, but everyone will love it.
This vegan melon tartar recipe is a simple and fresh one. All you need are good vegetables and a knife. In the recipe, I serve it on its own but you could, of course, add or replace vegetables to your own liking. Fried shrimps or charcuterie works great if you want to add some protein.
Also, the vegetables are king here. If you can't find great melon or tomatoes then make something else instead. The measurements in the recipe are guesstimates, it all depends on the sizes of the vegetables so be prepared to adjust while making it, but vegetables usually get eaten if they are around so don't worry.
A bonus of recipes like this one is that they are so easy to make your own variations of. For instance, try it with some pineapple or maybe apples instead. Or switch the tomatoes for some grilled peppers. As you'll see it is just a way of turning regular vegetables into a nice appetizer or even a tasty side dish.
Vegan Melon Tartar with Tomatoes, Mint and Black Pepper
serves 4-6 as an appetizer
2-3 tomatoes
1 cucumber
1 small honeydew melon
2 tbsp olive oil
salt
black pepper
10 leaves fresh mint
lemon juice, from 2 fresh lemons
Peel and deseed tomatoes, cucumber, and the melon, when cutting away the skin of the tomatoes I usually cut them into wedges first. After seeds and skin are removed dice them into small cubes and combine with olive oil, some lemon juice, salt and black pepper.
Finely slice a few leafs of mint and add to the tartar. Serve with a few extra drops of olive oil and some more freshly ground black pepper.
For more both vegan and non-vegan appetizers check out my full coverage here.