Meet Toni Kostian of Grön Restaurant in Helsinki, Finland in our Chef Q&A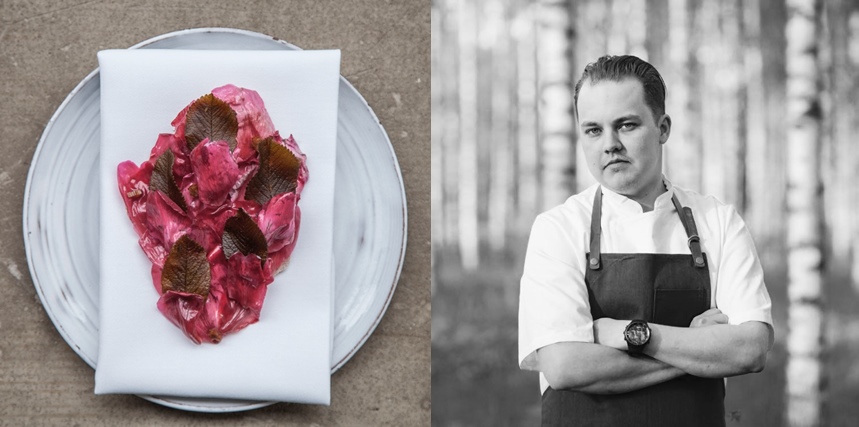 Toni Kostian is the Co-owner and Chef of Restaurant Grön in Helsinki. Meet him in our Chef Q&A in a talk about what's great about Finland, guilty pleasures and how complicated it can be to cook with sorrel.
Since Toni Kostian opened his produce-driven restaurant Grön it has become one of the top restaurants in Finland. With the local produce and the talent of Toni Kostian to know what to do with it there is no saying where this will end. On top of that Toni Kostian also became Chef of The Year in Finland earlier this year. So there is no doubt that it is worth keeping an look at what is going on at the food scene in Helsinki at the moment. Let's talk with Toni about that and much more.
How did you become a Chef?
I was really interested in food since a really young age. My family did a lot of fishing and foraging, so cooking was part of our everyday life. When I was 15 I did a short two week internship in one of the best restaurants in Helsinki at the time. That was the moment when I realized that this is what I want to do and have passion for.
Do you have a favorite food memory?
There are so many, but one of the best ones have to be from Lapland. Cooking fish and vegetables on an open fire, simply to perfection. It happens often that the best food memories needs a lot more than just food, good people, fresh ingredients and the perfect surrounding!
(Lapland is Finland's northernmost region, editor's note)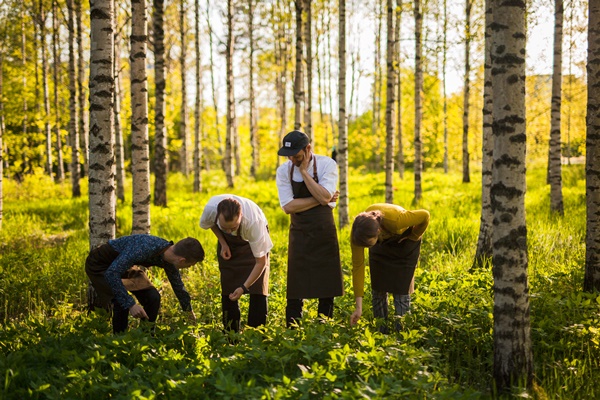 How would you describe your cuisine?
My cuisine is tasty, focused, plant-based and inspiring. I really like to concentrate on high quality ingredients and preparing them so that everything you do to them is only to get that ingredient better.
Do you have a process when creating new dishes?
The process can start from anything. A memory, shape, nature or just an simple ingredient. Some dishes need a lot more work than others to get them perfect. Like for example this dessert we did at Grön with pine. The idea was to work on the classic "baked Alaska" but on a new way and use pine tree as the flavour. It took more the 20 tries to get it work on a level that I wanted.
A certain type of obsession and an idea was what led it to perfection. But sometimes ideas just simply work, some flavor combinations are just easier to work with than others. When cooking food in chef competitions I might just start drawing shapes, colors and layouts. After I have a certain look on the dish I start to think about the flavors.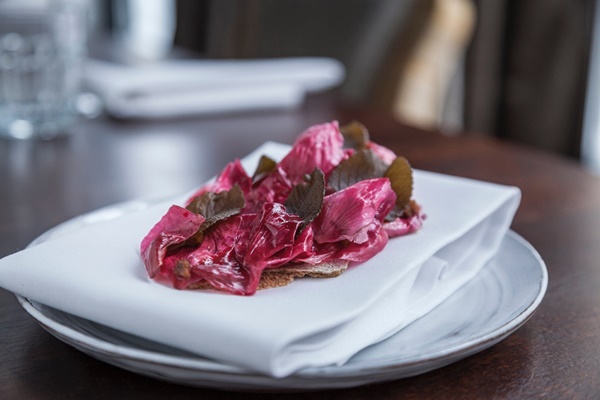 Congratulations on becoming Chef of The Year in Finland this year, could you tell us a bit about it?
It was my third try and this year everything just simply worked. I was really confident on winning this year. I knew that if I could get everything to work the way that I wanted it to it would be really hard or even impossible to catch me at the finals.
The food at Grön is very produce-driven and you source much of it locally and by yourselfs, have this always been a personal hobby as well?
It has and it has not, now with Grön I have the ability to make it a part of my day. Nothing beats a few hours of foraging before coming to work. That's the only way to know what is growing at the moment and that is really what determines our menu at Grön during the warm months.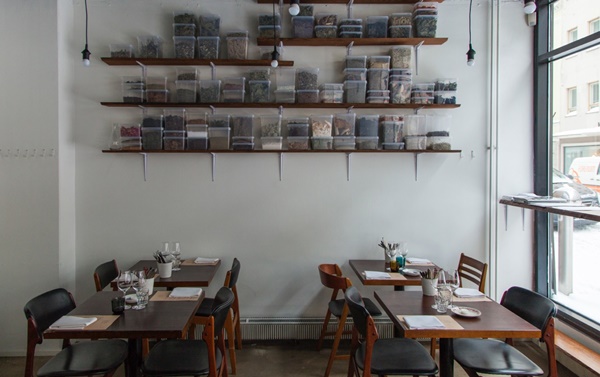 What is your favorite products of the ones you source by yourself?
Sorrel! It has a really nice acidity and you can taste the chlorophyll of the plant. Easy to find and forage, works in cold and hot dishes! I have noticed that the flavor changes throughout the year.
In the beginning of the year the flavor is less acidic and tastes more of chlorophyll. At the end of the year the flavour gets more raw and you can get less of the green notes. That's when the acidity plays a bigger part, it's almost like a different plant when you compare the ones you can forage in the spring to the ones you can get before the first snow falls.
Even if you compare the ones growing in the south to the ones growing in the north it is a totally different plant and has a different flavour profile, but that's a whole other story!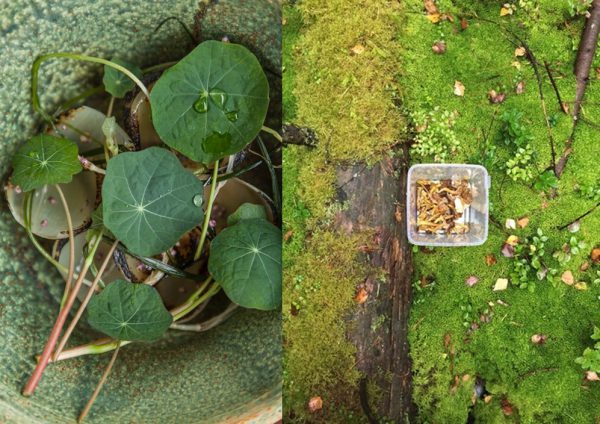 The summers up here in the North are not exactly known to be long and warm, how do you manage during the winter?
At Grön we concentrate in all types of preserving during the spring, summer and fall. That is really the only way to get interesting ingredients during those cold winter months when nothing grows.
During the winter we use a lot less fresh ingredients and instead try to get those fresh and green notes from preserved products and I think we have been doing a really good job at it.
What is unique about Finnish cuisine, what is your favorite things and why should I go there?
All of the great products that we have here, like wild mushrooms, vegetables, wild herbs, berries and caviar. I have to say that it is not any particular dish that makes us unique, it's everything and the quality of the produce we have.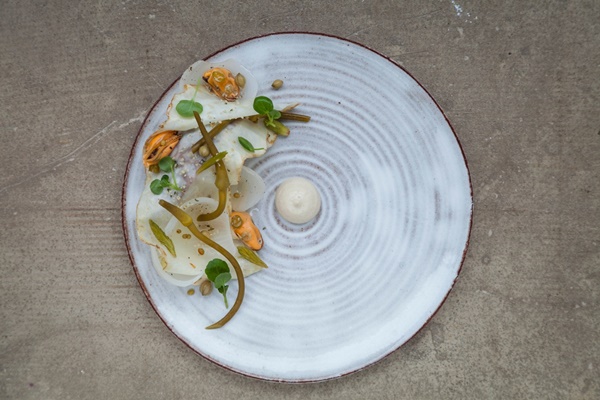 Where do you like to travel for culinary inspiration?
Lately I have travelled in the Nordic region, France and Spain. The food is a lot different in all of the countries, but there is a lot to see and eat in all of them.
On a late night out, what's your drink of choice?
Gin and tonic, a classic that never gets out of fashion!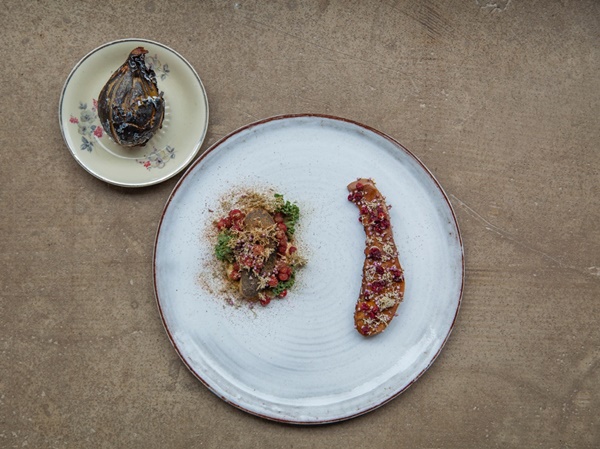 Do you have a guilty pleasure in food, and if so what is it?
Has to be "Fried chicken", not something you can get often, but if there is a chance you go for it!
Who do you think we should interview here at Ateriet?
Kim Mikkola just came back to Helsinki after a few years working at Noma. I know that he might have great plans for the future! A great chef and an interesting person.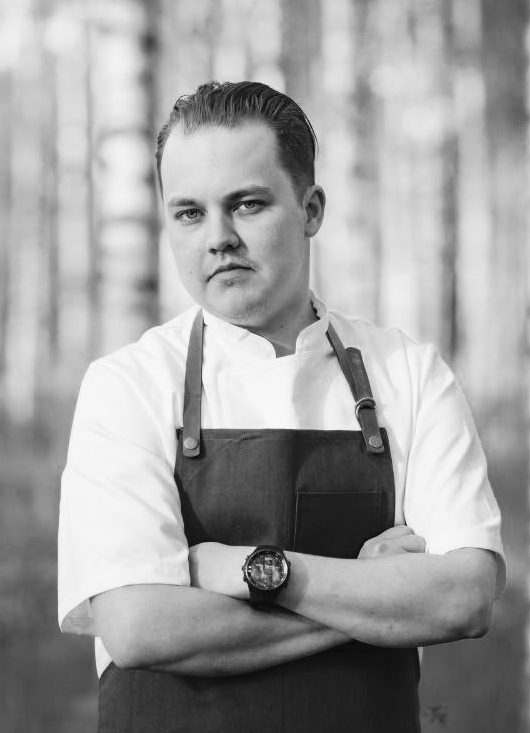 Name: Toni Kostian
Age: 30
Birth city: Helsinki
Current city: Helsinki
Education: Culinary School of Perho
Previous profession: None
Favourite quote: "That time of the year"
Thank you Toni Kostian for your time and keep doing great things at Grön, that means Green in English just in case anyone missed that. Toni Kostian also has a great Instagram that you should check out, find him @tonikostian, the same goes for Grön which you'll find @restaurantgron.
For menus and opening hours please visit Grön online here.
We've kept our eyes at Toni Kostian for a while but he also comes recommended by his colleague Eero Vottonen who we interviewed here last year, make sure to read that interview as well.
About Ateriet's Chef Q&A
Chef Q&A at Ateriet is my way of giving great chefs the respect they deserve. I interview chefs from all over the world with the stuff I want to know. If you know a chef I should interview or have any other suggestions don't be afraid to let me know, just leave a comment or send an email. You can read my other Chef Q&A's here or explore all these great chefs and restaurants in my Chef Q&A Map, you'll find it here.