Try this Blood orange, beet and fennel salad
Try this salad with blood orange, yellow raw beets and some fennel and herbs. Simple and delicious, just like it should be.
Blood oranges are coming into season so it's time to put some of these delicious fruits into good use. What I like about blood oranges is the extra acidity that make them great for using in more savory dishes.
The salad is very simple, raw yellow beets, shaved fennel or anise as it can be called in the US, and a vinaigrette made from the juice from the blood orange, olive oil and a little bit of salt and pepper. That is really all you need. You can serve this salad on its own or as a side dish. If you're serving it as a side I prefer it with fish. Maybe a pan fried cod or halibut.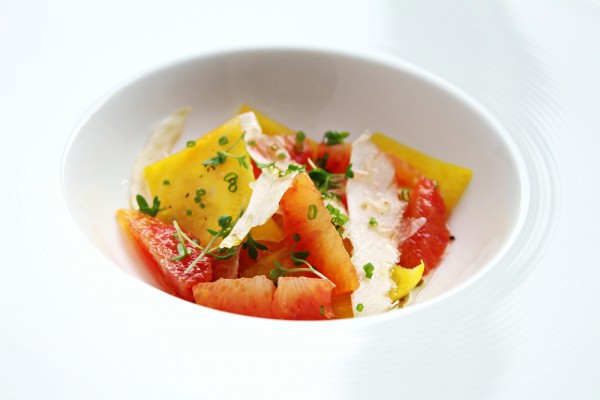 In this recipe I haven't written any measurements, simply because you won't need it. Use about equal parts of the vegetables and try the vinaigrette according to my instructions. If you don't like the taste simply adjust it using the ingredients listed. If it's too acidic, add oil. Lacks salt? Add salt. That's it, no biggie. Good luck.
Blood orange, beet and fennel salad
blood oranges
fennel
yellow beets
cress
chives
olive oil
salt, pepper
Cut away the skin of the orange and cut out each wedge leaving only the meat of the orange. Squeeze the leftovers of the orange and set the juice aside.
Wash the fennel and the shave thin slices of it using a potato peeler. If you are preparing this dish ahead of time you can put the fennel in some cold water with a little bit of lemon juice to keep it crunchy. It will loose a bit of it´s flavor so the best thing is to do it just before serving.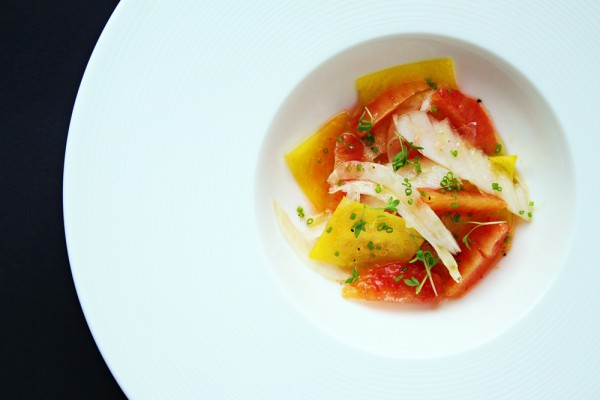 Peel the beets and wash them then slice thin slices with the potato peeler. Combine the orange wedges, fennel and beets and add a little bit of cress and sliced chives. Season with salt and pepper.
Add olive oil, salt and pepper to the orange juice and add a little bit of vinaigrette to the salad. Serve.