Tums Fearless Foodies Campaign takes huge inspiration from Garbage Pail Kids and I love it!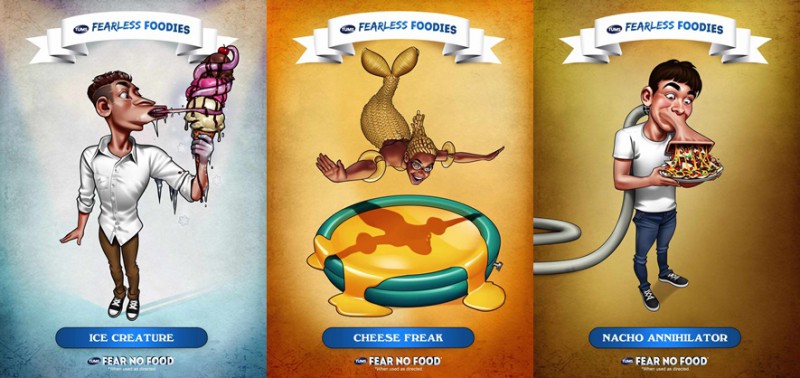 Tums Fearless Foodies is a print campaign from the American heartburn relief brand Tums. In their new campaign called Fearless Foodies they have finally targeted their marketing to us, overeating foodies.
Now you may not identify yourself as a foodie but if you're planning trips around what you want to eat or consider getting some Tums heartburn relief pills in order to eat BBQ the right way I'll say you're part of the club. And don't worry, there is no real club, it's just a saying.
Anyway in the new Tums campaign they targeted us, yes us who love to eat and are old enough to remember and love the Garbage Pail Kids from when we were kids. I'm guessing we are between 35 and 50 today. We love food with the same intensity as we loved those collectors card called Garbage Pail Kids.
The ads which come in a set of five is quite cool actually. Each one comes with the name Tums Fearless Foodies and with a character doing something that would normally give them heartburn. Like eating plenty of BBQ, grilling way too much food, taking a dive in a cheese pool or sucking down a plate of nacho.
I love the idea and I think it is perfectly targeted at foodies 35-50, we eat like we are young but we are starting to experience stuff like heartburn. Since eating less doesn't seem to be an option we will of course search for a different solution.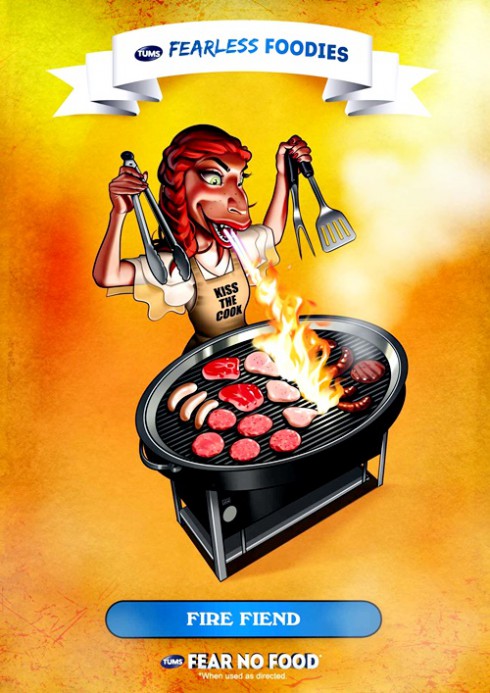 Why are they thin?
There is only one big problem with this great idea and that is in the execution. Why have they made the characters all thin and stuff? The regular Garbage Pail Kids and the Cabbage Patch Kids they made fun off are fat. That is missing out on the idea and it makes it much harder to realize that it's a fun idea.
I'm guessing this is because Tums don't want us consumers (read: over eaters) realize that if we keep eating we will eventually look like a couple of real Garbage Pail Kids. All fat but dressed in hipster clothing with cheese covered beards chewing Tums heartburn release and discussing where we should get our next cronut. Because simply eating less is not an option.
All in all I still like the campaign, well done Tums and Weber Shandwick which is the agency behind the campaign.
And if you want to take a trip down memory lane you should check out my collection of food themed Garbage Pail Kids here Ateriet.