Baked Brie Cheese with Grilled Pear and Walnuts
Baked Brie cheese with grilled fresh Pear and crunchy walnuts. This is a great way to eat Brie cheese, learn all about it.
This is a really great way to serve cheese. I used a fresh slice of pear and grilled it on high heat and then put the Brie cheese on top and let it slowly gratinate in the oven which makes it taste so much more. The walnuts give the dish some texture and saltiness that goes great with the cheese. if you think it get's too rich you can add a few drops of a good vinegar.
One thing to keep in mind for a dish like this is that the flavor of the cheese gets so much stronger once it's hot. That means that you don't have to get a super ripe or strong brie cheese. That could make the dish too powerful. I used a moderately priced brie that I got in my not special at all supermarket.
The grilled pear goes great with the cheese but you can replace it with other fruits as well. Apples, apricots, peaches all work great. So feel free to experiment with this great way of eating cheese, because we should be doing more of that right?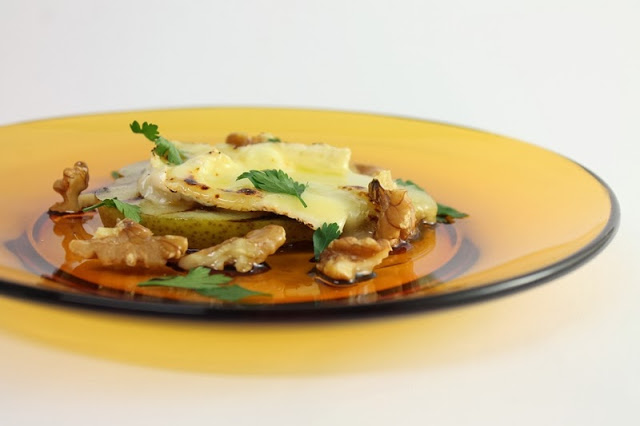 Baked Brie Cheese with Grilled Pear and Walnuts
Serves 4
1-2 fresh pears, firm
1 handful walnuts
250g Brie cheese
A few leaves parsley
2 tsp olive oil
Slice the pear and brush it with olive oil. Grill the pear until it's almost cooked through. Slice the Brie cheese and add a generous slice on top of the grilled pear and put it in the oven for about ten minutes or till the cheese starts to get golden.
Remove from the oven and put on a plate, add the walnuts and a few leaves of parsley and a few extra drops of olive oil.