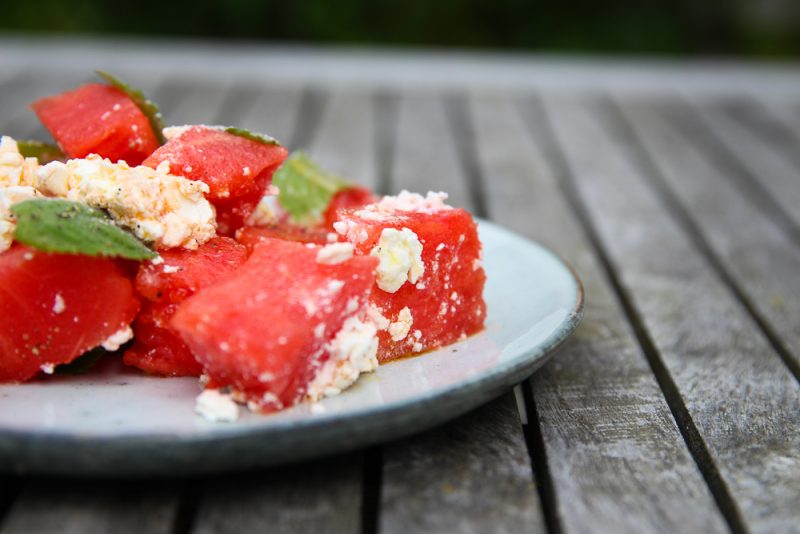 This summer classic is to die for. A classic that you most likely already tried but why should you. Just make this great Watermelon side salad with feta cheese and mint. Even if you've had it many times you won't regret it.
Like I said this Watermelon side salad with feta cheese and mint is a classic. Google it and you'll find thousand of images that kind of looks like the ones here. The reason why is because this is just so simple and delicious.
The salad comes with only three ingredients, at least if you don't count salt, pepper and olive oil. All you have to do is peel and chop up some watermelon. Buy crumbed feta cheese and some fresh mint. Add those, drizzle with some oil, a twist of black pepper and you are done.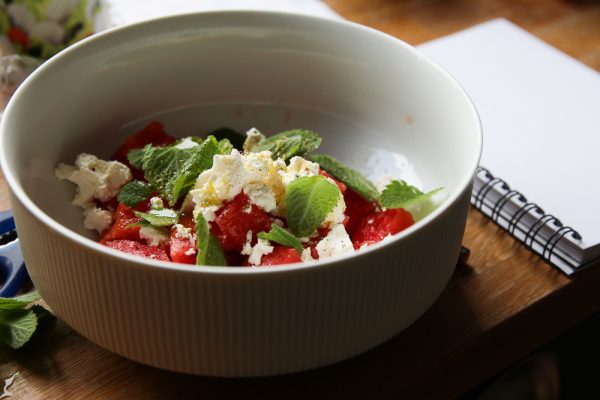 If you happen to have never tried this salad before I will, of course, give you a detailed recipe and wish you the best of luck, not that you need it. This is just too good and easy to make to mess up. Good luck and enjoy!
If you have a minute to spare you can check out this Watermelon art as well, it has nothing to do with eating but it is kind of cool.
Watermelon Side Salad with Feta Cheese and Mint
serves 4 as a side
800g / 1.7 lb watermelon, peeled
200g / 7 oz Feta cheese
1 handful fresh mint
salt
black pepper
1 tbsp olive oil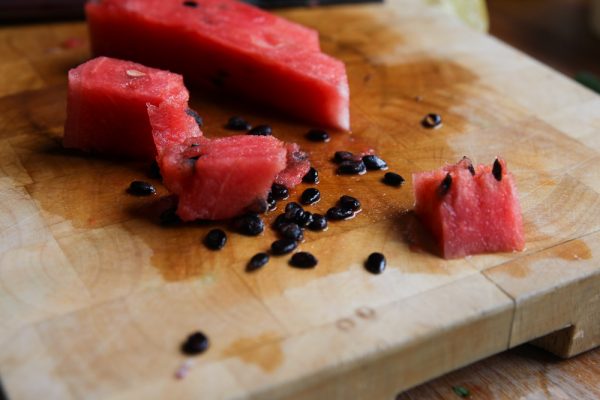 This requires very few instructions. Chop the watermelon in big pieces. Add to a bowl. Add the feta cheese, if you haven't bought it crumbled then crumble it before adding it to the watermelon. Roughly chop the mint and add. Season with a little bit of salt and black pepper. Add the olive oil and carefully combine.
Transfer the salad to a serving platter and serve, but with what?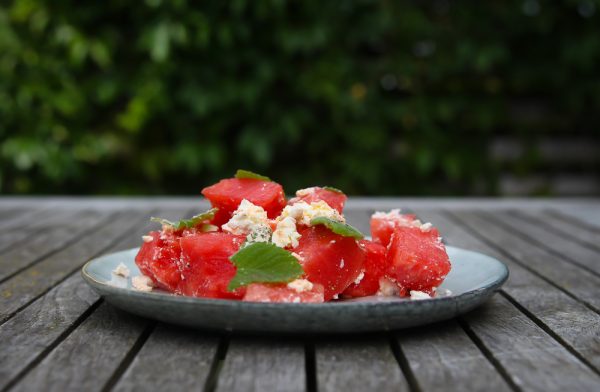 Watermelon Side Salad with Feta Cheese Serving Suggestions
The salad can be served on its own as a light appetizer but what I often do is to serve it as a buffet dish. It's a refreshing salad that is always very popular, especially for children. Here are some mains that I think it works well with.
Roasted or grilled chicken

Grilled beef

Ribs of any kind
Good luck and don't forget to check out all my recipes.
Tags: cheese, feta cheese, mint, side salad, sides, watermelon