What is Pepparkakor? -Learn all about the Swedish Gingersnap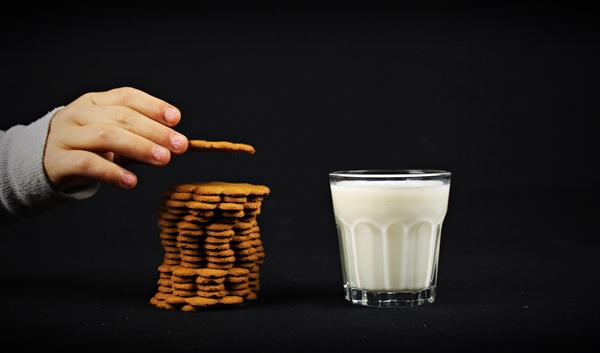 What is pepparkakor? Pepparkakor is a kind of Scandinavian gingersnap biscuit or cookie that is very popular in the Sweden during Christmas. Learn all about this popular cookie and how to make them yourself.
Pepparkakor or gingersnaps which is the best comparison in English is a small, thin, crisp cookie or biscuit that is sold in most Scandinavian countries during December for the Christmas season.
This article will mostly focus on the Swedish style of pepparkakor because that's the kind we know best. We'll go through everything you'll need to know about this popular cookie and also give you a recipe in case you want to try to make them yourself.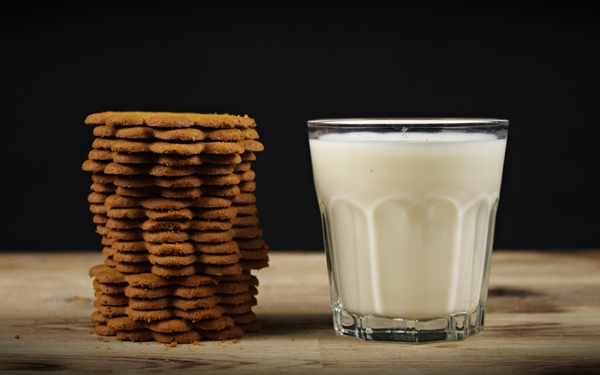 What does Pepparkakor mean?
Pepparkakor or Pepparkaka means pepper cookie / pepper cookies. Peppar means pepper in Swedish and kakor or kaka means cookie, biscuit and can also mean cake so it can be a bit confusing.
What's even more confusing is that modern Pepparkakor does not contain pepper. But there are old recipes dating back as far as 1444 where there was pepper in the recipes. Another reason for the name is that earlier a lot of exotic spices in Sweden was called peppers as a group which means that the name could just have meant spice cookies.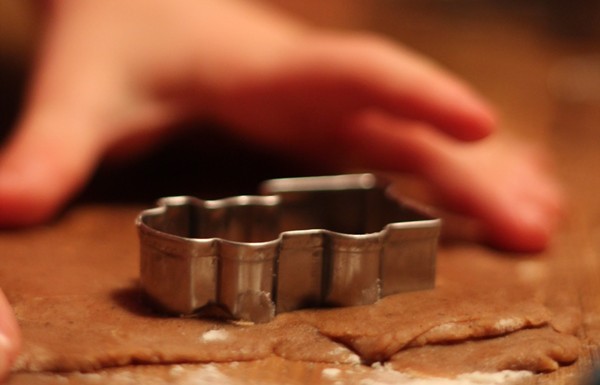 What are Pepparkakor made of?
The main ingredients in Pepparkakor are flour, butter, sugar and sirap. Sirap is a product you can get in Sweden, it is a kind of light liquid molasses syrup with a caramel flavor. These main ingredients are made into a dough together with some water or cream and bicarbonate which is used as a raising agent.
The dough is flavored with ginger, cinnamon, cardamom, cloves and bitter orange. There are some variations depending on what recipe you'll find so sometimes not all these spices are included.
How to eat Pepparkakor?
In Sweden pepparkakor is eaten during the famous Fika, meaning at any coffee break. It is also often served with Glögg which is Swedish mulled wine, we will come back to Glögg on a later post. Other than that you can just replace any other cookie with pepparkakor during December. I prefer to have pepparkakor with milk but you can have them with anything you like, maybe try it with some Swedish Julmust that you can read more about here.
Where do Pepparkakor come from?
There are few sources on where Pepparkakor comes from. There are some claims that they originated in Mesopotamia as early as 1700 Bc. But it is more likely that they came to Sweden from Germany. Pepparkakor used to be common in both England and Germany and trade between especially Germany and Sweden go long back in history.
The first evidence of Pepparkakor being consumed in Sweden dates back to the 1300's and the first recipes in cookbooks is from the 1700's. But it is first in the 1800's that the pepparkaka starts to be associated with Christmas.
Pepparkakshus or Gingerbread houses
It is not only common to eat pepparkakor during December and Christmas in Sweden. Many also make their own, usually as an activity for children. This is also where the decoration of pepparkakor with icing comes in. You rarely see pepparkakor with icing made for consumption, these are mostly just made to look nice and decorate with.
It is also very common to make pepparkakshus or gingerbread houses. They are made the same way as regular pepparkakor but you usually make them thicker so the parts are easier to assemble. You make an pepparkakshus by making a house template, the easiest design is with four walls and a simple roof, all of its parts are baked separately and then you glue them together with melted sugar and decorate the house with candy and icing.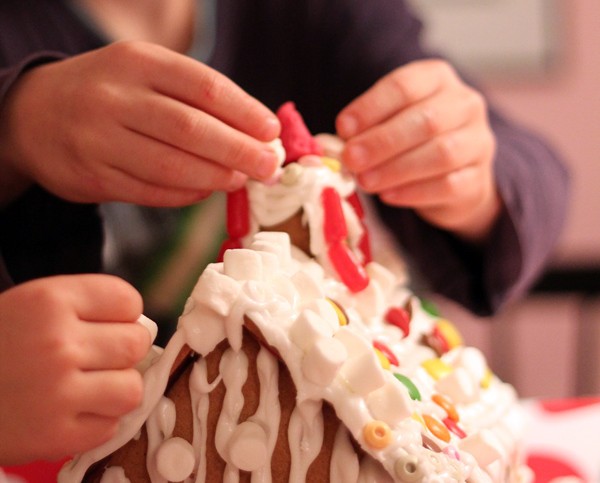 The assembly of the houses can be very hard and result in serious burn injuries due to the melted sugar. So if you're planning to make a pepparkakshus you can use a glue gun instead, downside is you will not want to eat the house later. You can buy ready kits of pepparkakshus in Swedish stores during Christmas.
There are also competitions in making Pepparkakshus. The Swedish Architecture and design Center in Stockholm have hosted yearly competitions where both children as well as architects and designers have been competing. The best houses have then been on exhibit at the Architecture Museum in Stockholm, so yeah, we take Pepparkakor seriously in Sweden.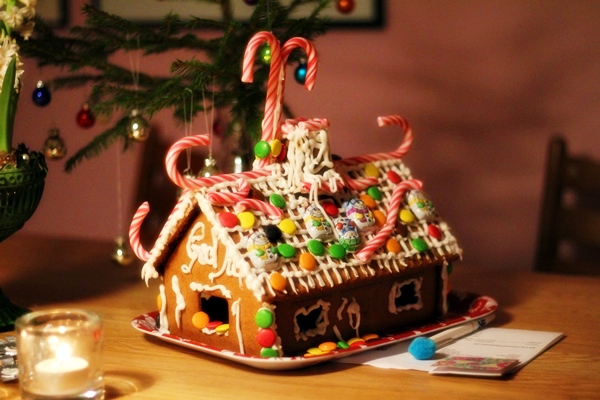 Recipe for Pepparkakor
Making pepparkakor is not very hard but it takes some time, first you have to make the dough and after that the dough needs to rest for at least a few days for the flavors to come forward. So if you have the chance to visit a Swedish store there are pre-made dough to make pepparkakor. The rolling and shaping of the pepparkakor with children are just as fun without making the actual dough.
However if you have higher ambitions than that here is a recipe.
Pepparkakor recipe
makes around 150 pepparkakor
150g / 5 oz butter, at room temperature
2,5 dl / 1 cup sugar
0,5 dl / 0,2 cups sirap (syrup)
0,5 tbsp ground dried ginger
1 tbsp ground cinnamon
0,5 tbsp ground cloves
1 tsp ground cardamom
1 dl water
0,5 tbsp bicarbonate
7,5 dl wheat flour
Combine butter, sugar, sirap into a smooth dough, you can use a mixer to make things easier. Then add all the spices and bicarbonate, then the water and last the flour that you add ¾ parts of while the dough is in the mixer. Then remove the dough and knead the dough on a bench and add the last flour. Wrap the dough in plastic and put in the fridge to rest. Leave it in the fridge for at least 2-3 days.
Now for the kneading and cutting. Take out the dough and roll one small piece of the dough at the time into a thin sheet of dough. Then cut out your figures using cut out molds. If you don't have any molds you can cut your pepparkakor into any shape you like using a knife. The excess dough can be used for next round of dough to be rolled out.
Then move the pepparkakor to a oven tray with baking sheets and bake the pepparkakor at 200°C / 392°f, the pepparkakor will be ready in about 4 minutes but can be longer or less depending on your oven and how thin they have been rolled.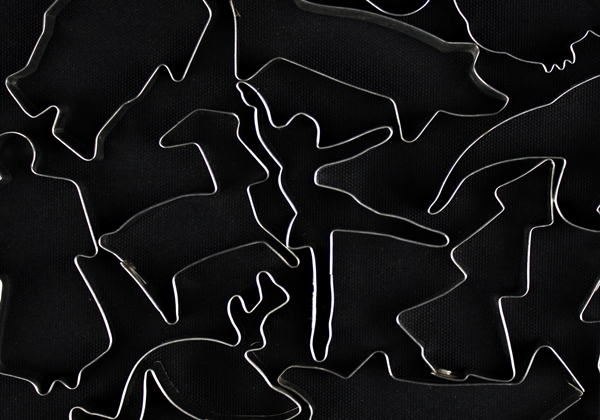 Ateriet Swedish Christmas Food Series
Here at Ateriet we love the Swedish Christmas Food and we are currently writing about some of the classic drinks and foods of the Swedish Christmas. This Pepparkakor article is the second one and there is more coming.  All our articles on Swedish Christmas will be found here.