What to do with Cauliflower?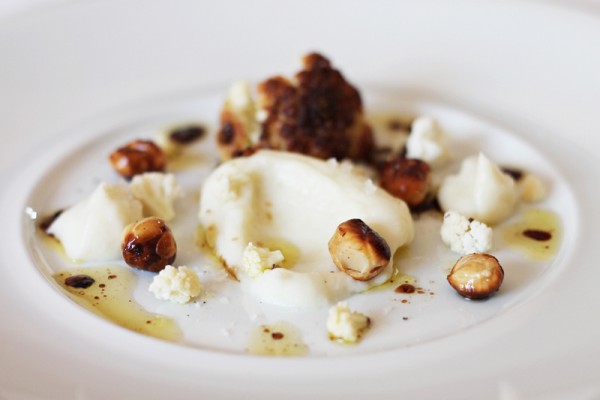 It's time to focus on a single ingredient, this time we are talking about cauliflower, that white oddly shaped vegetable that can be used in so many ways, all of them great. So here it is, what to do with cauliflower? But let's start with some facts.
Facts about cauliflower
Cauliflower is part of the Brassica olearecea group that also contains vegetables like kale, broccoli, collard greens, savoy among others. It is an annual plant the is reproduced by seeds. The name cauliflower comes from the fact that the entire white bulb is a collection of flowers, take a closer look the next time you'll be cooking and see for yourself.
The first records of cauliflower is found as far back as the 6th century B.C and have been a common crop in both Europe and the Arab world for thousands of years. Today cauliflower are grown all over the world, a few of the biggest producers are China, India, Spain, Italy and France.
Most cauliflower are grown white but there are varieties, and with a little luck you can find orange, green and purple cauliflower the next time you visit the market.
If you want to find out how cauliflower grows you can take a look at the video on how cauliflower grows that we posted before.
How to store it
Cauliflower tends to dry out quickly and become soft, buy it when it is firm and the florets are packed tightly together. Keep in the fridge in a plastic bag and it will last at least a week. You can use it even if it have gone a bit soft but I usually only do so for soups or purées.
How to cook it
You can do a lot with cauliflower, here are a few examples.
Mashed with potatoes – Cut it down into smaller pieces and boil together with potatoes to make a potato cauliflower mash, great with grilled meats, roasts or stews.
Soup – Creamy soup of cauliflower is a classic, cook with cream, shallots and garlic and serve with some crispy bacon and crutons.
Cruditees – Cut into small florets and serve with dipp, works great with ranch, garlic, cheese.
Roasted – Whole roasted is a modern way to serve it, use a small head and roast on all sides in butter with herbs and butter until golden. Then cook it in the oven, basting it with butter throughout the process. This is a good base for a great vegan or vegetarian dish.
Creamed – Cut into smaller pieces and steamed and then creamed with bechamel or cheese sauce, serve with ham or bacon.
Shaved – Slice it as thin as you can and chill in cold water, serve as a vegetable carpaccio with olive oil, toasted pine nuts and mini greens.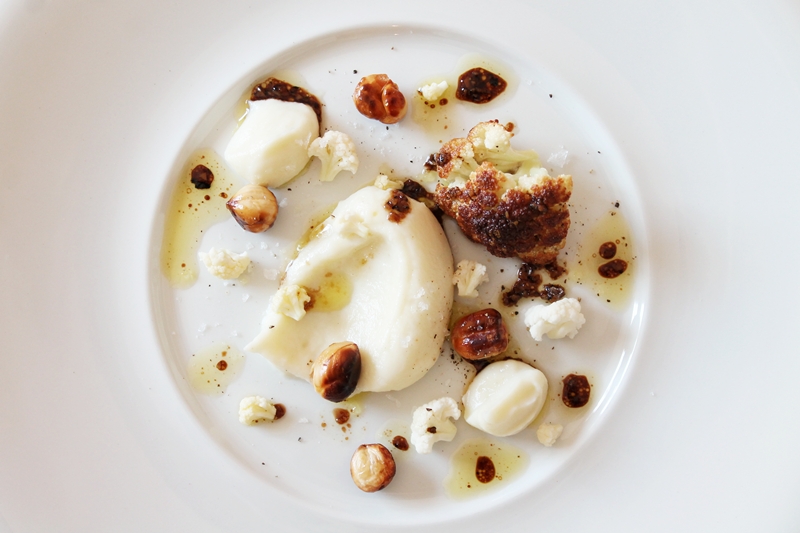 Recipe
So lets hope you feel inspired to start cooking with cauliflower, to get you started you can try this simple recipe, it may look a bit complicated on the photos but I promise it is not very hard at all. What I think makes it so good is the variety in textures and temperature when you are using both cooked, roasted and raw cauliflower. The cream can also be used as a great side for meats as well.
In the recipe there are no measurements added but if you use one average head of cauliflower you will be able to serve about six people a generous appetizer.
Cauliflower cream with hazelnuts & truffle vinaigrette
cauliflower
cream
peeled hazelnuts
truffle oil or truffles in oil
olive oil
balsamic vinegar
salt, pepper
Cauliflower cream
Break the cauliflower in smaller pieces and let simmer in water with some salt until cooked through. Strain the water and add a little bit of cream and blend until completely smooth. Season with salt and pepper.
Raw and roasted cauliflower
Using a knife carefully cut away small pieces of cauliflower, soak them in cold water to keep them crunchy until serving. Then cut one bigger piece and roast it in a pan with olive oil until golden and almost cooked through.
Truffle vinaigrette and hazelnuts
Combine olive oil, truffle oil and some vinegar, season with salt and pepper. Roast the hazelnuts with a few drops of olive oil.
Serving
Arrange all ingredients on a plate, serve the cream and roasted cauliflower warm and the hazelnuts and vinaigrette at room temperature and the raw cauliflower cold.