What will the Meatball of the Future be made of?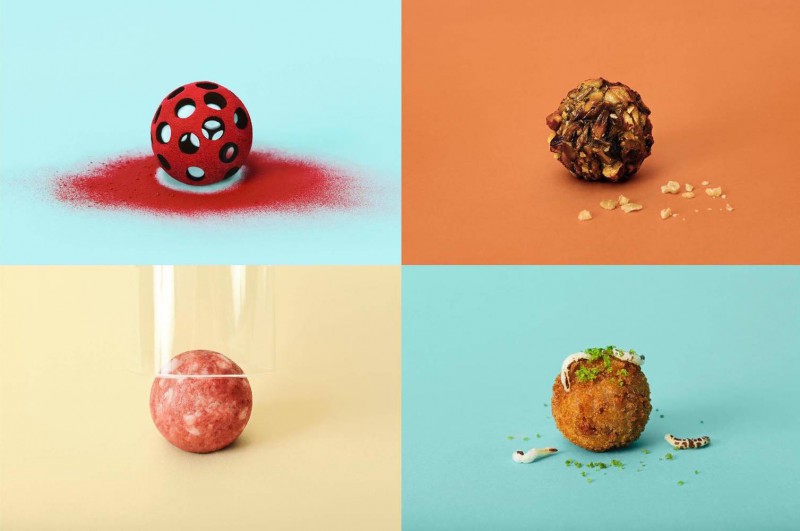 The meatball of the future might not look at all like most meatballs look today. Check out this cool project on what the future of meatballs holds.
Tomorrow's Meatball is a project by Space10 where they have made a visual exploration of the future of food. Because of the health of our planet and an increasing population we might not be able to eat like we do today. This means that ingredients and technological innovations might change how and what we eat.
To visualise this Space10 have used IKEA's new vegan meatball as an example, not a bad choice since this is one of the first steps that might be leading the way. A meatball also looks familiar, is simple and fun and some sort of meatball is made in most food cultures.
So Space10 have created eight different meatballs that might be what we can expect to eat in the future. This could be the future meatball menu:
The Artificial Meatball – Made from lab grown artificial meat
The Wonderful Waste Ball – Made by food waste, all that stuff that is not bad but we usually throw away
The Urban Farmer's Ball – Made from urban grown produce
The Mighty Powder Ball – Made from powdered food, contains everything we need, proteins, carbohydrates, fat and every vitamin and mineral you'll need
The Lean Green Algae Ball – Made out of algaes, we have in abundant, it contains loads of nutrients, is easy to grow and environmentally friendly
The 3D Printed Ball – Printed from proteins, carbs or maybe insects?
The Nutty Ball – Made out of grains, vegetables and nuts
The Crispy Bug Ball – Insects could be a great source of protein, the bug ball might hit menus soon.
If you're keeping up with what is happening in the food world you probably have read about the trends behind all these meatballs before. These eight are among the trends that many in the food believe are coming. But when it is visualised like this it is a bit easier to understand what all these trends might lead to for a normal consumer.
To read more about this project and other projects by Space10 check out their website.