White Asparagus, Seared Cod and Hollandaise Sauce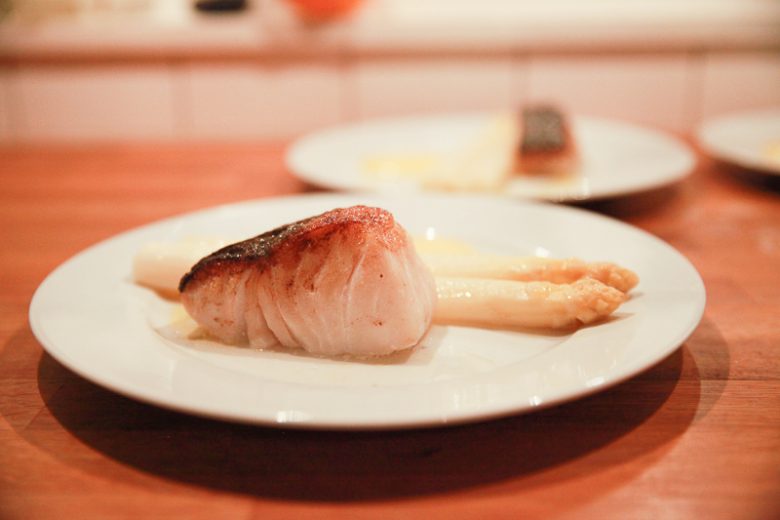 Classic and crazy delicious, try this recipe for white asparagus, seared cod and a hollandaise sauce, it doesn't get much better than this.
Seared cod, white asparagus and a rich hollandaise sauce. Things doesn't get much better. This is one of those dishes that I go back to all the time. That's because it is simply delicious and to me there aren't many better ways to eat fish.
The dish comes with just three components. A seared cod loin, white asparagus cooked with butter wine and water and a rich hollandaise sauce with plenty of butter and lemon. I served this as part of a night of more great stuff so if this is all you will eat you can add a side like potatoes or some vegetables. Now let's make it.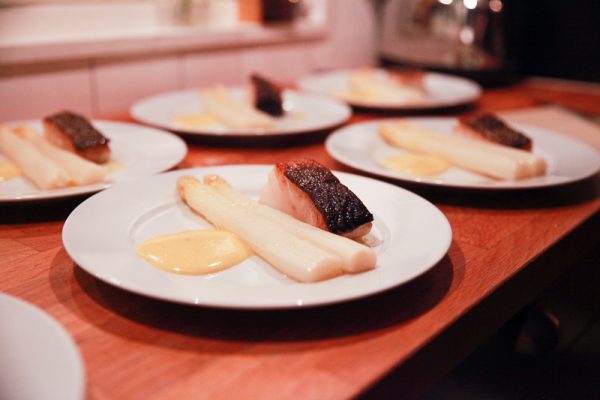 White Asparagus, Seared Cod and Hollandaise Sauce
Serves 4
Each component comes with its own recipe, let's start with the cod.
Seared Cod
600g Cod Loin
Salt, pepper
Butter
Oil
In Sweden you can get fresh cod loin that is cut out. It's quite pricey but the quality is usually great. Just cut the fish up into four pieces. Place them skin side down on a tray and sprinkle with salt. Set in the fridge for an hour. Meanwhile you can prepare the other ingredients.
This dry salting makes the cod tastier and firms the meat a little bit. Not quite the way as if you would put it in a liquid brine but sort of halfway there.
Then take out the fish and heat a pan with a little bit of oil in. Add the fish skin side down and sear until you have a nice color on the skin. Add about 2 tbsp of butter and turn down the heat a little bit. Cook like this for a few more minutes. Take out the fish from the pan and place in an oven-proof tray. Finish the cooking in the oven at 100°C / 212°F. This should take about 10-20 minutes depending on how thick the fish is.
You can check the fish with a thin knife, it should barely slide through when done. If you have a thermometer that is even better. The opinion on when cod is done varies. I prefer it at around 52-56°C / 125-132°F in the center.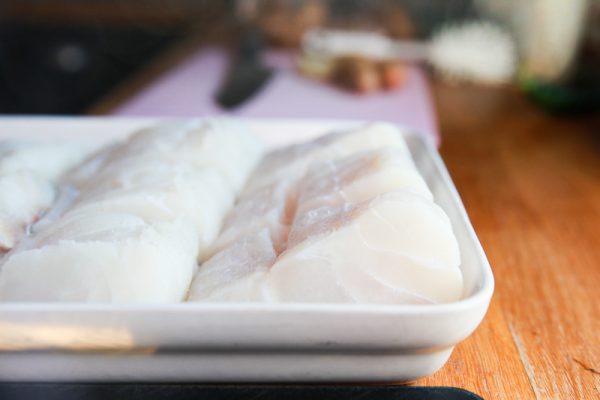 White Asparagus
500g white asparagus
2 lemons
0.5 cups / 1.2 dl dry white wine
1 cup / 2.4 dl water
3.5 oz / 100g butter
Salt
Start with peeling the asparagus. You don't have to peel the tips, just the bottom ¾ of the asparagus. There are special pots to cook asparagus in but who has one of those? Instead you can use a non-stick frying pan.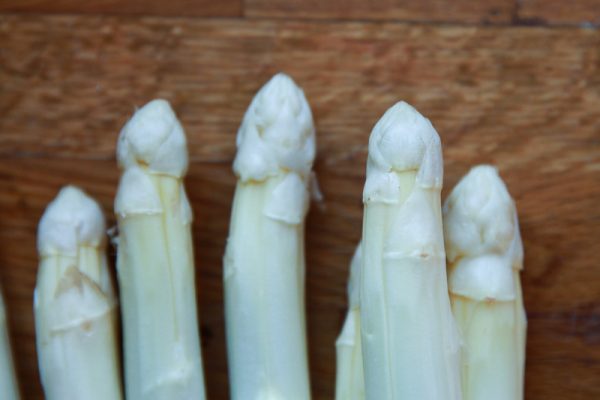 Add water, squeeze in the lemons, wine, salt and butter and bring it to a boil. Add the asparagus and simmer until they are cooked through. If there isn't enough liquid to cover the asparagus double the recipe. This can be a bit hard to calculate because it largely depends on how big the asparagus are and how big the pan is. Once they are cooked through set aside until serving.
Hollandaise Sauce
2 egg yolks
1 lemon
2 dl / 0.85 cups melted butter
1 tbsp water
Salt, pepper
Now let's move on to the Hollandaise sauce. Melt the butter, keep it warm. In a pot add the egg yolks, water,  squeeze in the juice of the lemon and add some salt and pepper. Whisk the eggs and other ingredients on low heat until it heats and start to thicken.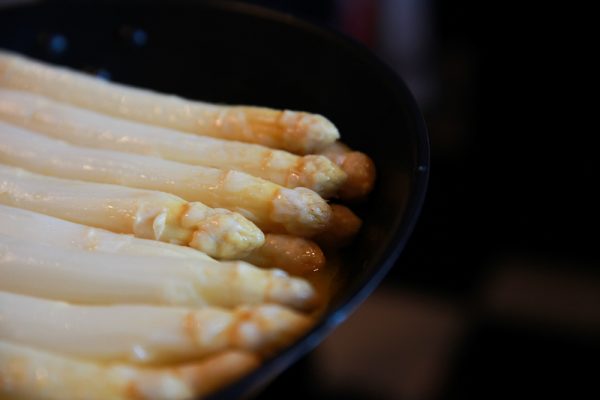 Once the eggs have thickened but are still smooth remove from the heat and add the butter a few drops at the time while whisking. If the sauce starts to get very thick then add a few drops of water to thin it. Once all the butter is in check the flavor and add more salt, pepper and lemon juice if necessary.
Now all you have to do is plate it. Add one piece of cod, asparagus and lastly the hollandaise sauce. Eat. Good luck and I hope you like it as much as I do.