Wipe it with fruit – It's the fruit toilet paper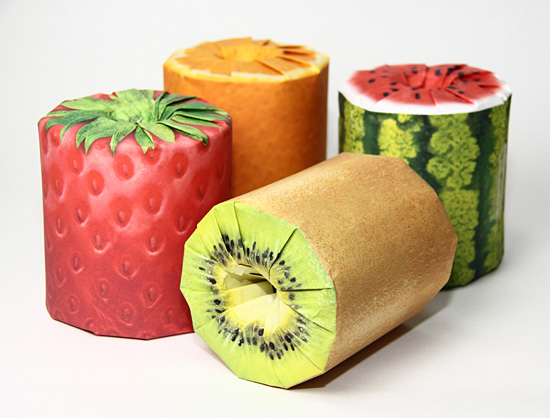 Let your love of food show even in your bathroom. This Japanese company have made this fruit toilet paper. Wipe it with fruit!
So apparently companies and stores in Japan give out a roll of toilet paper to customers as a novelty gift to show their appreciation. Let's just wait there for a while shall we? How come we haven't heard of this before? Why are stores giving away toilet paper? This whole things raises far more questions than answers. I have been to many many shops in my days and I have never been given a free roll of toilet paper. Maybe we can bring this Japanese tradition to public bathrooms instead? Because if there is one place where I usually lack toilet paper it's there.
Oh, well. You rarely get surprised when Japan is part of a story. I actually wandered of the subject there with the giveaway toilet paper. What I really wanted to show was this fruit toilet paper made by Japanese Latona Marketing. It comes in four "flavors". Kiwi, Strawberry, Watermelon and Orange, so choose your weapon.
Also Latona Marketing are looking for international resellers for this product so if you think that fruit toilet paper will be the next big thing you can find out more at Latona Marketing website. Just remember, if you want to make money of this you can just give the paper away.