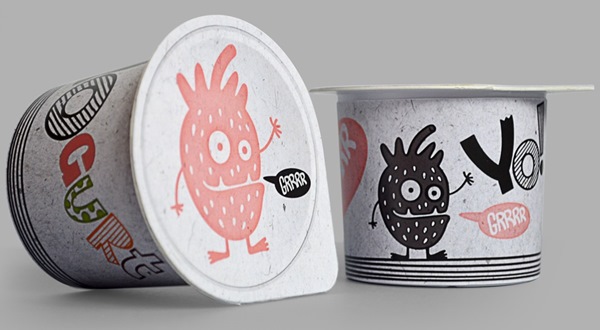 YOgurt is a brand of Yogurt from Russia that comes in a fun packaging design with ugly monsters, take a look.
Russian designer Anton Danilov decided to try something new when designing the packaging for YOgurt, a Russian brand of Yogurt. He decided to go with a YOgurt ugly monsters packaging design.
The shape and function of the packaging is common but instead of pictures of cows and fruit he created a few angry fruit monsters.
A banana with a black eye screaming Yooor! A hairy apple calling out Upppp! I've always been a fan of "scary" or ugly monsters but this is the first time I've seen it used on food packaging. A fun twist worth to be seen by more than just Russian yogurt eaters.
If you want to check out some more great looking yogurt packaging we have a full collection here.