Roasted potatoes with bacon and sour cream – a great side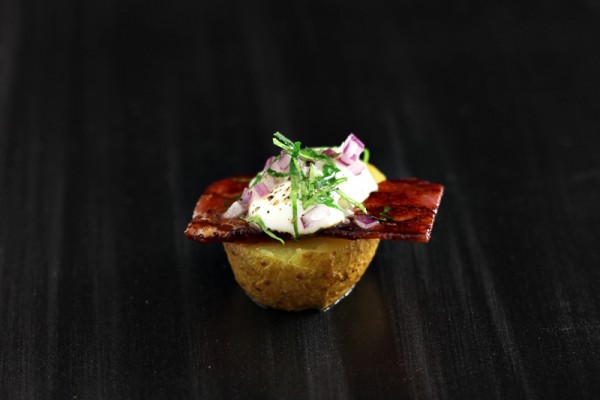 Try this recipe for roasted potatoes with bacon, sour cream and fresh parsley, it's a great side for any meat or to serve on its own like a tapas dish.
You can never go wrong with bacon so here is a great snack that you can serve either like a tapas or appetizer like in my photo or make a bigger batch and serve it as a side for your favorite grilled meat, either way I'm sure you'll like it.
Roasted potatoes with bacon, sour cream and onion
Serves 4, as an tapas (4 pieces/person)
8 small round potatoes
Olive oil
Salt, pepper
8 slices of smoked bacon
0,5 dl / 0,2 cups of sour cream
1 red onion
A few leafs of fresh parsley
Fry the bacon in a frying pan on both sides until golden and crisp, remove and let the fat drip of on some kitchen paper. Coat the potatoes with a little bit of olive oil, season with salt and pepper and roast in the oven on 200°C / 392 f until golden and soft, this takes about 20-30 minutes.
Remove the potatoes and let them cool off in room temperature, meanwhile peel and dice the red onion and rinse and chop the parsley.
Cut the potatoes in half and also cut of the round tip of each half so the potatoes will be able to stand without falling over. Cut each slice of bacon in half, place the potatoes on a tray and add one piece of bacon for each potato, add about a teaspoon of sour cream on each bacon slice and top with the diced onion and parsley, grind a bit of black pepper on top and serve.
Try these varieties of roasted potatoes
This recipe is a great one to make your own, all you need to do is add you own touch to it. Here are three suggestions that you can try if you want to make it a bit different.
Instead of sour cream use a hot aioli or dip, leave everything else the same, this will give it a kick of chili and it will still be very tasty.
If you're not a fan of bacon (we know you are, but still) you can make it with fried onions instead, this should also sit well with any vegetarian guests.
And course there is cheddar and jalapenos, keep the bacon and potatoes but add a slice of pickled jalapeno and some cheddar cheese.
To see more great sides check out some more recipes here.