10+ Bourbon Cocktails for Any Occasion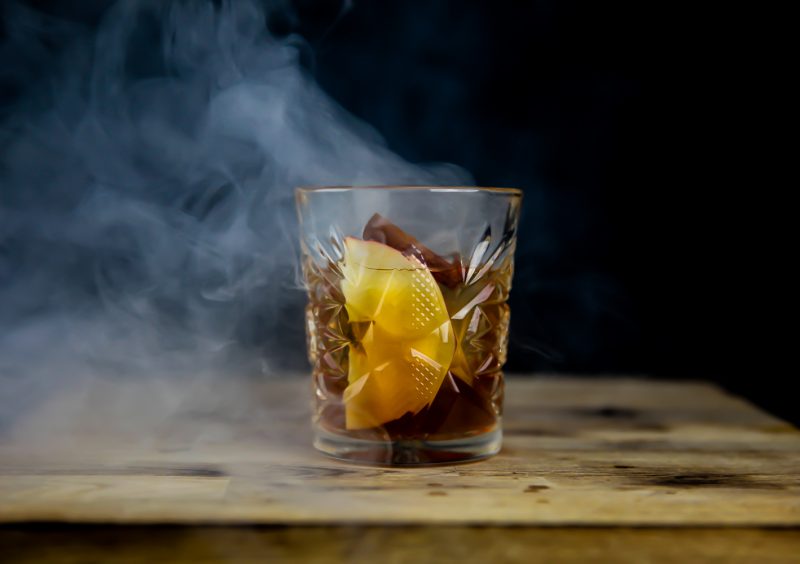 I sure hope you've come looking for bourbon cocktails because that's all that this post will be about. More exact 10+ Bourbon Cocktails that are great for any occasion. That means a few classics, classics with a twist, and even a hot and an ice-cold one. If you, just like me are into bourbon cocktail you've just found the right post. Let's get going!
Bourbon cocktails it is, but a few quick notes before you start shaking and stirring. All the recipes here come with a short recipe including instructions. For every bourbon cocktail, you will find a link. You already know how those work right? What's great about these links, in particular, is that if you hit the one for the drink you plan to make you'll find lots of more photos and some of the history and other tips about each drink. Don't feel like reading more than necessary? No problem! Just use the recipe right here. Lastly, before we start drinking (responsibly of course) I have a bunch of other drinks that you can find in my drink recipe archive. Don't forget to check that out.
Bourbon Cocktails
Now, let's dig in. Below you'll find all the recipes, try what you're in the mood for and I hope you like them as much as I do.
2 oz / 6 cl Bourbon
1 oz Simple Syrup, made using brown sugar
Fresh mint
crushed ice
even more mint
silver cup or glass
muddler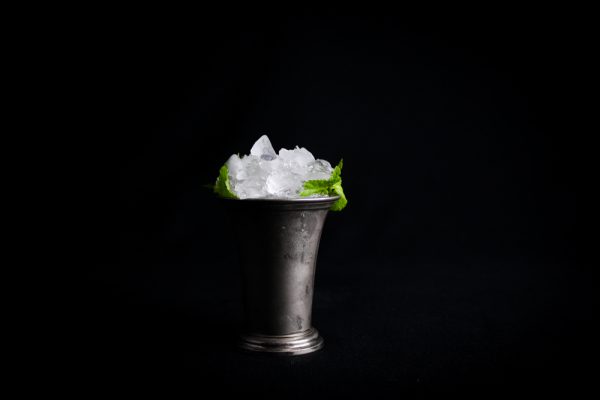 Many recipes call for sugar and water, that's what goes into a simple syrup so use that instead. That way you will eliminate the risk of any sugar not being dissolved. I use simple syrup in this recipe with brown sugar. Regular sugar works well too but I like the slight molasses flavor you'll get from the brown sugar. You decide.
Then it is all about adding loads of mint, plenty of ice, and enjoy your day.
Add a few mint leaves and the bourbon and simple syrup. Muddle lightly to crush the mint leaves a little bit. Add crushed ice until the cup is half full. Stir for 10 seconds. Add ice to top off the glass. Stick in a few sprigs of fresh mint. Serve.
There needs to be plenty of mint added because you want that aroma to really hit you in the nose while sipping. Enjoy!
2 shakes of bitters
1 oz / 3 cl Bourbon
2-3 oz / 6-9 cl Ginger Ale
Ice
Lemon zest
Highball glass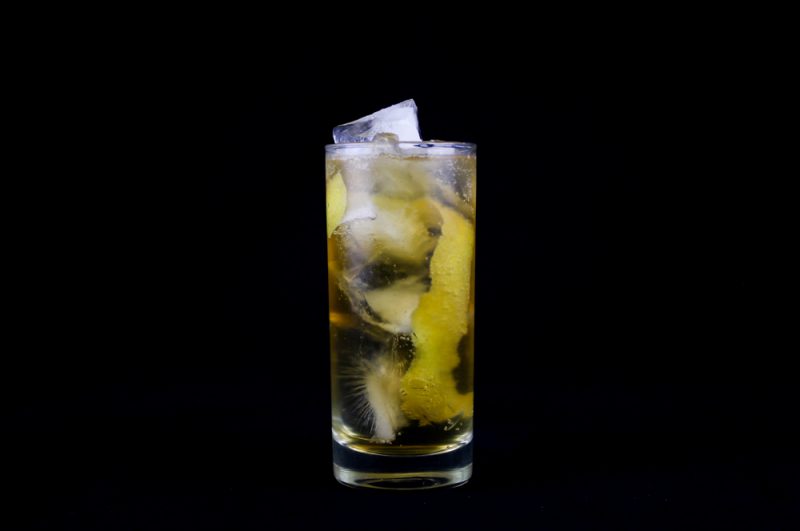 This one is easy to make, fill a highball glass with ice cubes. As big cubes as the glass can fit. Add a long strip of lemon peel. Add two shakes of bitters and then the Bourbon. Fill the glass with Ginger Ale. Enjoy!
I'll start with the peach and vanilla ice pop, then I'll continue with the drink, good luck.
Peach Vanilla Ice Pop
1 peach
½ vanilla bean
6 tbsp simple syrup (1 part sugar + 1 part water)
3 tbsp water
Chop the peach. Split the vanilla bean and add everything to a pot. Bring to boil on low temperature and simmer for ten minutes. Remove the vanilla bean. Mix into a smooth thick sauce. Freeze.
The Ice Pop Cocktail
1 peach vanilla ice pop
2 oz / 6 cl bourbon
1 oz / 3 cl cinnamon syrup (1 part sugar + 1 part water + cinnamon stick)
1 oz / 3 cl Cointreau
a few slices of fresh peach
ice
glass
spoon
shaker or mixing glass
sieve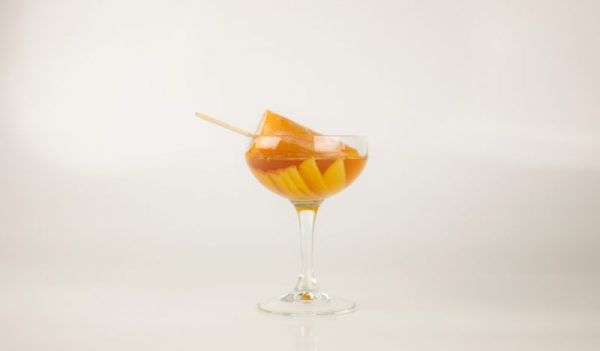 First, make the cinnamon syrup. Bring water and sugar to a boil and add a few cinnamon sticks. I made about two cups of syrup and used five cinnamon sticks. Don't worry about making too much, it can be used for other drinks.
Add bourbon, cinnamon syrup, and Cointreau to the shaker, add ice and stir for 30 seconds. Add the sliced peach to the glass. Strain the drink into the glass. Add the ice pop. Enjoy!
This recipe is also featured in my collection of five different ice pop cocktails, find it here.
serves 1
2 oz / 6 cl bourbon
0.5 oz / 1.5 cl cinnamon syrup (recipe below)
0.5 oz / 1.5 cl concentrated apple juice
4 dashes Angostura Bitter
1-2 slices red apple
1 cinnamon stick
1 big ice cube
smoking gun
applewood chips
ice for shaking/stirring
jigger
shaker
lighter
spoon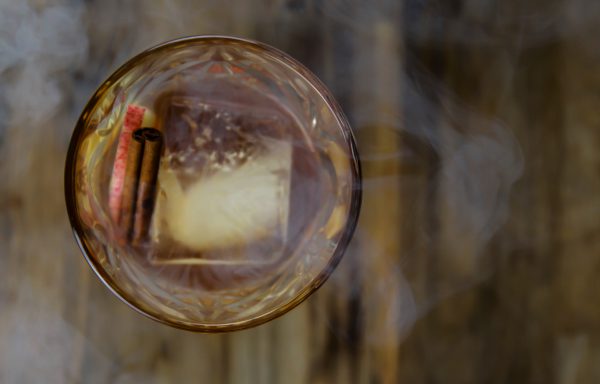 Add bourbon, cinnamon syrup, apple juice and Angostura to the shaker. Fill the shaker with smoke using the smoking gun. Add ice and close the shaker with the lid. Shake and set aside.
Slice one or two apple slices. Turn an Old Fashioned glass upside down and fill with smoke. Once the smoke settles turn it and add a big piece of ice. Pour over the drink. Add the apple slices and a cinnamon stick. Serve.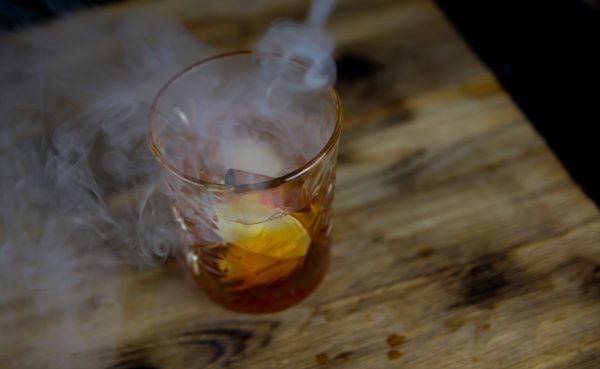 1 cup of milk (3% fat)
1.5 tbsp cocoa powder
2 tbsp sugar
1.5 tbsp smooth peanut butter
1 oz / 3 cl bourbon
2 tbsp whipped heavy cream
1 handful of mini marshmallows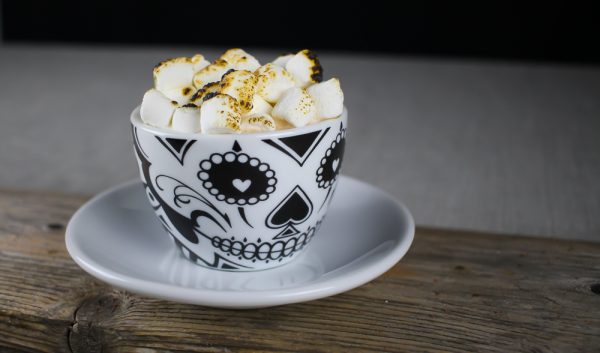 So, let's make this. First, whip the cream and bring out the bourbon. You can also fill the cup you will be using for serving with hot water. I don't heat the bourbon and the whipped cream will not be hot either. So if you use a cold cup it might not be hot enough.
Then add milk, sugar, and cocoa powder to a pot and bring to a boil while whisking. Once it's hot set-aside and add the peanut butter without boiling it again. Whisk so all the butter melts into the hot chocolate.
Empty the cup and pour in the bourbon. Fill the cup but leave a little room for cream and marshmallows on the top. Spoon on the cream and then add the marshmallows. Then toast the marshmallows carefully with a Creme Brulee burner. Serve, with a spoon and feel the warmth spread.
serves 1
2 oz / 6 cl bourbon
3 oz / 9 cl raw apple juice
4 oz / 12 cl ginger ale
1 lime
1 piece of fresh ginger
ice
glass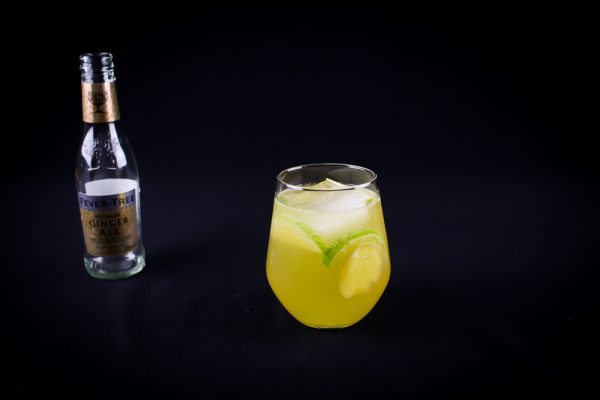 Cut the lime in thick slices, wash and slice the ginger in thick slices as well. Add ice and sliced ginger and lime to a glass. Add the bourbon and raw apple juice to the glass and stir. Top off with the ginger ale. Serve and feel that refreshing flavor!
1-2 oz / 3-6 cl Bourbon
1 oz / 3 cl Grapefruit juice
1 oz / 3 cl Honey syrup (1 part honey + 1 part water)
Champagne coupe
Shaker
Ice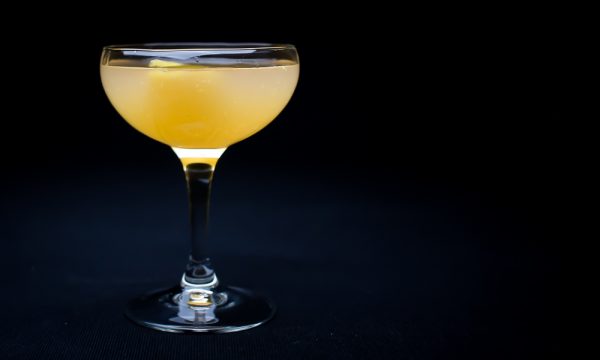 Add all ingredients to the shaker, shake with ice, strain into the glass and garnish with a piece of grapefruit skin. Good luck and let me know if you liked it.
2 oz / 6 cl Bourbon
1 oz / 3 cl Blood Orange Juice
0.5 oz / 1.5 cl Lemon Juice
0.5 oz / 1.5 cl Simple Syrup
1 tsp Blood Orange Bitters
1 tbsp Egg white
Old Fashioned glass
Blood orange, for garnish
Ice
Shaker
Sieve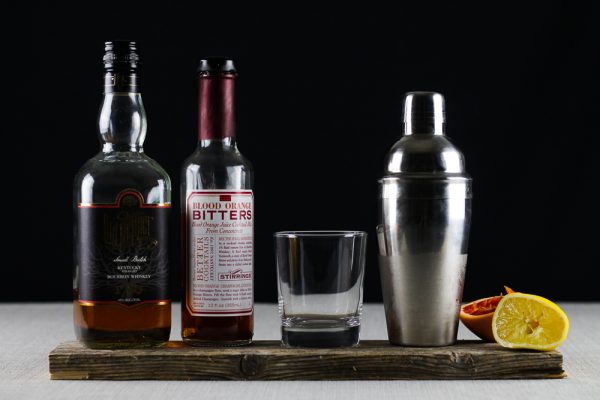 First, make the simple syrup if you don't already have some. Just combine one part sugar with one part water and bring to a boil. Then leave to cool.
Squeeze blood oranges and lemons for the juice, if you're only making one then one or maybe two of each should be plenty. Then strain the juice through a sieve.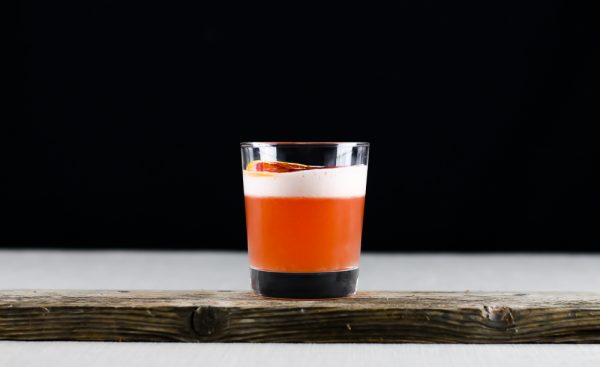 Add bourbon, blood orange juice, lemon juice, simple syrup, egg white, and blood orange bitters to the shaker. Add a handful of ice and then shake hard for about 30 seconds. Strain the drink into the glass, make sure to let all the foam drip into the glass. Cut a thin slice of blood orange and place it on top of the foam. Serve!
serves 1
2 oz / 6 cl Rye Whisky
3 dashes Peychaud's Bitters
2 dashes Angostura Bitters
½ oz / 1.5 cl Absinthe
2 tsp simple syrup (1 part sugar + 1 part water)
Lemon
ice for mixing
ice cube for serving
glass
mixing pitcher or shaker
strainer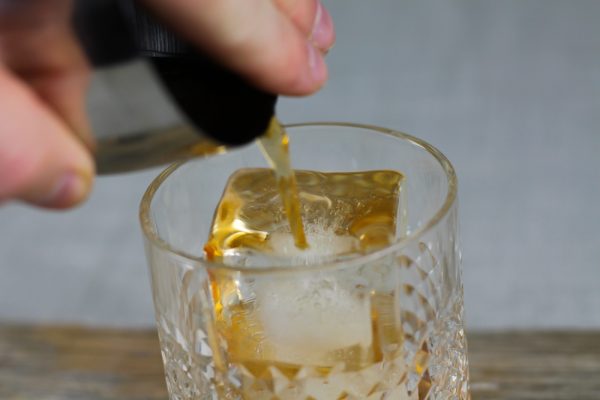 Add the absinthe to the glass and swirl so it coats the entire glass. Pour out (or back into the bottle) the remaining absinthe. In the pitcher add rye, bitters, simple syrup and a handful of ice. Stir for about 30 seconds. Strain into the glass. Add a big ice cube. Serve with a lemon zest.
Some claim that the drink should be served without ice. Maybe that's true but I don't get why, if you want it warm why stir it with ice before? Add a piece of ice, a big one so it doesn't dilute the drink too fast. Enjoy!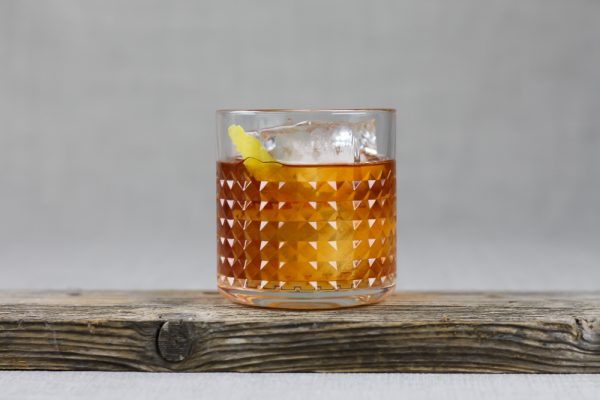 2 oz / 6 cl bourbon
1 oz / 3 cl red port wine
2 oz / 6 cl cherry syrup (recipe below)
3 dashes orange bitters
ice
pitcher or shaker
spoon
old fashioned glass
one big ice cube
glazed cherry (recipe below)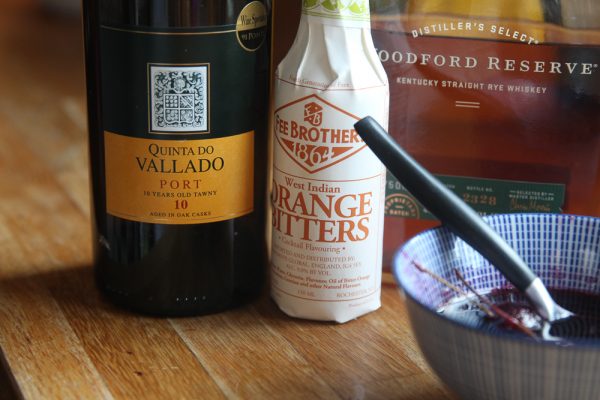 Combine bourbon, port wine, cherry syrup and orange bitters in a pitcher. Add ice and stir for about 30 seconds. Add a big piece of ice to the Old Fashioned glass and strain the drink into the glass. Garnish with a glazed cherry. Serve.
This Old Fashioned is sweeter than a regular one so if you don't want it as sweet just use less cherry syrup. Now let's see how to make that syrup and the glazed cherry.
Cherry Syrup & Glazed Cherries
20 fresh purple or black cherries
1 cup / 2.3 dl water
½ cup / 1.1 dl sugar
5 cherries (for glazing)
Add the water to a pot and add the cherries. Lightly crush them using the backside of a spoon or a muddler. Bring to a boil and then let it simmer on low heat for about 20 minutes. Strain the liquid into a new pot and discard the cherries.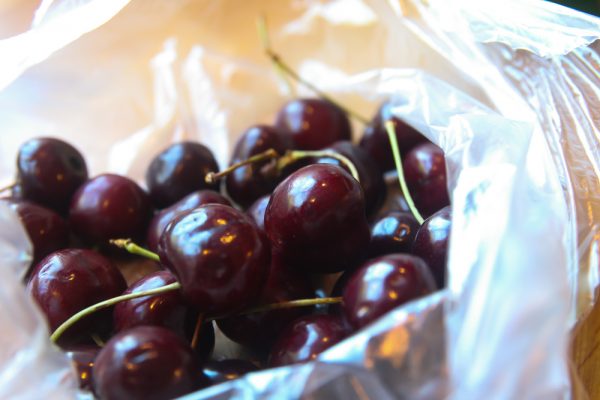 Add the sugar and bring to a boil again. Add the whole cherries that will be served as glazed cherries and let the syrup slowly simmer for about 10-15 minutes. Set aside and leave to cool. You should now have a sweet syrup, it should be a little bit thick in the texture but not like a toffee sauce. In that case, add a dash of water.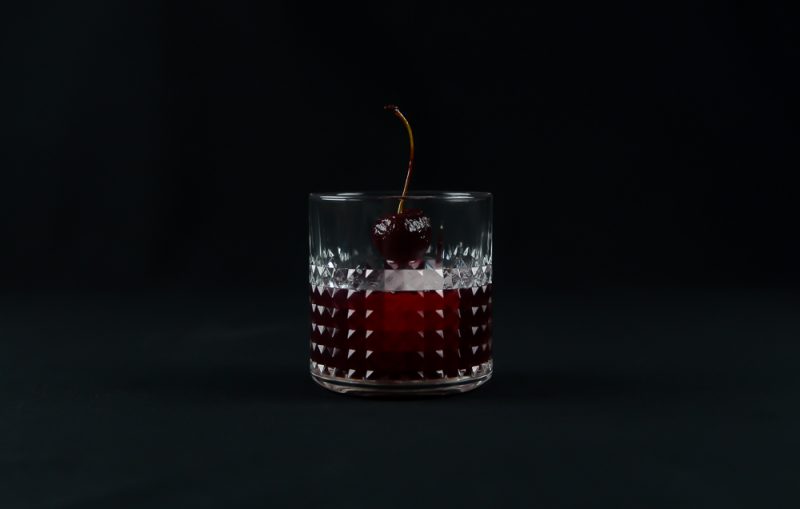 Once you make the drink simply spoon out how much syrup you'll need and then pull out a cherry for garnish. If kept cold both the syrup and cherries should last at least a week. Good luck!
Well as you can see in the recipe below there aren't really any fresh blood oranges used in the recipe. I'm using a blood orange bitter I picked up at Whole Foods Market. It is kind of bitter but not like an Angostura. This is not to add some bitterness but more to use as an ingredient.
If you can't find it I recommend trying a few dashes of Angostura and maybe a dash of fresh blood orange juice instead. I haven't tried it like that but I'm guessing it will work. Now let's blend.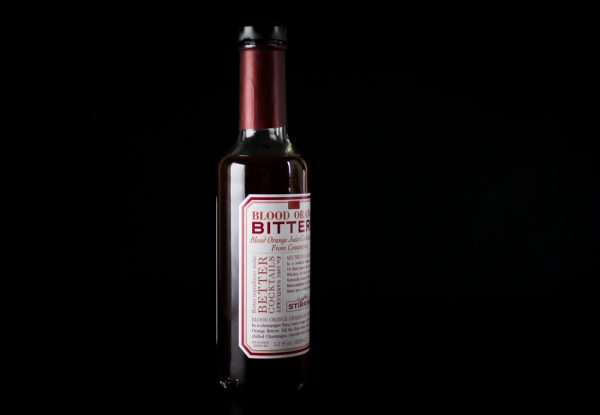 4 parts Rye or Bourbon
2 parts Red Sweet Vermouth
2 parts Blood Orange Bitter
Lemon zest
Tools
Ice
Martini glass
Small pitcher
Spoon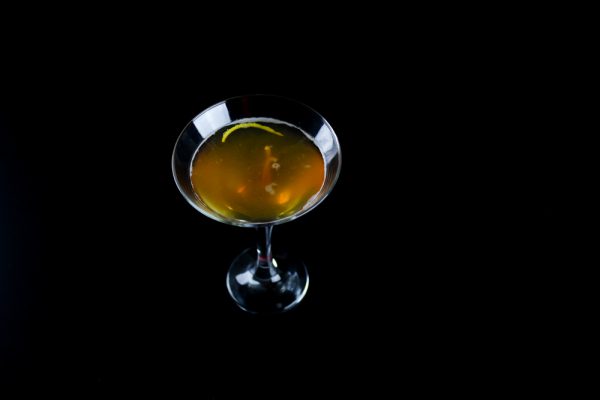 Add the rye, vermouth, and bitter to a small pitcher. Add a handful of ice and stir the drink with the ice. Pour the drink into a martini glass without letting the ice slip into the glass. Add a few pieces of lemon zest into the glass. Serve.
2 oz / 6 cl Scotch Whisky
1 oz / 3 cl Red sweet vermouth
2-3 dashes Angostura bitters
Martini glass
ice
Maraschino cherries
Mixing glass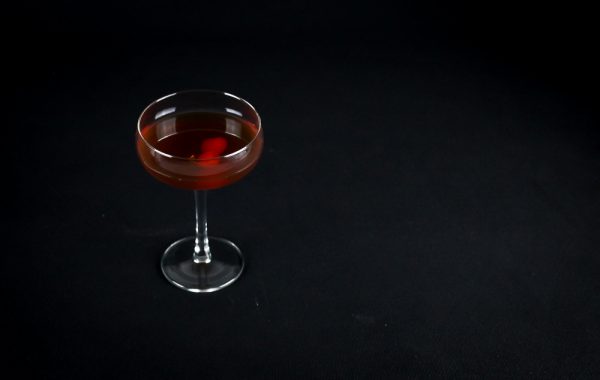 Stir whisky, vermouth and bitters with ice in the mixing glass. Strain into the martini glass and garnish with two Maraschino cherries. Done.
Some recipes add a lemon twist or even some of the juice from the cherries. I prefer not to but if that's your thing go right ahead. Good luck mixing.
Boilermaker Recipe
This is not much of a recipe. In my version that you can also see in the photos, I use a PBR in a can. It looks cool and feels even more blue-collar. On the side, there is a shot of Old Grand Daddy.
1 PBR, in a can
1 oz Old Grand Daddy
Pour and drink.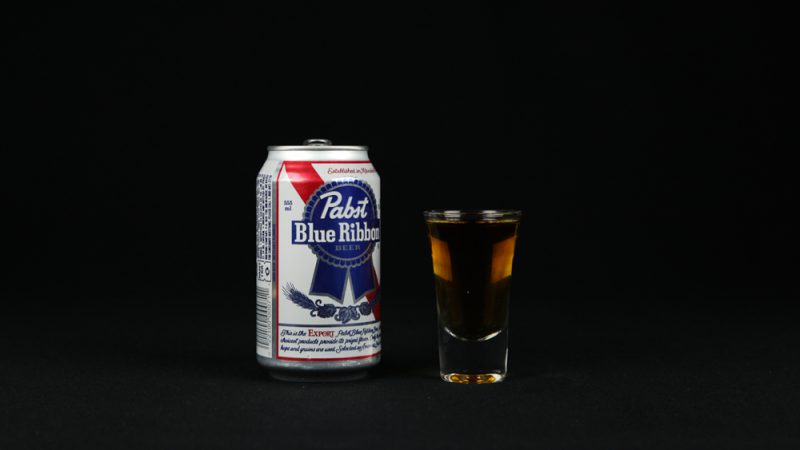 Drink Recipes at Ateriet
Making drinks is fun and I highly recommend trying some of my recipes out. Use them as a starting point to create new and fun stuff. Some of my drinks are classics with a twist, some a real classics and some are inventions of my own. You'll find them all here.