Smoked Old Fashioned With Apple And Cinnamon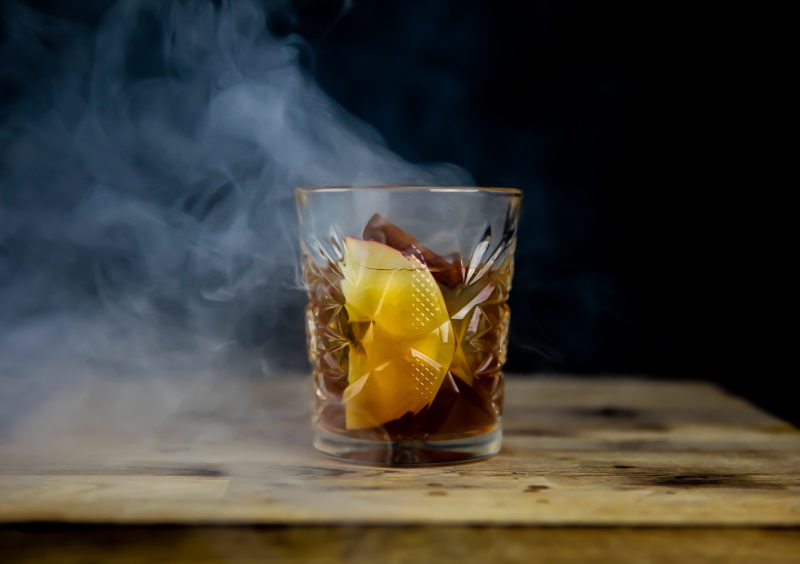 Time to make something a bit more complicated. Try this Smoked Old Fashioned with Apple and Cinnamon, it takes some extra work but it's worth it.
So it's time for a Smoked Old Fashioned with apple and cinnamon. I've seen plenty of different varieties for Smoked Old Fashioned and there are different ways to make one. My way uses real smoke and it will fill your kitchen with it when you make it. So it might be a good idea to make it outside, it's a perfect drink for a warm night.
I use a smoking gun to add the smoke to mine, that's a tool that will set you back about $80. You can use it for other stuff as well. But let's be honest, it's a stupid toy. Very fun to have but not necessary. I got mine as a present so naturally I use it but I'm not sure I would buy one myself. Luckily you can create smoke in other ways.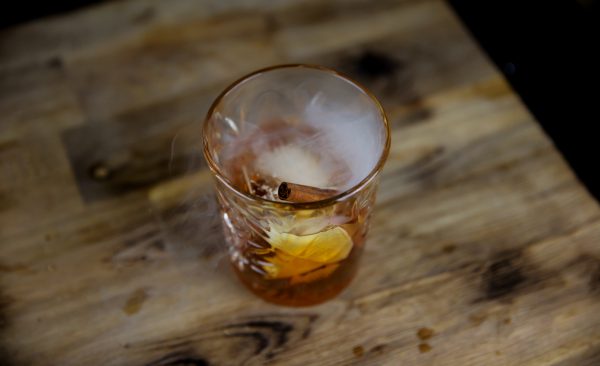 In my video and in the instructions here I will tell you how to make the drink with the smoking gun. To replace it you can light fire to some smoke chips on top on something that you don't mind burning stuff on. Then put the glass and shaker on top turned upside down. Then the fire will die and fill the shaker and glass with smoke.
After that make the drink according to my instructions and you'll have a drink that is close to my version, without spending much money. Also be careful, lighting fires at home should always be done with security in mind. It's not fun to tell a fireman that your house is burning because you accidently set fire to and Old Fashioned while you were trying to impress some girl. So consider yourself warned. Now let's do this. First you can check out the video here, it's a quick version, the full recipe in writing follows.
Smoked Old Fashioned With Apple And Cinnamon
serves 1
2 oz / 6 cl bourbon
0.5 oz / 1.5 cl cinnamon syrup (recipe below)
0.5 oz / 1.5 cl concentrated apple juice
4 dashes Angostura Bitter
1-2 slices red apple
1 cinnamon stick
1 big ice cube
smoking gun
apple wood chips
ice for shaking/stirring
jigger
shaker
lighter
spoon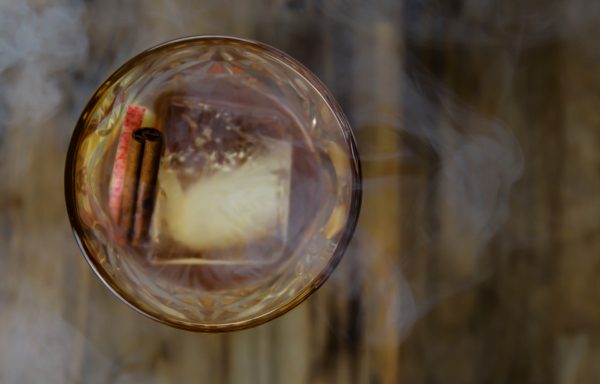 Add bourbon, cinnamon syrup, apple juice and Angostura to the shaker. Fill the shaker with smoke using the smoking gun. Add ice and close the shaker with the lid. Shake and set aside.
Slice one or two apple slices. Turn an Old Fashioned glass upside down and fill with smoke. Once the smoke settles turn it and add a big piece of ice. Pour over the drink. Add the apple slices and a cinnamon stick. Serve.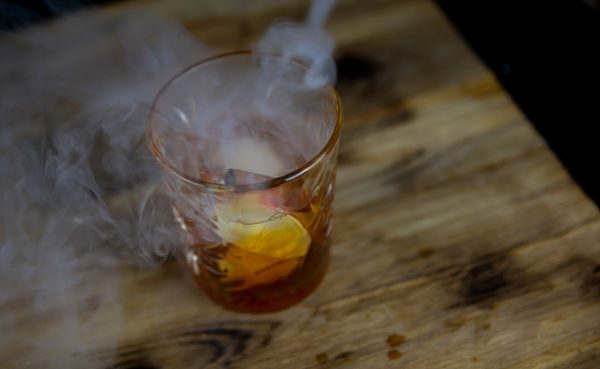 Cinnamon Syrup
The cinnamon syrup can be used for many things, this recipe will give more than you need so keep it for something else.
1 cup / 2 dl sugar
1 cup / 2 dl water
3 cinnamon sticks
1 tbsp ground cinnamon
½ vanilla pod
Bring the water and sugar to a boil. Add all the other ingredients. Turn down the heat and leave to simmer on low heat for ten minutes. Leave to cool. Done.
Drink Recipes at Ateriet
Making drinks is fun and I highly recommend trying some of my recipes out. Use them as a starting point to create new and fun stuff. Some of my drinks are classics with a twist, some a real classics and some are inventions of my own. You'll find them all here.