Kale Apple Side Salad with Walnuts, Celery and Dried Cranberries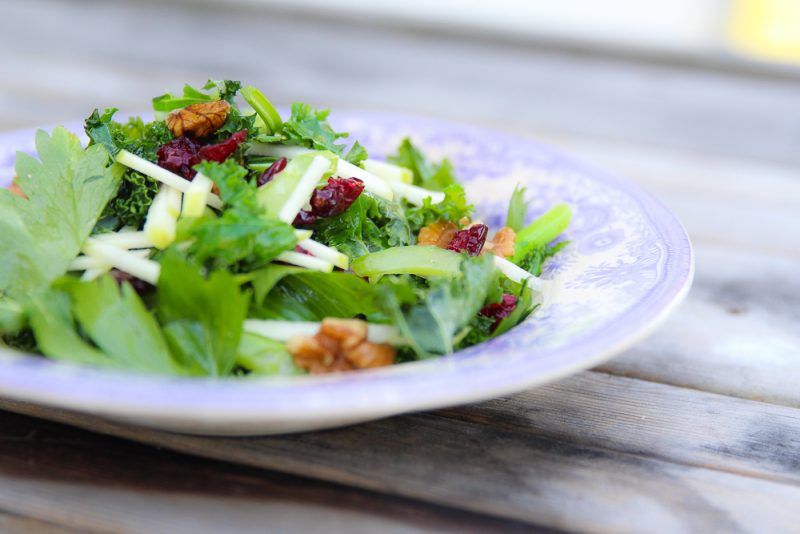 This is a great side salad but one that can also be served on its own. Try my Kale Apple side salad with walnuts, celery and dried cranberries.
I love this Kale Apple side salad. The combination of warm kale, fresh crunchy apples and the sting and crunch of celery go great together. Top it with some walnuts and dried cranberries and you've got yourself a winner.
The salad is super easy to make and you can serve it as a side like I did or make it bigger and serve it as a meal on its own. Let's get cooking.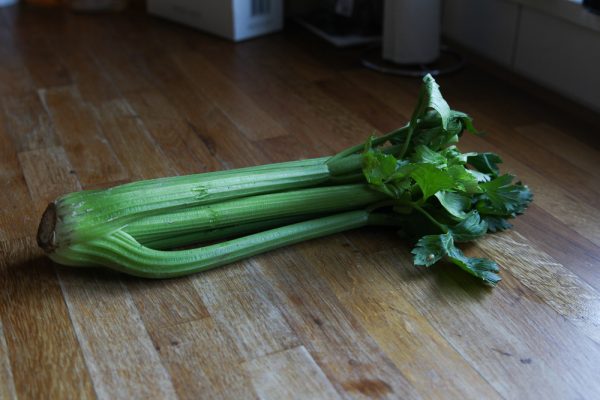 Kale Apple Side Salad with Walnuts, Celery and Dried Cranberries
serves 4 as a side salad
1 big green apple, Granny Smith or Golden Delicious
3 stalks of celery
0.5 handful of walnuts
0.5 handful of dried cranberries
3 handfuls of chopped kale
salt
pepper
1 + 1 tbsp olive oil
1 tbsp red wine vinegar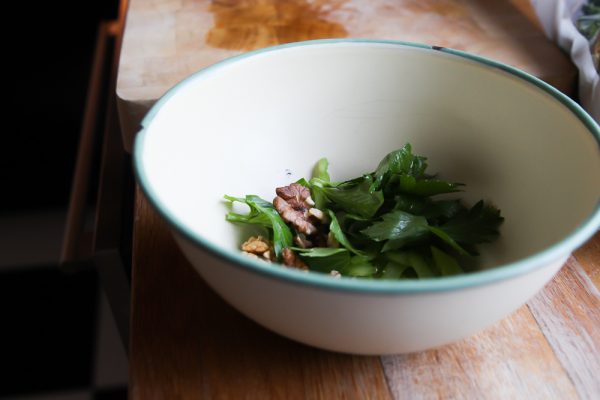 Start by chopping the vegetables. The celery in slices and the leaves whole, the apple in strips and the kale just roughly chopped with any big stems removed.
Heat a frying pan and add 1 tbsp of olive oil. Add the kale and saute it for about 30 seconds. Add the kale to a big bowl and add the apple, celery, walnuts and cranberries.
Season with salt and pepper, add the remaining oil and the red wine vinegar. Serve immediately.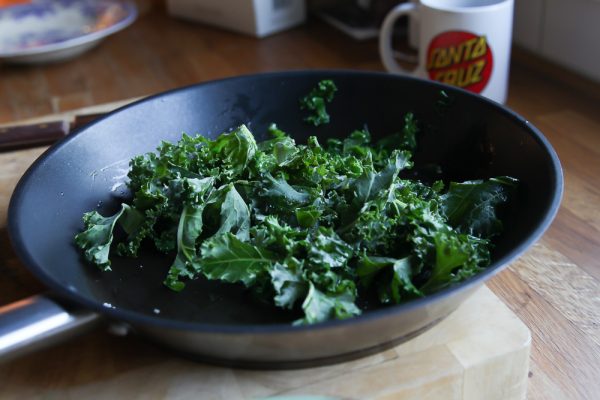 What to Serve with this Kale Apple Side Salad
Like I already mentioned the salad can be made bigger and you can serve it on its own. But if you, like me will be serving it as a side you need something bigger to go with it. These are some of the things I think go great with this salad.
Roast chicken and rice

Lebanese meze dishes like olives, tzatziki

Fried fish

Meat skewers with lots of flavor like cumin, paprika, Indian spices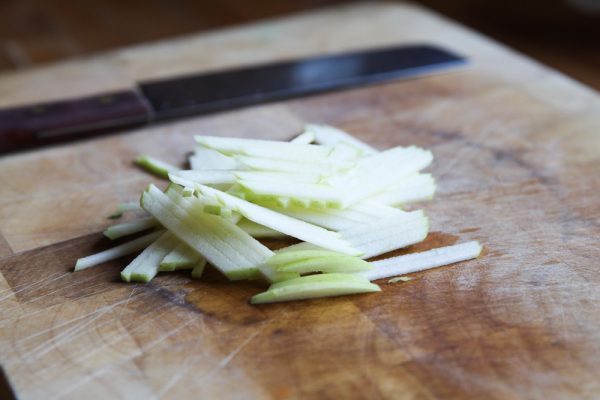 Hope any of these works for you. You can, of course, add your own twist or change this up any way you like. Like I've said before, cooking is all about having fun so use recipes like guides and inspiration. Not rules you have to obey. Good luck and let me know if you tried this recipe and if you liked it.