Warm Chickpea Red Pepper Side Salad with Yogurt and Kale
Time to put in an extra effort for those side salads, start out with this Warm Chickpea Red Pepper Side Salad with yogurt and fresh kale. You won't regret it.
This Warm Chickpea Red Pepper Side Salad uses one of the easiest and quickest ways of turning canned chickpeas into something delicious. What you do is simply to roast them in a pan and mix them up with some other tasty stuff. The result is a warm and delicious side salad. You won't regret trying this salad out. Let's get going. 
If you like this recipe and want to eat some other stuff with chickpeas you can try out these pan-fried chickpeas or this tasty hummus as well, enjoy!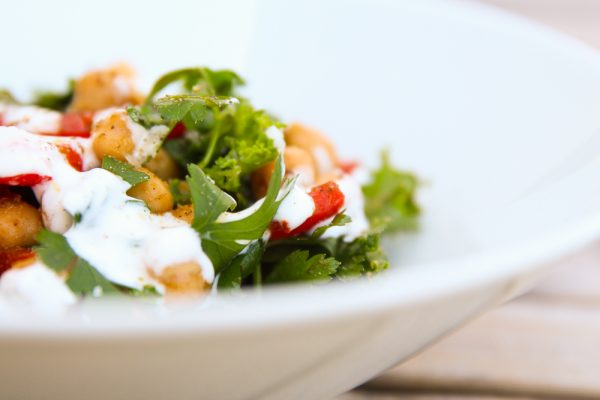 Warm Chickpea Red Pepper Side Salad with Yogurt and Kale
serves 4 as a side salad
1 can of drained chickpeas (drained weight 8.8 oz / 250 g)
1 big red bell pepper
1 tbsp ground cumin
salt
black pepper
2 tbsp olive oil
2 handfuls of chopped kale
1 handful of roughly chopped flat leafed parsley
4 tbsp Greek yogurt
½ lemon
salt
black pepper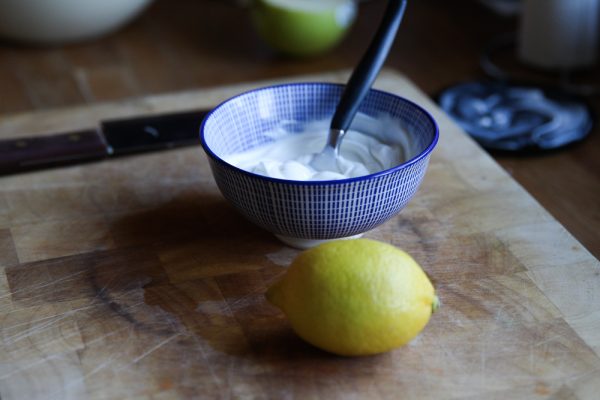 First, combine the yogurt with the juice of half a lemon. Season with salt and black pepper. Set aside. Add the oil to a frying pan and set on medium heat. Chop the red pepper and add to the pan, let the peppers cook on medium heat for ten minutes. They should be almost cooked through and a bit blackened on each side.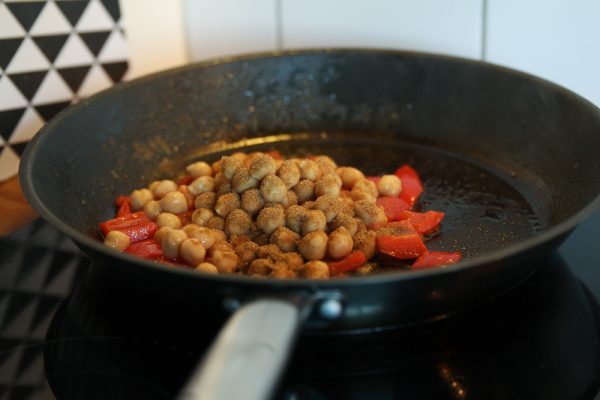 Drain the canned chickpeas and add to the peppers, add the ground cumin and season with salt and pepper. Chop the kale and parsley. Remove the pan from the heat and add the kale and parsley. This way the kale and parsley will soften due to the heat from the chickpeas and pepper.
Transfer the salad to a bowl and top with the yogurt you prepared earlier. Serve immediately.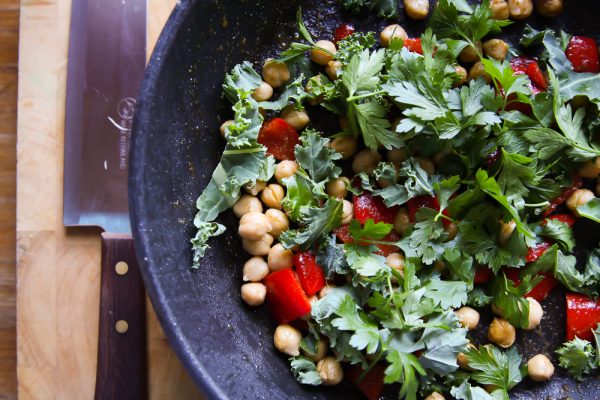 What to serve Warm Chickpea Red Pepper Side Salad With
Great, now you can make this salad. But what are you suppose to use it for? Well, first of all, don't let me tell you what and what to not serve it with. It's all up to you. But if I must recommend something I think these examples would pair great with this warm salad. You can of course also serve it on its own.
Any Indian type of stews

Kebabs, as a side or in the kebab

Roast chicken

Meze, as one of many small meze dishes
Good luck and I hope you like this salad as much as I do.