Pork Collar Taco with Chipotle Corn Salsa, Cilantro Sauce and Feta Cheese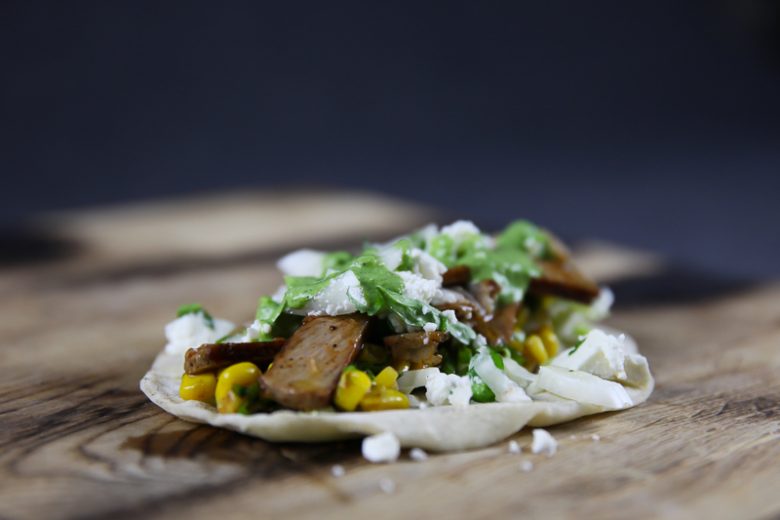 This pork collar taco comes with a smoky chipotle corn salsa, a cilantro and jalapeno sauce, some crumbled feta cheese and it all sits on a homemade wheat tortilla. You should try this one out.
This pork collar taco does that a little bit of extra work but I promise you it will be worth it. None of the recipes are difficult or takes a long time. So it is sort of a homemade delicious fast food. Well, to be honest, the homemade wheat tortillas do take some time, but you can skip those. They have tortillas at the store so feel free to buy some if you want to.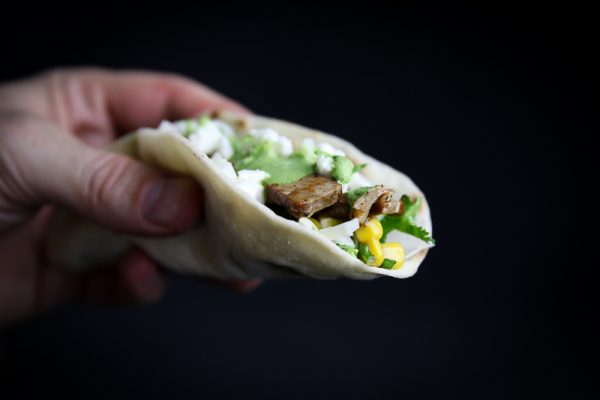 As with all taco recipes here, I'll start with what goes on the taco and then there are some more detailed recipes where it is necessary. Now let's make this pork collar taco shall we?
Pork Collar Taco with Chipotle Corn Salsa, Cilantro Sauce and Feta Cheese
4 tacos
4 wheat tortillas
1 slice about 5-6 oz / 150-170g of pork collar
2 tbsp BBQ Sauce, store bought (details below)
salt, pepper
3.5 oz / 100g fresh white cabbage
4 tbsp Chipotle corn salsa (recipe below)
2.8 oz / 80g feta cheese or queso fresco
1 small onion
a few leaves of fresh cilantro
4 tsp cilantro and jalapeno sauce (recipe below)
Assemble the taco as I do in the video below. Besides the recipes below, you'll need to fix the onion and feta cheese mix. It is very easy. Simply crumble the feta cheese, chop the onion, chop the cilantro and combine. That's it. Now you've got yourself a super quick, beautiful and delicious topping for your taco. Let's move on.
Grilled Pork Collar for Tacos
Pork collar is one of my favorite cuts for tacos. This meat comes at a great value and is often very tender. It has some fat so it rarely gets dry. Since I was just making some tacos I just got one slice. I seasoned it with salt and pepper and simply grilled until cooked through. Then leave the meat to rest.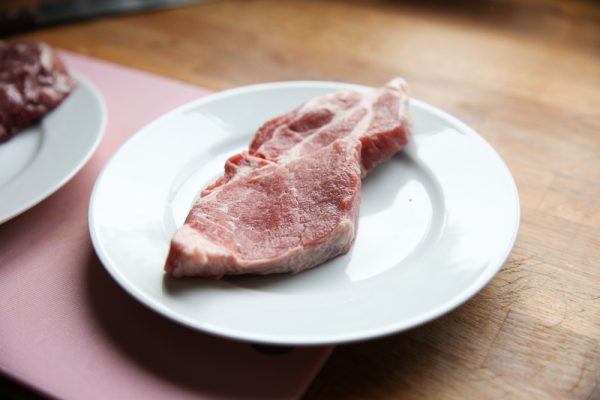 Slice the meat into thin slices and add the BBQ sauce, keep warm. That's it. You can, of course, use all sorts of meat for tacos with similar flavors as this. But the good thing here is that it's a quick way to cook things up. I like a whole day BBQ project for tacos as well, maybe even more than this meat but you don't always have that time to spare. That's when it's great to get a slice of pork collar.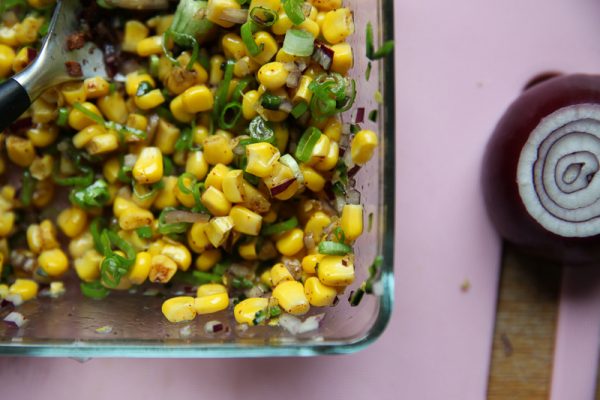 Chipotle Corn Salsa
This is an easy salsa with plenty of flavor. I make it with canned corn but you can, of course, use fresh or frozen as well. Then I just add some sliced scallions, some ground chipotle, red onion, salt, pepper, and oil. Great flavor in a very simple way.
½ cup / 1.2 dl corn
½ small red onion
1 tsp ground chipotle
1-2 scallions
salt
black pepper
1 tbsp olive oil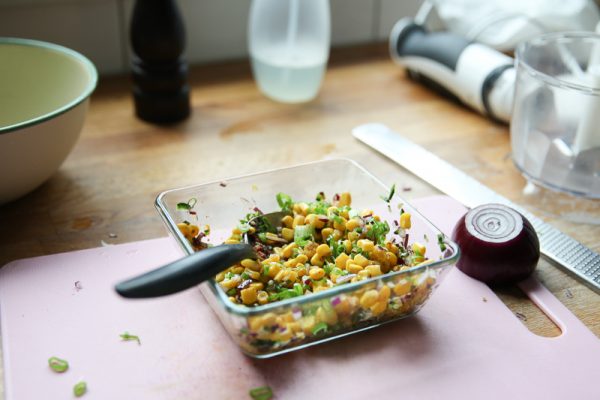 Open the canned corn and let it drain. Chop the red onion and slice the scallions. Combine scallions, onion and corn. Add the chipotle, olive oil and season with salt and pepper. Done.
The Quickest Cilantro and Jalapeno Yogurt Recipe Ever
1 handful of fresh cilantro
1 small jalapeno
3-4 tbsp yogurt, 10% fat content
a few twists of black pepper
a pinch of salt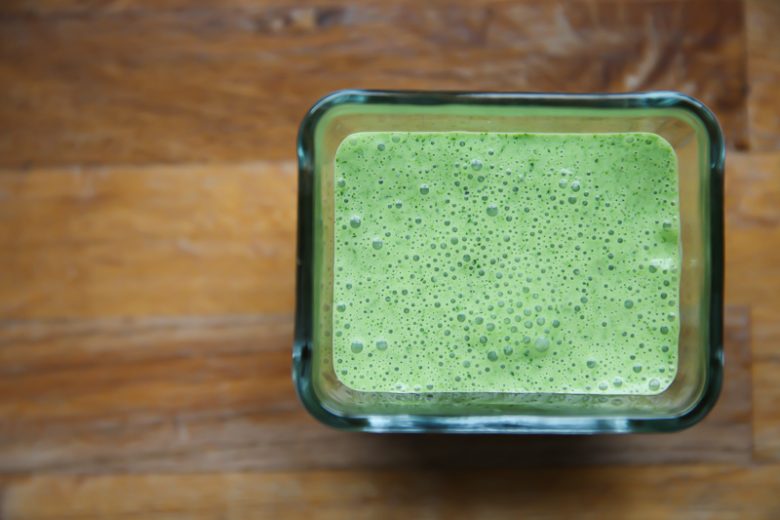 Add all the ingredients to a blender or something that you can mix it with a handheld mixer in. Mix for about 30 seconds. Done.
Seriously that is it, check the flavor and add more salt and pepper if necessary. Then all you need to do is serve it. It has a strong cilantro flavor with a little bit of sting from the jalapeno. A bonus is that since it only uses yogurt as a base and contains cilantro and jalapeno it's not only tasty, it is low in fat as well.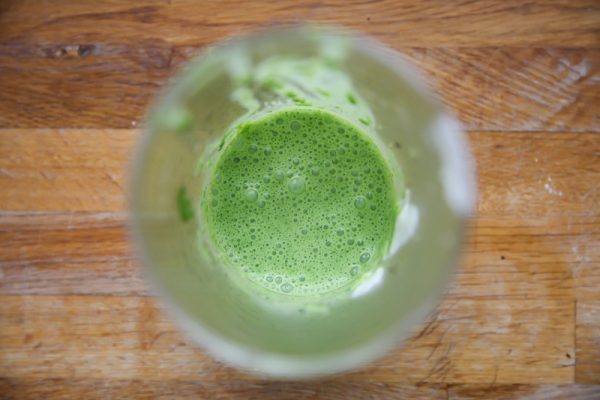 About Tacos at Ateriet
I love tacos. This means I keep making tacos and eating them and also post them here for everyone who shares this love. I try to step away from the classic tex-mex stuff and creating sort of my own twist on things. This is not easy in the world of tacos but that is part of the fun. For all my Taco Recipes visit the category taco recipes. You'll find not just great taco recipes but also great sides, toppings, and sauces.