Try This Delicious 5-Minute Chimichurri Sauce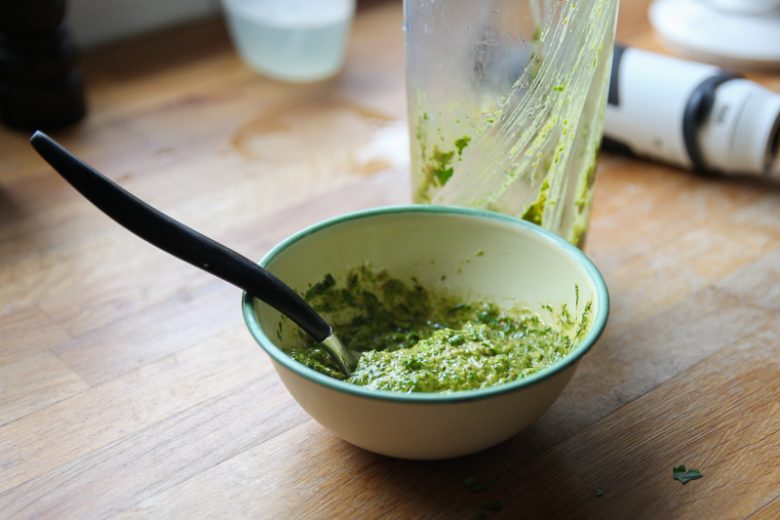 Try this 5-minute Chimichurri sauce, it is my version of this classic South American delicious sauce that goes great with grilled meat, tacos and much more.
This 5-minute chimichurri sauce recipe is as easy as sauces get. Roughly chop a bunch of herbs, onion, garlic, and chili. Add some oil and blend. You're done! I love sauces like this, great flavor, fresh and spicy and so easy and quick to make.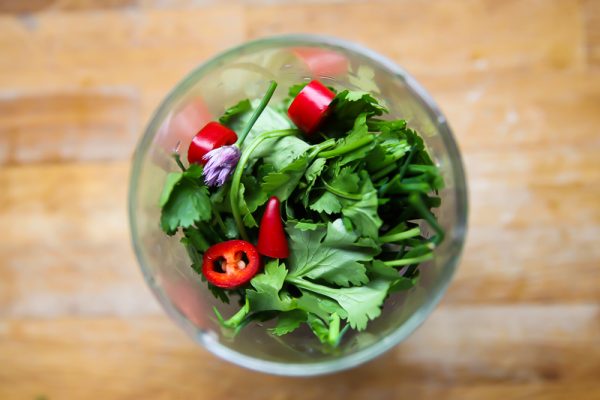 The chimichurri is an Argentinian non-cooked sauce and that is what makes it so easy and quick to make. The recipe here is my version that I originally made for a delicious chimichurri beef taco. So I don't in any way claim this as an authentic chimichurri. The great thing about that is that you can experiment as much as you want. So let's make this tasty chimichurri sauce.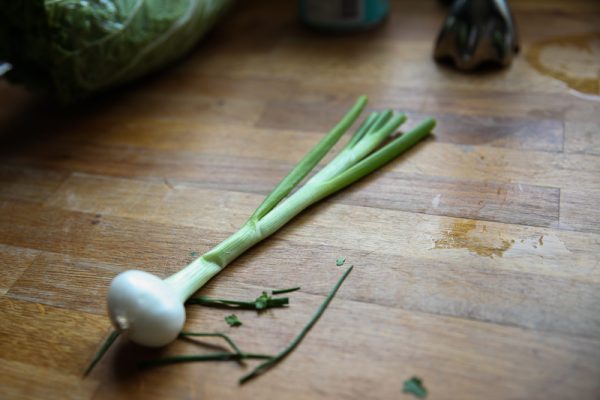 5 Minute Chimichurri Sauce
2 handfuls of mixed herbs, I used cilantro, chives and parsley
1 clove garlic
1 red fresh chili
1 fresh onion or 2 scallions
2 tbsp canola oil
1 tbsp vinegar
1 tbsp olive oil
salt, pepper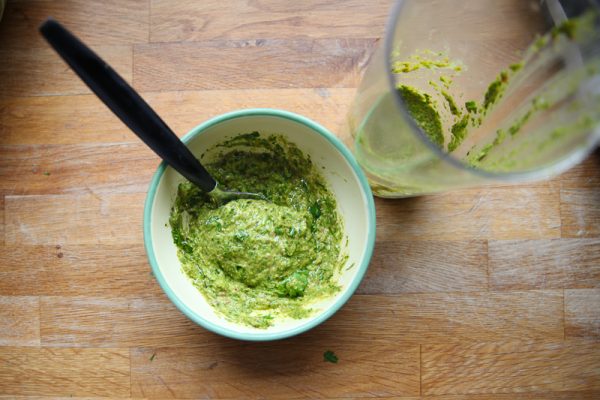 Chop the herbs, garlic and chili roughly. Add to a mixer or a cup so you can mix it with a handheld blender. Add the rest of the ingredients. Blend until you have a rough sauce. Season with salt and pepper. The chimichurri lasts 2-3 days in the fridge.
What To Serve Chimichurri Sauce With?
The question is more what can't you serve chimichurri sauce with, but I'm guessing you'll need some more solid advice. Here are six great ways that I've tried. Give it a go and do experiment, you'll never know what great flavor combination you'll find.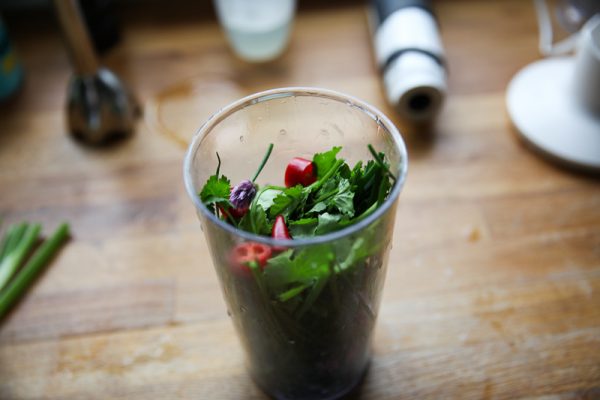 Chimichurri Salad – use the sauce as a salad dressing, for a rustic salad with romaine lettuce, diced cheese, some cucumber, and tomatoes.

Chimichurri Taco – I already talked about this great combo but it is worth mentioning again, get the full recipe here.

Bruschetta – grilled sliced bread, sliced tomatoes and topped with chimichurri will give you a quick and delicious appetizer.

Steak – the most common way to serve chimichurri sauce. Add it to grilled or seared steaks.

Pasta – add it to cooked tagliatelle instead of pesto, all those herbs and spicy flavors give you a great quick pasta.

Grilled chicken – for a whole grilled or roasted chicken. Before cooking brush the chicken with chimichurri. When it's almost done brush it again with even more, this will give it some great flavor and look beautiful.
That's it! Now go make some great sauce!