Chimichurri Taco with Beef, Red Cabbage Coleslaw and White BBQ Sauce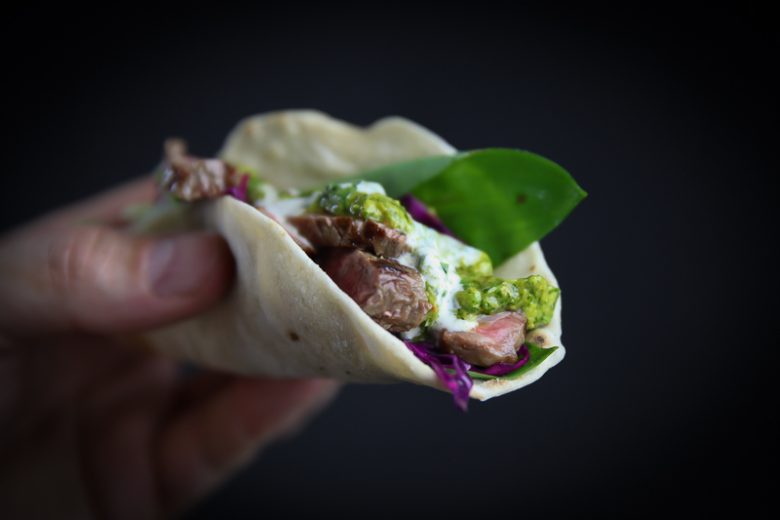 I made this chimichurri taco with beef last weekend and it was one of the best I've made so far, do try it out. You won't be sorry.
This chimichurri taco with beef, a red cabbage coleslaw and a white bbq sauce with plenty of garlic is seriously one of the best tacos I've made. It's not very complicated but you'll get instantly rewarded if you'll try this one.
I'll take you through the full recipe step by step, it will require a little bit of extra work but I do promise that it will be worth it. I'm starting out with what is in the taco and further down the separate recipes can be found as well.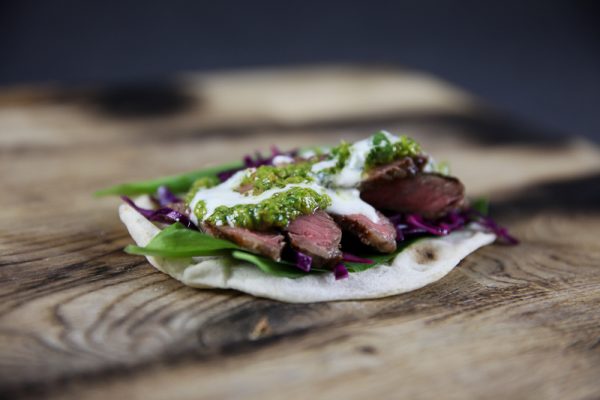 Chimichurri Taco with Beef, Red Cabbage Coleslaw and White BBQ Sauce
4 tacos
4 wheat or corn tortillas
8 leaves of ramps or ramson (optional)
8 tbsp red cabbage coleslaw (recipe below)
5.3 oz / 150g sirloin steak
4 tbsp chimichurri (recipe below)
8 tsp White BBQ Sauce (recipe below)
First a few quick words. In my film here I use a homemade wheat tortilla. Honestly they are delicious and worth every minute spent on making them. On the other hand I totally get if you don't have the time or feel like making your own. Then just buy some, no shame in that. There are more to life than making tacos.
But if you want to try to make some of your own I have the recipe for wheat tortillas here and for Masa corn tortillas here. Both are delicious and highly recommended.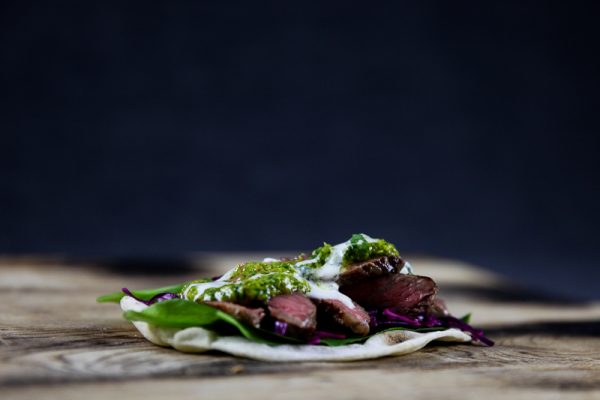 Next up is the meat. I got a high quality sirloin steak that I just grilled to medium/medium rare and sliced. You can use any tender beef cut for this recipe so get what looks good in the store. Grill or pan fry and season with salt and pepper. That's it.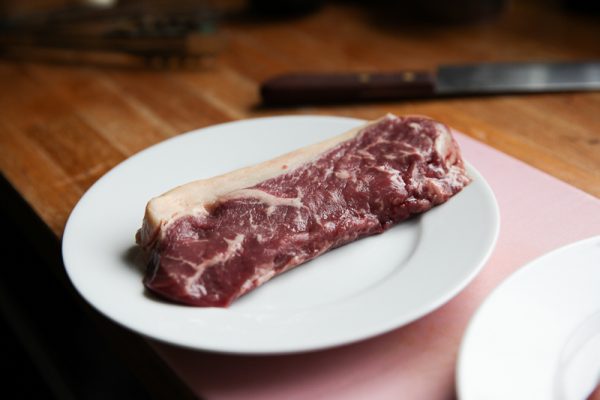 How to make the Chimichurri Taco
Grill the meat and leave to rest. Then slice in thin slices. Heat the tortillas. Place the tortillas on a tray or plates. Add a few leaves of ramps or ramson if you have it. If not just leave it out or replace with some shredded lettuce.
Then add the red cabbage coleslaw, then the sliced sirloin and top with the chimichurri and white bbq. Done. Now let's go over the individual recipes. Most of them will last for more than just four tacos.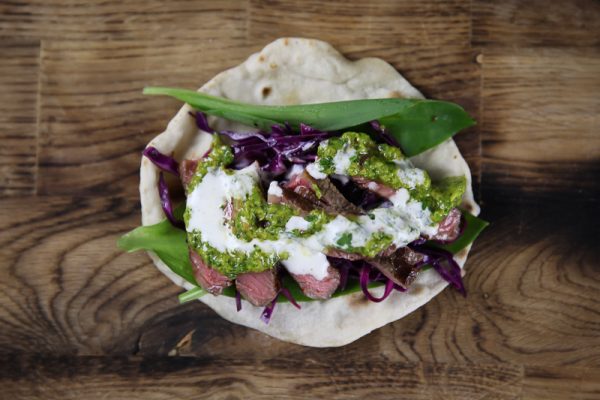 Red Cabbage Coleslaw
About 10 oz / 300 g red cabbage
2 limes
2 tbsp olive oil
salt
black pepper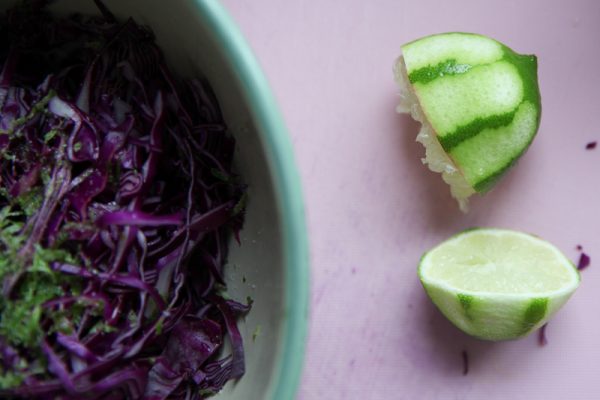 Shred the cabbage as thin as you can. Rinse the limes in water and then grate them both using a microplane into the cabbage. Then cut the limes in half and squeeze into the cabbage. Add the olive oil. Season with salt and black pepper. Check the flavor and adjust if necessary. Leave to rest for about one hour before serving.
The coleslaw will last for 2-3 days if kept cold and is great for much more than just tacos. Serve it as a side or for burgers and hot dogs.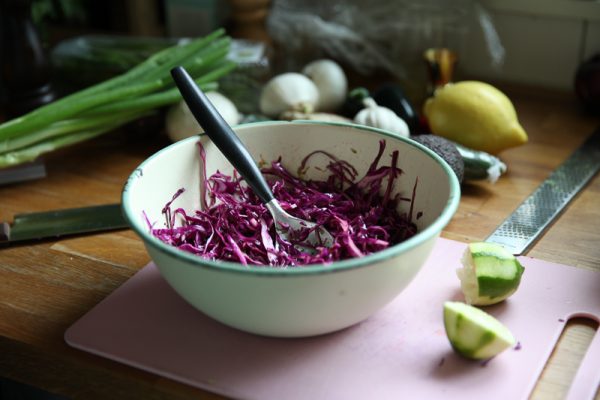 Chimichurri Sauce
I don't claim this chimichurri recipe to be authentic in any way. I used more or less what I had at home and it turned out delicious. What I mean by that is that feel free to improvise.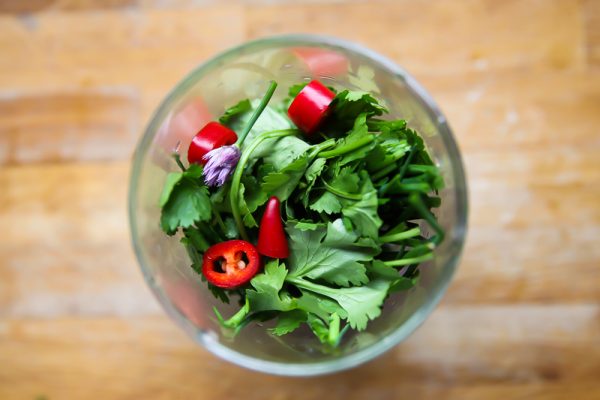 2 handfuls of mixed herbs, I used cilantro, chives and parsley
1 clove garlic
1 red fresh chili
1 fresh onion or 2 scallions
2 tbsp canola oil
1 tbsp vinegar
1 tbsp olive oil
salt, pepper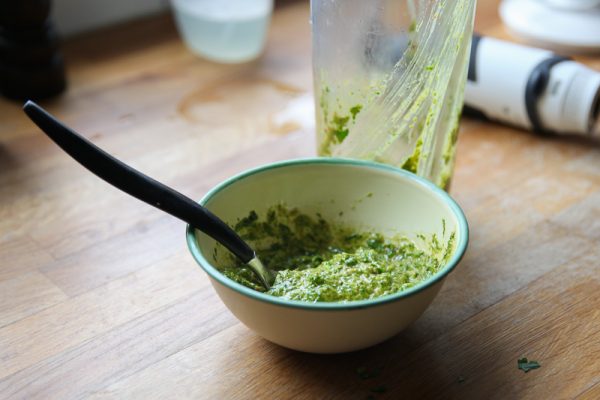 Chop the herbs, garlic and chili roughly. Add to a mixer or a cup so you can mix it with a handheld blender. Add the rest of the ingredients. Blend until you have a rough sauce. Season with salt and pepper.
As you most likely already know chimichurri is great with all meats and lots of other stuff too. So if you get some leftover it shouldn't be a problem. It lasts 2-3 days in the fridge.
White BBQ Sauce
Just as for the chimichurri I can't claim this sauce to be authentic. It's my version of a white bbq sauce that I've grown to love since I first had it in LA a few years ago. It's just a great sauce, especially when you combine it with some other sauce like regular bbq or in this case chimichurri.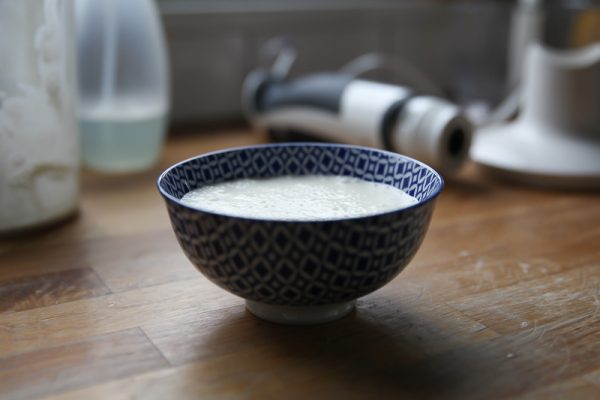 2 tbsp creme fraiche
2 tbsp yogurt 10% fat content
1 tbsp mayonnaise
1 clove of garlic
1.5 tbsp apple cider vinegar
black pepper
salt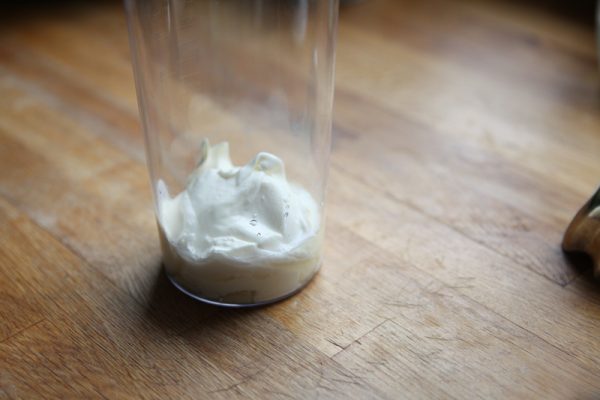 Combine all ingredients and blend or mix using a handheld blender. Check the taste and adjust if necessary. Since this sauce is kind of sour it will last a bit longer in the fridge, usually around five days or even more.
About Tacos at Ateriet
I love tacos. This means I keep making tacos and eating them and also post them here for everyone who shares this love. I try to step away from the classic tex-mex stuff and creating sort of my own twist on things. This is not easy in the world of tacos but that is part of the fun. For all my Taco Recipes visit the category taco recipes. You'll find not just great taco recipes but also great sides, toppings, and sauces.