Asian Beef Tartare with Cilantro Mayonnaise, Cashews and Egg Yolk Confit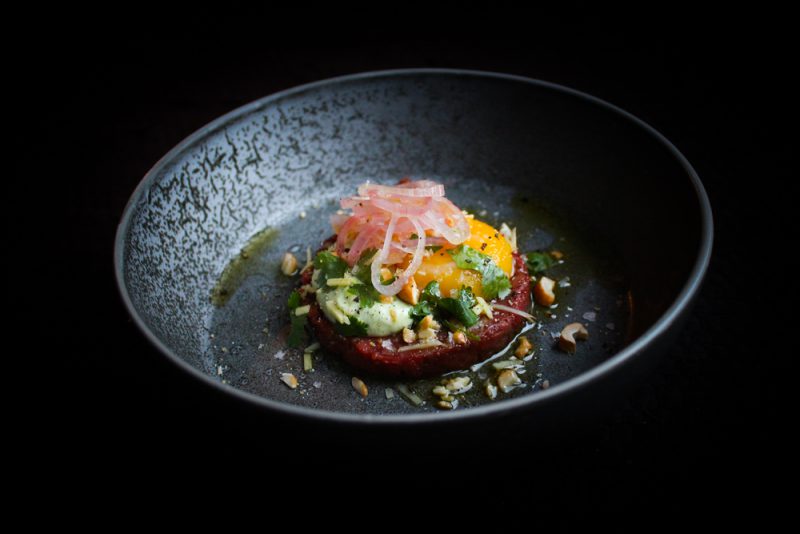 Try this Asian Beef Tartare with a fresh cilantro mayonnaise, cashews and a egg yolk confit, a great twist on a classic.
Asian beef tartare is what it sounds like. An Asian twist on the classic beef tartare. It's easy to make and the raw beef pairs perfectly with asian flavors.
The meat is flavored with Japanese soy sauce and some sesame oil. I added the other flavors on top of the meat. A cilantro and scallion mayonnaise, an egg yolk poached in oil, some crunchy cashews and pickled shallots.
So there are a few parts that you have to make to get the dish completed. A good thing about this is that most of these parts can be used in a wide variety of dishes don't worry, now let's cook.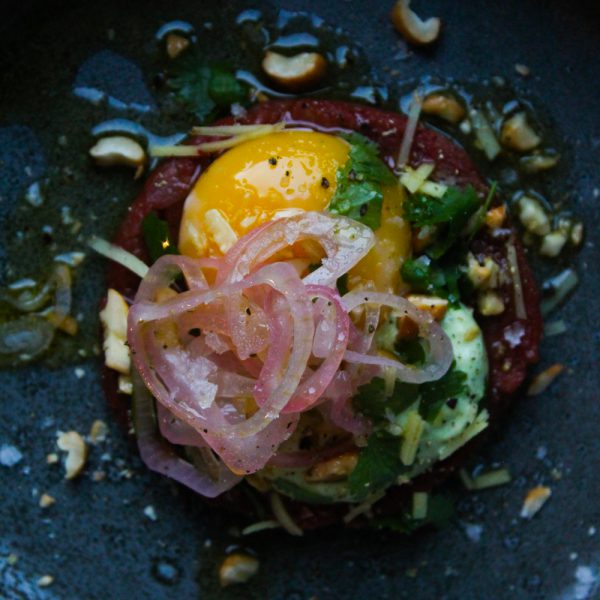 Asian Beef Tartare with Cilantro Mayonnaise, Cashews and a Egg Yolk Confit
serves 4
I've split this recipe into the main components, you can of course add your own twist or exclude anything you don't like or substitute it for something else if you want to. The recipe serves four at least, some parts of the recipe will last for more but can be hard to make a little of.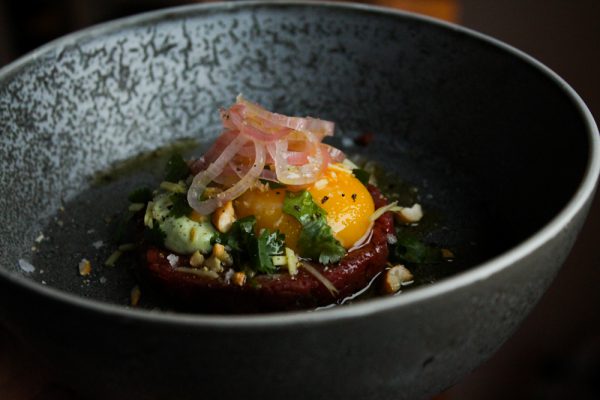 Asian Beef Tartare
200g beef tenderloin
2 tbsp Japanese soy sauce
2 tsp sesame oil
You can make beef tartare in a number of ways. Chop it into an almost smooth paste. Scrape it using the side of a knife or grind it. I scraped my meat off a tenderloin. Chopping or grinding works good too but make sure to keep things clean and cold since you will be serving this raw.
Scraping the meat can feel a little bit different but the result is usually great. Place the tenderloin on a cutting board and hold the knife down on the meat like you are about to slice bread. The move the knife sideways with some applied pressure. The meat will stick on the side of the knife and can be transferred to the bowl.
Once the meat is chopped, scraped or grinded add the soy sauce and sesame oil and blend together with a spoon. Keep cold until serving.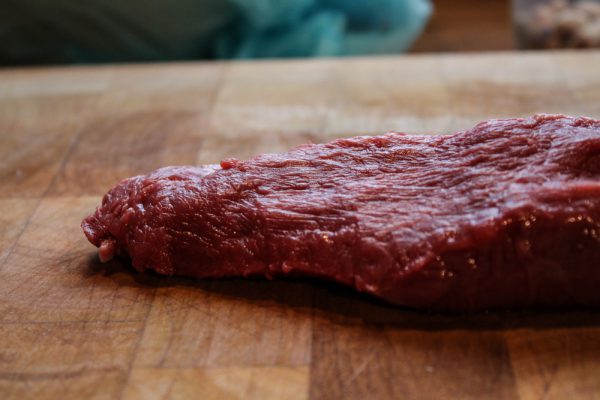 Cilantro and Scallion Mayonnaise
This mayonnaise is more or less a standard mayonnaise but with fresh cilantro and a scallion mixed into it. The recipe will last for more stuff than just the asian beef tartare.
I think the best way to make it is in a small blender or mixer.
2 egg yolks
1 handful of fresh cilantro
1 tsp dijon mustard
1 scallion
1-2 tsp white wine vinegar
salt
pepper
1 cup of vegetable oil
Chop the scallion and cilantro roughly. Add them and the egg yolks, dijon mustard, vinegar and a little bit of salt and pepper to a mixer. Mix for a few seconds. Then start adding the oil slowly while mixing. Keep adding the oil until you have a thick mayonnaise. You might have to add a few drops of water in case it gets too thick.
Season with more salt and pepper if necessary.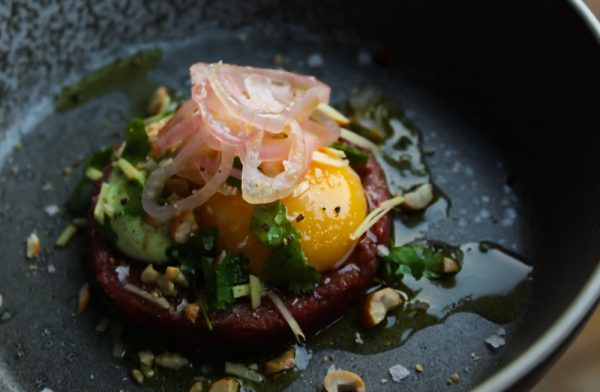 Egg Yolk Confit
4 eggs
6 tbsp vegetable oil
This is an easy way to add a cool detail instead of just serving this asian beef tartare with a raw egg yolk. To make it I use a espresso cup that can be used in the oven. Then I simply add oil and an egg yolk. Place the cups in the oven on 160°C / 320°F and let them cook until soft boiled.
It is hard to name an exact time on how long this will take since cups and temperatures can vary quite a lot. For me it took 15 minutes to get it perfect on 160°C / 320°F.
You can remove one cup from the oven and carefully poking it with a spoon to get a feel for how cooked they are. An even better way is to test drive this part of the recipe before attempting it on guests.
Once the the eggs are done remove them from the oil, otherwise they will keep cooking and become hard boiled.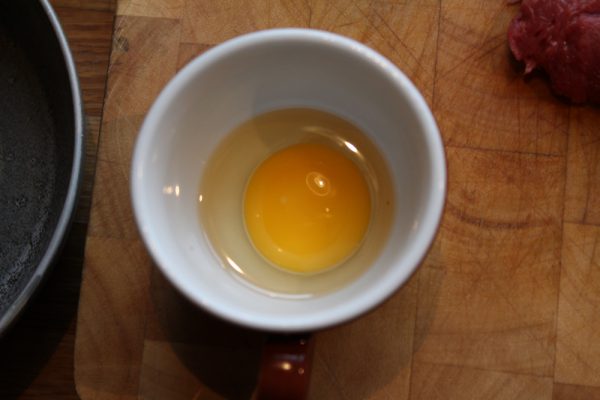 Pickled shallots
2 shallots
0.5 cups rice vinegar
0.5 cups sugar
0.5 cups water
Peel and slice the shallots in thin slices. Combine rice vinegar, sugar and water in a pot and bring to boil. Add the shallots and let them simmer for about one minute. Set aside and leave to cool.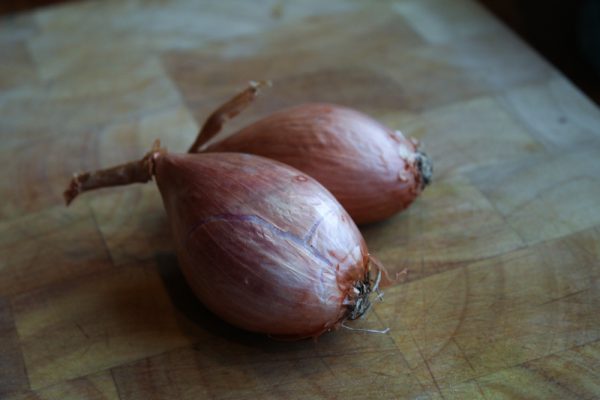 Plating and finishing touches
4 plates
1 handful of fresh cilantro
2 tbsp cashew nuts
1 small piece of fresh ginger
olive oil
black pepper
salt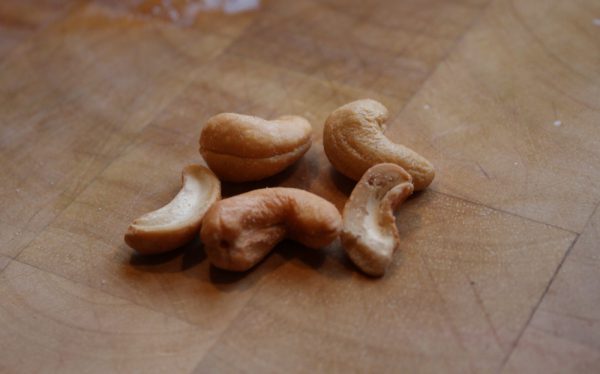 Chop the cilantro and cashews. Peel and cut the ginger into thin strips. Divide the meat into four equal pieces. Shape each part into a round but flat shape, like a meat hockey puck. Place one piece of meat on each plate.
On top of the meat add one egg yolk, one spoonful of cilantro mayonnaise and a big pile of pickled shallots. Add the chopped cilantro, ginger and cashews on top.
Drizzle with a few drops of olive oil and a little bit of salt and black pepper.
Serve immediately.