Cabbage Lime Salad with Scallions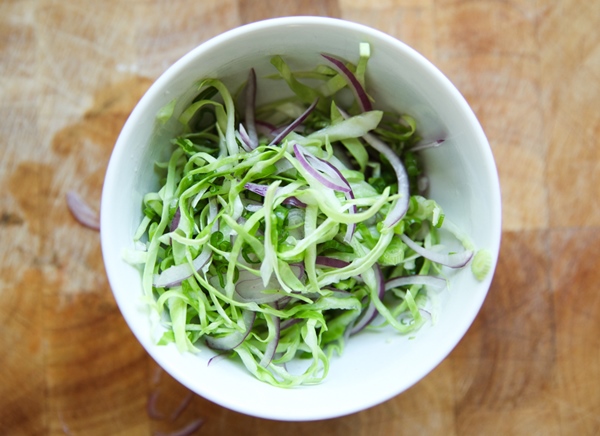 Try this fresh cabbage lime salad with scallions and red onion. Fresh, crunchy and packed with flavor. Use it as a great side dish.
This salad is a favorite of mine, I made it using fresh cabbage. When it's the first of spring it is almost like a iceberg lettuce with more flavor and an incredible ingredient that can be used for lots of stuff. When I made it the cabbage was in the beginning of its season, if you're using winter cabbage you need to make sure to slice it very thin, otherwise the cabbage can feel dry and woody. You can make it out of other types of cabbage as well and add your own flavors too. Why not try it with some added carrots, fennel or apple and season with fish sauce, lemon or soy.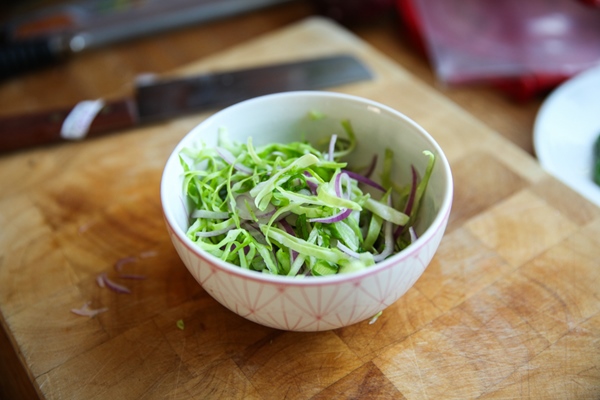 This type of salad can be used for lots of good stuff, I previously used the salad in this great taco. But there are no reasons why this should be limited to tacos. It's great to use for burgers, salads, sides and loads of other good stuff.
Cabbage Lime Salad with Scallions
½ small head of white cabbage (about 500g / 18 oz)
1 red onion
4 scallions
1 tsp salt
2 limes
Slice the cabbage thin and season with salt. Peel and slice the red onion and slice the scallions and add to the cabbage. Grate the peel of the lime and squeeze the limes and add to the salad. This salad tastes the best if you leave it for and hour or two but can be served straight away.