5 Great Carrot Recipes and some Carrot History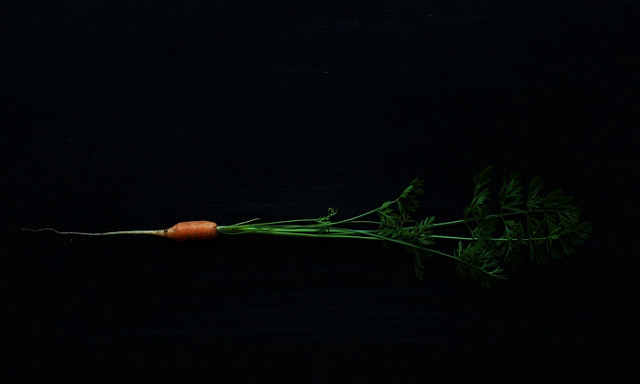 Time to put the focus on some great carrot recipes. Let's take a look at some of the delicious things you can use this humble vegetable for.
Carrot recipes always come in handy. I'm not sure about you but I always have a bag of carrots in the fridge and they can be used for soo much. But the carrot rarely get to play the lead or be the star of the dish so it is a humble vegetable we're dealing with. I put together some of my favorite recipes here from Ateriet with carrots. You'll find them all further down in this post but before we start cooking let's take a quick look on some carrot history and facts.
The History of Carrots
Carrots have been around for a long time. What we have today is a cultivated variety which is sweeter and not as woody as the original. The wild carrots are most likely from what is now Afghanistan and Iran. But eating only the root have not always been the case. When carrots was first cultivated they were mainly grown for the seeds and leaves, which we often throw away nowadays.
The carrot dates back to at least as far as 2-3000 BC since there have been findings on seeds in Europe. The first documented source of eating the root dates back to the 1st century. It then traveled to Europe in the 8th century and Asia. By this time the carrots was purple. The modern orange carrot came from Afghanistan at about the 10th century and then slowly spread from there.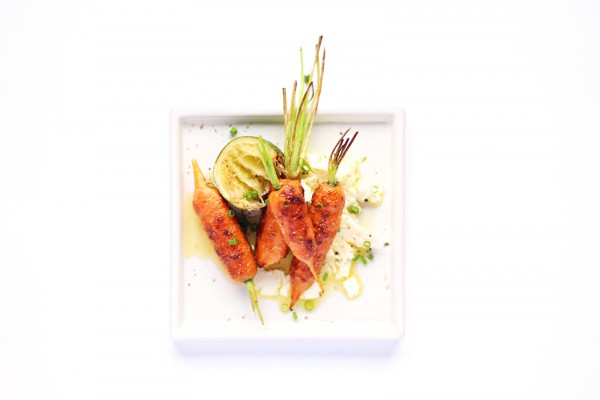 Carrot Colors and varieties
There are almost an infinite number of different carrot varieties. The most common one is the orange but you can find white, yellow and purple carrots as well. Some are even both purple and orange at the same time. Besides the colors each variety is different in other ways like flavor, how big they get, thickness, sweetness. If you want to take a closer look I recommend visiting a seed shop, you'll easily find at least 20 different varieties for home growing.
Uses for carrots
Carrots is a real staple in the kitchen and can be used in so many ways. Boiled, grilled, roasted, juiced, mashed, steamed, raw are just a few of the techniques that works great with carrots. One of the great things about carrots is that you can use it for so much. First of course is all the sauces, stocks and stews where I almost always start out with a carrot together with some onion and garlic. But the carrot is not just for the basic stuff. So I picked five carrot recipes that I think makes the carrot stand out a little bit more than usual. Enjoy!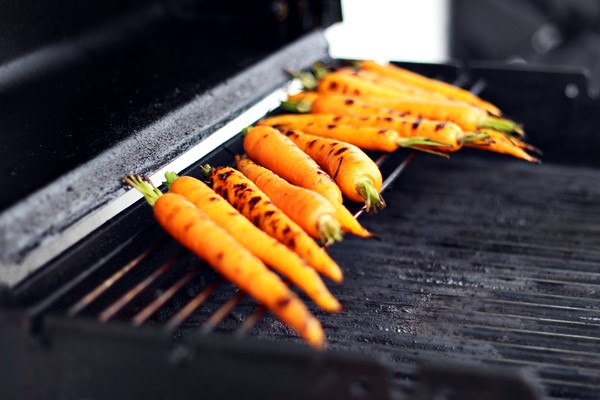 Roasted carrots with goat cheese, chives and lime
carrots, any size, color or shape you like
butter
lime
soft goat cheese
chives
olive oil
salt, pepper
What to do
Trim and rinse the carrots, if the skin is thick then peel them as well, fry in a pan in a combination of butter and olive oil on medium heat until they are golden and almost cooked through. Check using a small knife while they are cooking so they don't get too soft, adjust the heat if necessary. When done season with salt and pepper.
Cut a lime into wedges and add to the pan, roast the lime with the flesh side down until it's browned, almost burnt. Remove from the pan. Slice the chives.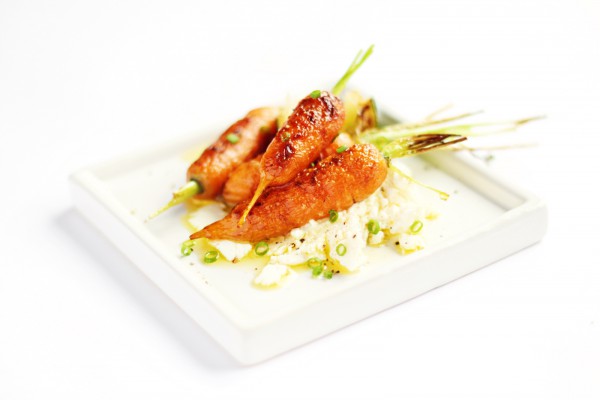 Plating
Spread a spoonful of goat cheese on the bottom of each plate, add the carrots on top and squeeze a wedge of lime on the carrots, leave each wedge on the plate. Sprinkle the chives on top with a bit of salt, pepper and a few drops of olive oil, serve.
The Brick Top Drink
4 parts Hallands Fläder (elderflower akvavit)
4 parts carrot juice, fresh from a juicer
2 parts lemon juice
2 parts syrup (recipe below)
1 part cocchi aperitivo americano
ice
lemon balm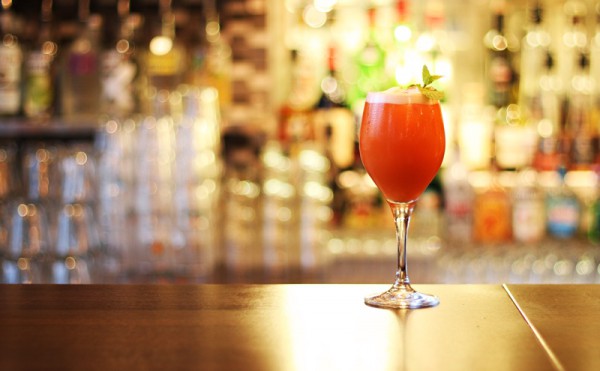 This recipe comes with some more information about each part that was published here at Ateriet earlier, for the full info check out the original post here.
Combine all ingredients in a shaker and dry shake a few seconds. Dry shaking means you shake it without ice. This makes the flavors of each ingredient mesh together. Add ice to the shaker and shake it again for a few seconds.
Add ice to a wine glass and double strain the drink over the ice in the glass. Double strain means that you strain it using the sieve that can be attached at the shaker and from there pouring it via another sieve and into the glass. Decorate the drink with some lemon balm. Serve.
Grilled Carrots
Peel or scrub the carrots, brush with oil and grill on high heat until you get some black grill marks and coloring on the sides. Move to the cooler side and keep cooking until soft. I like to grill my carrots until they are completely cooked through, some like the crunch but that is not for me.
Also carrots can take a bit of a burn, meaning it is ok to burn them a bit. They will still taste great. Marinating carrots after grilling with some lemon is also a great idea.
This short instruction was originally part of a bigger post on grilling vegetables that you can check out here.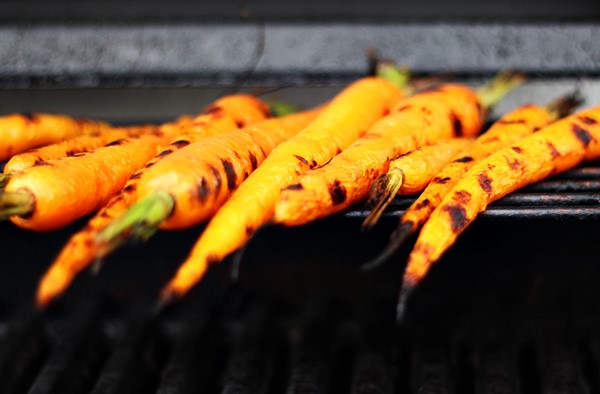 Root vegetable salad with mustard seeds and vinegar
serves 4-6 persons as a side salad
500g / 17 oz root vegetables, use your favorites, I used yellow beets, purple carrots, carrots and celeriac
1,5 tbsp mustard
2 tbsp brown and yellow mustard seeds
some fresh parsley
3 tbsp olive oil
1 tbsp red wine vinegar
salt, pepper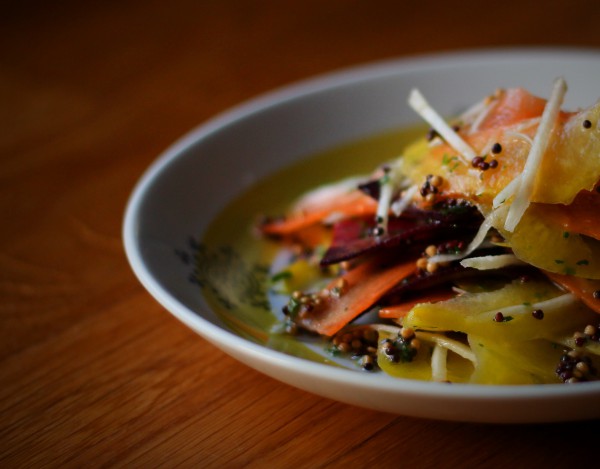 Peel and wash the vegetables and then slice thin using a potato peeler, combine in a bowl. Combine olive oil, mustard, vinegar and mustard seeds, chop the parsley and add to the vinaigrette.
Season and adjust the flavors to your own liking, I make it a bit more acidic than a normal vinaigrette and quite a bit of mustard so the salad gets a little sting, add salt and pepper and combine the vinaigrette with the vegetables, serve.
Roasted carrots with feta cheese & parsley
served as tapas or finger food, 4 servings
2 big carrots
100g/3,5oz Greek feta cheese
olive oil
salt, pepper
fresh parsley
white wine vinegar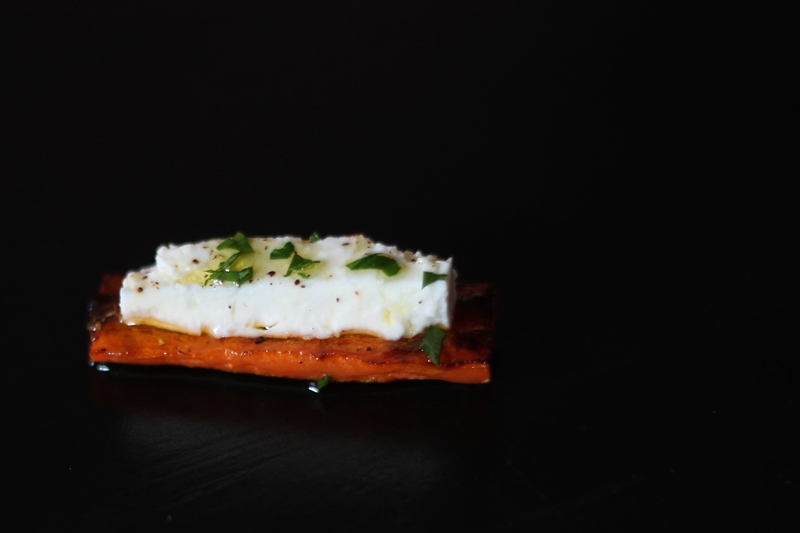 Peel and split the carrots in half and then cut into smaller pieces, about 2-3 for each side of a carrot. Add a little olive oil to a frying pan and roast the carrots on medium heat until cooked through, once done season with salt and pepper.
Cut the feta cheese into pieces similar to your carrots and place one piece of cheese on each carrot. Combine one part vinegar with three parts olive oil. Chop a few leaves of parsley and add to the vinaigrette. Season to taste with salt and pepper. Add a little bit of vinaigrette to each carrot and serve.
Quick Pickled Carrots
carrots
1 part distilled white vinegar 5%
1 part sugar
1 part water
I wrote this recipe in parts and you can adjust it yourself depending on how much you are making.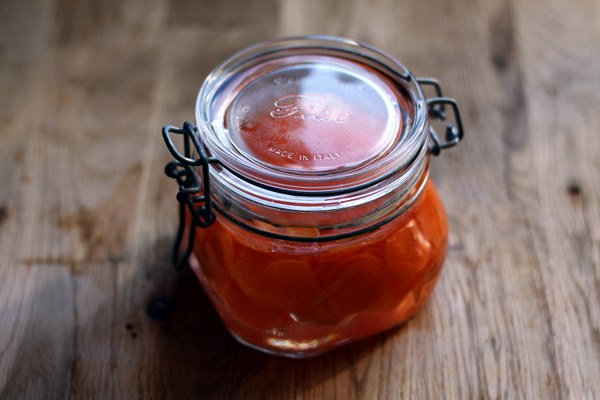 Add the vinegar, sugar and water to a pot and bring it to boil. Set aside and leave to cool. Peel and wash the carrots and then slice very thin using a potato peeler. This is a bit time consuming so if you have a machine or different tool that make this quicker go ahead and use that instead.
Put the sliced carrots in a pickling jar and pour over the liquid. It doesn't have to be cold but it shouldn't be piping hot. Make sure the carrots are covered with the liquid and close the lid.
Store the pickled carrots cold, they will last for at least a few weeks but I never keep them that long myself. Usually I make small batches and use them within a week.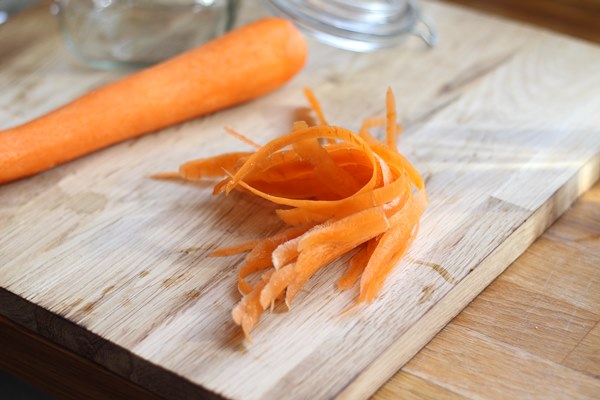 Even though you've just got five new great carrot recipes there might be more to discover. Check out my full carrot coverage here.