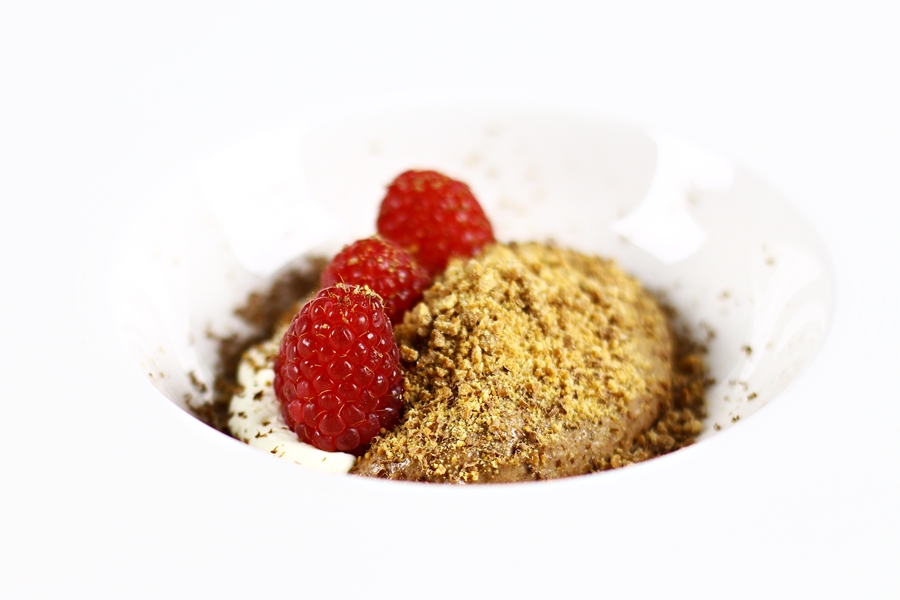 Try this great recipe for a Chocolate mousse with white chocolate crumble and fresh raspberries. A foolproof chocolate mousse that works every time.
Desserts are not my strong side and to be honest I don't eat that many at all. But I have a few foolproof recipes that I keep going back to. This chocolate mousse with white chocolate crumble is one of those. I've had this recipe for more than ten years and it never disappointed me. It just always works.
To make it a bit more fun than just a chocolate mousse I also made a white chocolate crumble which really is a fried chocolate. It is very easy to make and can be used as a topping for lots of stuff.
I also made a simple vanilla whipped cream and added some fresh raspberries to turn the chocolate mousse to a complete dessert. Let's get cooking.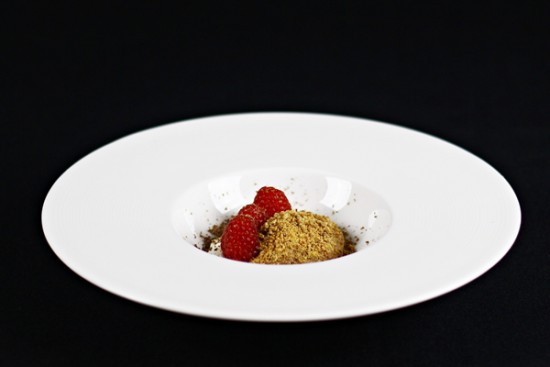 Chocolate mousse with white chocolate crumble and raspberries
serves 6-8
Make the mousse a few hours before serving or even a day or two in advance. It holds perfect in the fridge and it's one less thing to worry about if you're having many guests. The chocolate crumble can also be made in advance.
White chocolate crumble
100g / 3.5 oz white chocolate
In a pot melt the chocolate, then let it get brown in the pot while constantly but carefully stirring in the chocolate. Once it is a light brown in color pour the melted chocolate onto parchment paper and put in the freezer. Once the chocolate is frozen take it out and mix it into crumbles in a mixer. The result is a crunchy crumble with a lovely toffee flavor. This is great for more than just this mousse. Try it next time with some plain vanilla ice cream.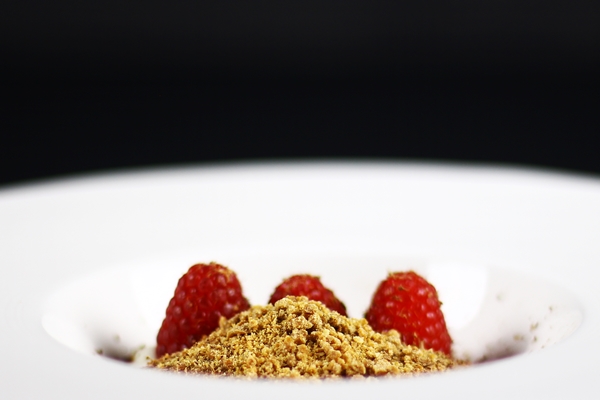 Chocolate mousse
7 egg yolks
4 dl / 1,6 cups heavy cream
55g / 2 oz sugar
150g / 6 oz dark chocolate 70% cocoa
3 tbsp white chocolate crumble (optional)
30 raspberries (for serving)
Whisk the egg yolks with the sugar until the sugar has melted. Whisk the cream until it's thick but not lumpy. Melt the chocolate and then add it to the egg and sugar mix. Combine the chocolate carefully with the egg until you have a thick chocolate cream. Add the whipped cream and carefully fold it together.
Then add the white chocolate crumble, this is optional so if you want a smooth mousse and just serve the crumble on top then skip this step.
Spoon the mousse into whatever you are serving it in. I used a deep plate but anything works. Just make sure it fits in your fridge before you start. Cover with cling film and chill.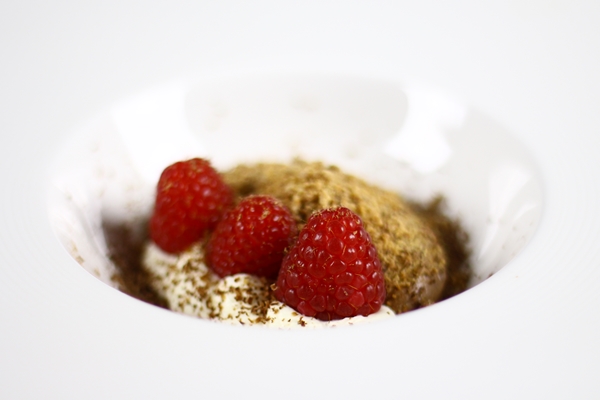 Vanilla whipped cream
2 dl / 0,8 cups heavy cream
½ vanilla pod
1 tbsp sugar
Split the vanilla pod and remove the seeds and add them to the cream, add the sugar and then whisk the cream until thick.
Serving
Take out the mousse from the fridge, spoon some vanilla cream next to the mousse, place the raspberries on top of the cream. Add a spoon or two of the white chocolate crumble. Serve.