Fish Taco with Yogurt Coleslaw, Avocado and Sriracha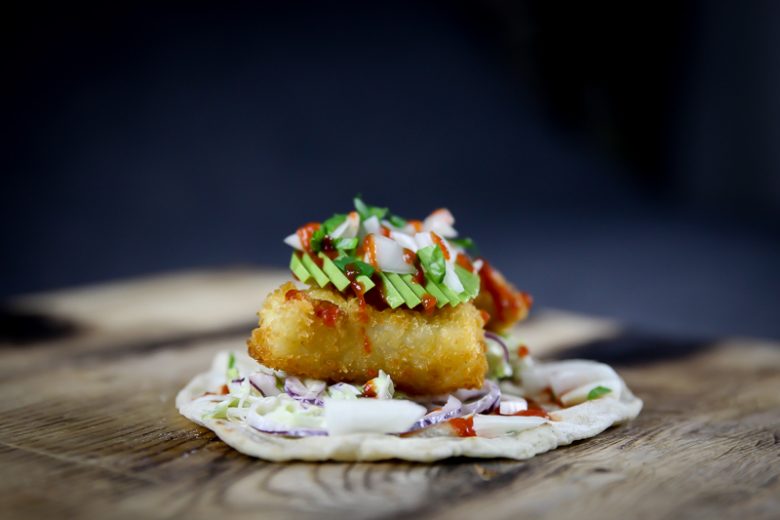 This fish taco comes with a fresh and crunchy yogurt coleslaw, sliced avocado, Sriracha sauce and some chopped onions mixed with fresh cilantro. All on a homemade wheat tortilla.
This fried fish taco is truly delicious, two chunks of fresh cod panko fried and served on a homemade wheat tortilla. With besides the fish, there is also a fresh and crunchy yogurt coleslaw, a healthy dose of Sriracha and some onions and cilantro on top. I promise you will like this one.
The recipe is not very complicated, the wheat tortillas are homemade and they are worth the effort. The recipe for those can be found here. If you don't have the time to make your own then just go with some bought ones, no shame in that.
Now let's make this fish taco. The first part is what goes on the taco, you can also see how in the short video below. After that, I'll go over the onion cilantro mix, fried fish and yogurt coleslaw in detail.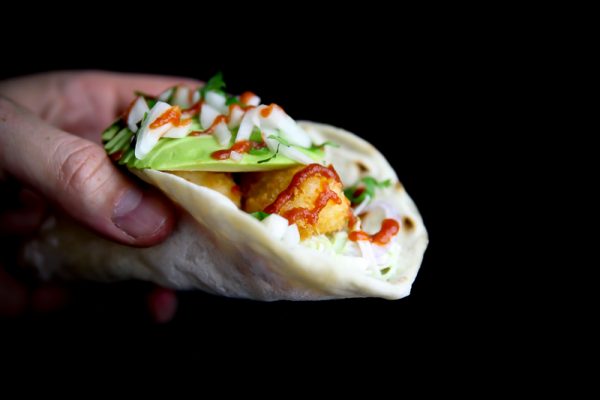 Fish Taco with Yogurt Coleslaw, Avocado and Sriracha
4 tacos
5 oz / 140g fresh cod filet or other white fish (recipe below)
8 tbsp yogurt coleslaw (recipe below)
1 avocado
4 tbsp onion/cilantro mix (recipe below)
2 tsp Sriracha sauce
4 wheat tortillas
Peel and cut the avocado into four wedges, slice each wedge thin. First, put the tortillas on plates, heat them for a few seconds in the oven or in a pan before. Add two tablespoons of coleslaw for each taco. Add the fried fish, sliced avocado and then the Sriracha sauce, top the taco with the chopped onions and cilantro. Serve immediately.
Fried Fish for Fish Tacos
5 oz / 140g fresh cod fillet or other white fish
1 egg
3 tbsp wheat flour
3 tbsp panko breadcrumbs
salt
vegetable oil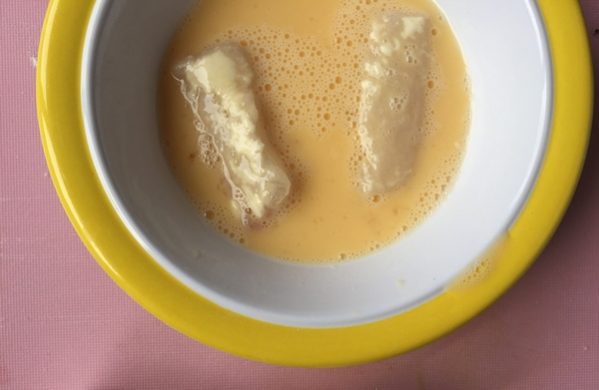 This time I made the fish panko crusted. It's not very hard to do. First cut the fish in smaller pieces. I served two pieces for each taco. Then season the fish with salt. Roll in wheat flour, make sure you'll get flour on every inch of the fish. Then whisk the egg and dip the fish in there. Immediately after roll in the panko breadcrumbs. Panko is common in Asian cooking and if you can't find it in your regular supermarket check out any Asian market.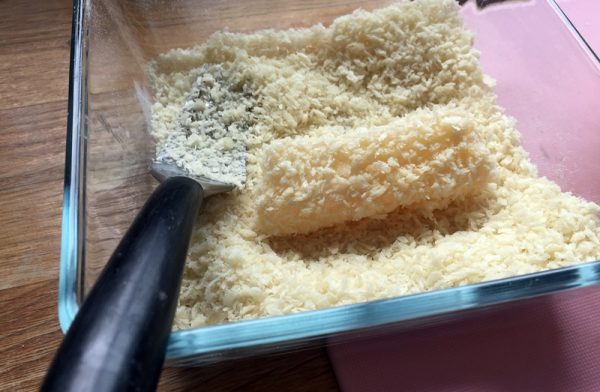 Then fry the fish, either in a deep fryer or in a frying pan with a little bit of extra oil. Make sure to fry it on all sides so it gets crunchy. Once fried season with a little more salt, done. Serve while hot.
Yogurt Coleslaw
10.5 oz / 300g fresh white cabbage
1 red onion
½ lemon
½ tsp salt
2 twists of black pepper
3 tbsp Greek-style yogurt, 10% fat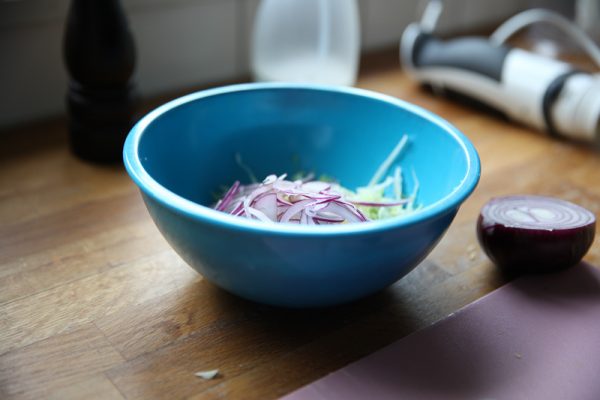 Slice the cabbage as thin as you can. Peel and slice the onion as thin as you can. Combine with the salt, pepper and yogurt in a bowl. Squeeze in a half lemon. Check the flavor and adjust if necessary.
This coleslaw is very mild and fresh, it matches the heat of the Sriracha and the warm crunchy fish. If I was serving it for something else I might be adding more seasoning and maybe some herbs and stuff but for this dish I like it like this. Mild and fresh.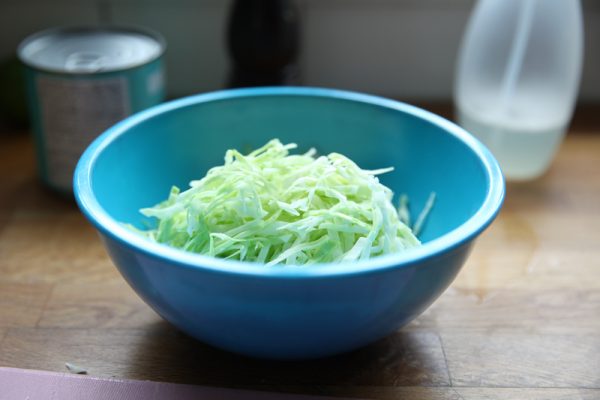 Onion Cilantro
This is barely a recipe but still.
1 handful fresh cilantro
1 onion
Peel and dice the onion, chop the cilantro and combine with the onion. That's it, not much of a recipe but the perfect way to top of a taco, don't you agree?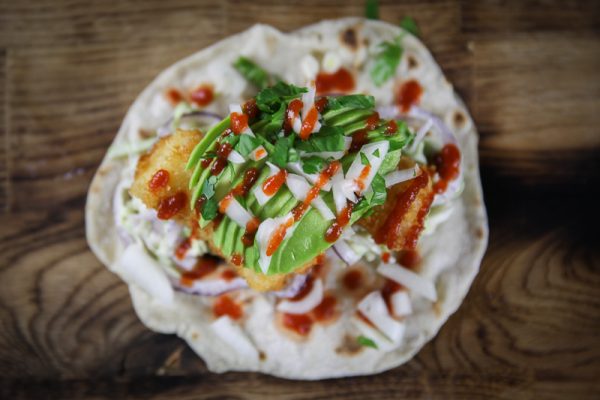 About Tacos at Ateriet
I love tacos. This means I keep making tacos and eating them and also post them here for everyone who shares this love. I try to step away from the classic tex-mex stuff and creating sort of my own twist on things. This is not easy in the world of tacos but that is part of the fun. For all my Taco Recipes visit the category taco recipes. You'll find not just great taco recipes but also great sides, toppings, and sauces.