Linguine with Truffles, Cream and Parmesan Cheese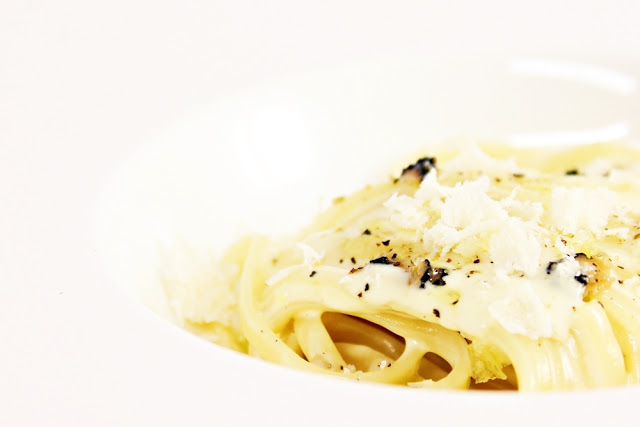 Try this recipe for Linguine with Truffles, cream and Parmesan cheese, super rich and packed with flavor, there are no good reason for not trying this.
Classic, super rich and great tasting is all the description this pasta dish needs. It's super simple to make and since it's so rich I prefer so serve it as a small tapas or appetizer because otherwise you won't be able to eat much else.
Buy the kind of truffles that your wallet can afford, I used summer truffles that are sliced and marinated in black truffle oil that I think taste great. If you're rich then go for fresh black or white truffles and if you're on a budget then go for just the oil.
However try not to switch from real Italian Parmigiano-Reggiano to something cheaper because that will take loads of flavor out of the dish.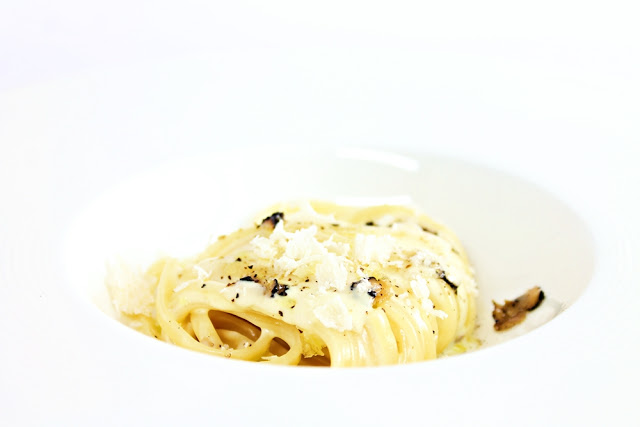 Linguine with truffles, cream and Parmesan Cheese
Serves 4 as an appetizer or tapas
200g / 7 oz dried linguine pasta
1,5 dl / 0.6 cups heavy cream
2 tbsp olive oil
1,5 dl /  0.6 cups grated Parmesan cheese (Parmigiano-Reggiano)
4 cloves of garlic
2 tsp truffles in truffle oil (or whatever truffles you choose)
salt, pepper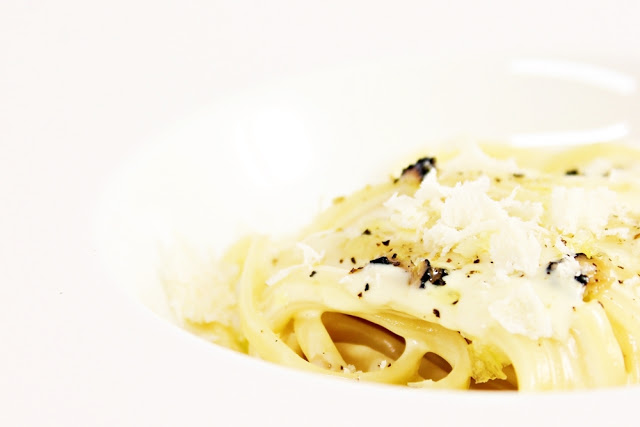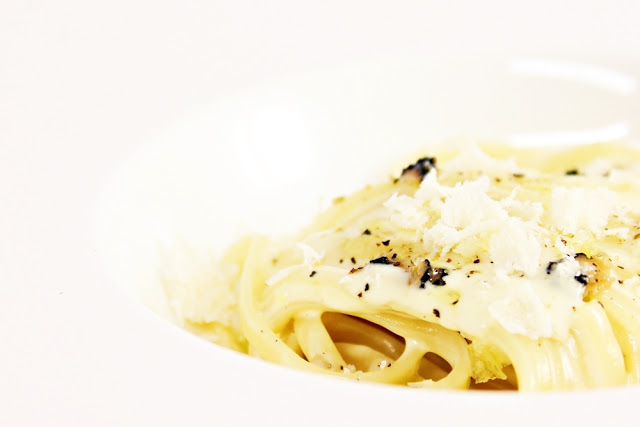 Boil the pasta in salted water, meanwhile peel and slice the garlic thin and cook on medium heat in olive oil without getting brown, add salt, pepper and cream and bring to a boil and let reduce for a few minutes. I usually do this in a frying pan that you can add the cooked pasta to. Add grated Parmesan to the sauce and let it melt.
Remove the pasta from it´s  water when it´s a few minutes away from being done and add the pasta to the sauce. Add truffles and combine the pasta with the sauce, check the taste and add salt, pepper and truffles if necessary. The pasta will get done from being hot in the truffle sauce within a few minutes. Serve immediately with some extra Parmesan on top.