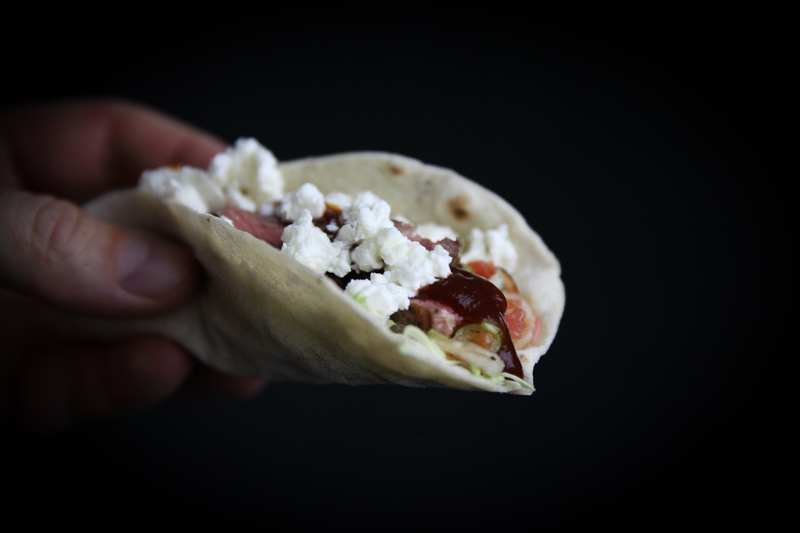 Time for more tacos, today I'm giving you the recipe for a Taco with beef topped with a grapefruit scallion salsa, BBQ-sauce and some crumbled feta cheese, enjoy!
This taco with beef is a first for me. As you might know, I already made quite a few tacos here at Ateriet, you'll find them all here. But I think this is the first one that uses grapefruit.
Grapefruit is one of my favorite citrus fruits and in cooking, I think it works great, so try to use it for more stuff than just breakfast.
As always with my taco recipes, I will first give you what goes into the taco and you'll find a separate recipe further down in this post for the salsa.
Taco with Beef, Grapefruit Scallion Salsa & Feta Cheese
4 tacos
4 wheat tortillas (homemade or store bought)
4 tbsp shredded white cabbage
6 tbsp grapefruit scallion salsa (recipe below)
5.6 oz / 160g sirloin steak
4 tbsp BBQ Sauce, store bought
4 tsp crumbled feta cheese
Heat the wheat tortillas in an oven. Add shredded fresh cabbage, top with the grapefruit salsa and then the sliced meat. Finish with a squeeze of BBQ-sauce and finally the feta cheese. Done!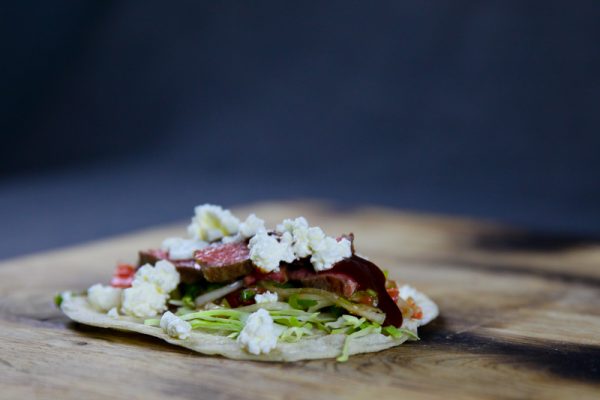 The Tortillas
You can, of course, buy the tortillas in any store. That's fine and there is nothing wrong with that. But if you do want to make this a bit more special then try making your own. I have a full recipe here and I promise you it is worth it.
The Sirloin
Next up is the meat. I got a high-quality sirloin steak that I just grilled to medium/medium rare and sliced. You can use any tender beef cut for this recipe so get what looks good in the store. Grill or pan fry and season with salt and pepper. That's it.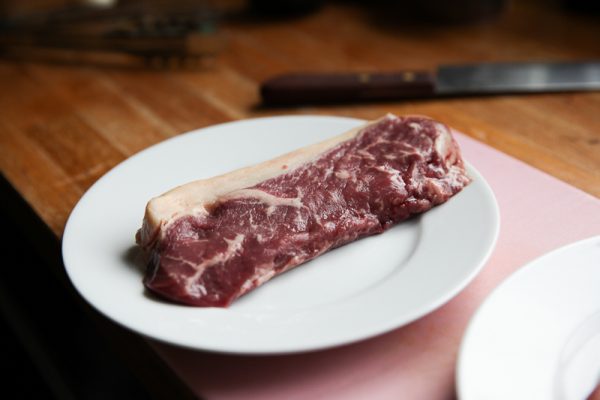 Grapefruit and Scallion Salsa
3 scallions
1 red or pink grapefruit
1 lime
2 tsp olive oil
salt
black pepper
Peel the grapefruit using a knife. Then cut out each fillet so you have grapefruit meat without any white stuff or skin. Add black pepper, a pinch of salt and squeeze in the lime. Then roughly chop the scallions and combine. That's it. Simple and delicious.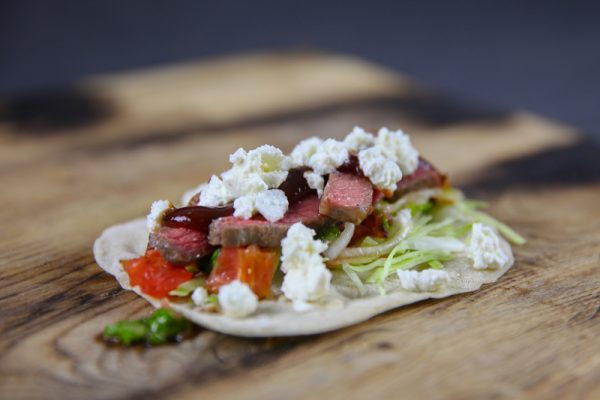 About Tacos at Ateriet
I love tacos. This means I keep making tacos and eating them and also post them here for everyone who shares this love. I try to step away from the classic tex-mex stuff and creating sort of my own twist on things. This is not easy in the world of tacos but that is part of the fun. For all my Taco Recipes visit the category taco recipes. You'll find not just great taco recipes but also great sides, toppings, and sauces.
Tags: beef, cabbage, grapefruit, meat, salsa, taco, tortilla