Beef Taco with Japanese Soy, Ginger, Pickles & Cilantro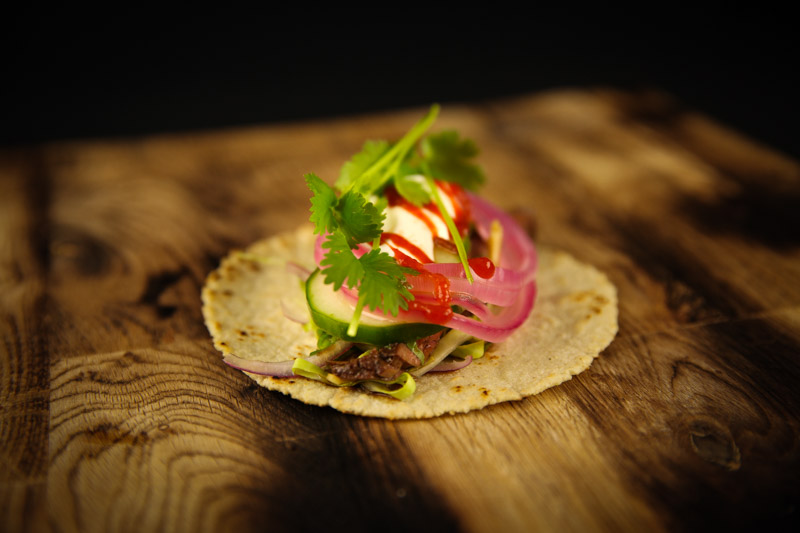 The tacos keep coming at Ateriet. Try our recipe for a Beef Taco with Japanese soy, fresh ginger, homemade pickled cucumber and onions and some fresh cilantro.
Beef taco with japanese soy, ginger, some nice homemade pickles, a dash or sour cream, some hot sauce and fresh cilantro. You will want to eat this taco.
As usual I'll go through each part of this taco starting with everything that is put on it and a separate recipe for those toppings that need it. But before we begin just a quick note on the tortilla. I'm using a homemade corn tortilla. I highly recommend you trying to make your own tortillas, it's not hard and I have a full recipe for tortillas here. That recipe works great for both regular corn tortillas or blue corn tortillas.
But I'm not being snobby about this, if you rather buy your tortillas or use wheat tortillas I'm not judging, just make it work for you. Now let's make some tacos. The recipe below is for just one taco so double up as much as you want.
Beef Taco with Japanese Soy, Ginger, Pickles & Cilantro
1 tortilla
2 tbsp cabbage lime salad with scallions (recipe below)
2-3 slices beef marinated in ginger, soy, cilantro (recipe below)
3 slices quick pickled cucumber (recipe below)
3-4 slices pickled red onion (recipe below)
1 tbsp sour cream
1 tsp sriracha sauce
Fresh cilantro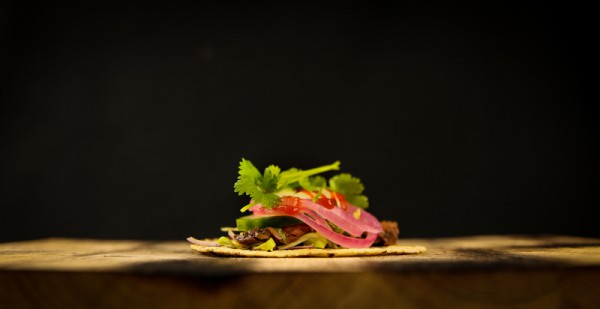 So a few words on this taco. It comes with some Japanese flavoring in the meat. It's just seared beef which is then marinated in fresh ginger, cilantro and Japanese soy. To go with it is the cabbage salad and two kinds of very simple and delicious home made pickles.
To top things off there is some sour cream, sriracha and some fresh cilantro. I wanted to make this a crunchy and fresh taco with a bit of heat. Now let's look at some of the recipes for the individual parts of the taco.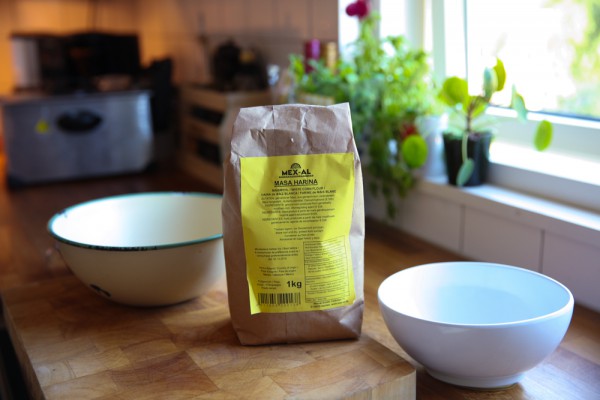 Cabbage Lime Salad
Enough for 10 tacos
½ small head of white cabbage (about 500g / 18 oz)
1 red onion
4 scallions
1 tsp salt
2 limes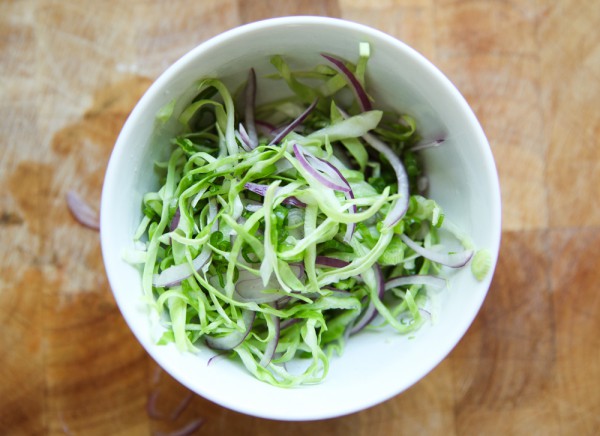 This salad is a favorite of mine, I made it using fresh cabbage. When it's the first of spring it is almost like a iceberg lettuce with more flavor and an incredible ingredient that can be used for lots of stuff.
Slice the cabbage thin and season with salt. Peel and slice the red onion and slice the scallions and add to the cabbage. Grate the peel of the lime and squeeze the limes and add to the salad. This salad tastes the best if you leave it for and hour or two but can be served straight away.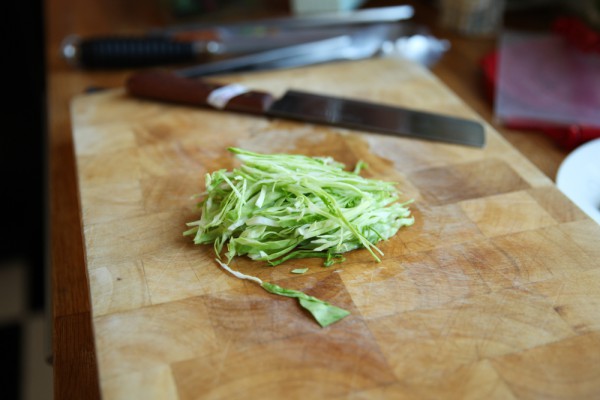 Since I'm using fresh spring cabbage I don't have to slice the cabbage that thin since it's really delicate anyway. But if you make this with winter cabbage the leaves are thicker and less moist, then you should slice it as thin as possible. Otherwise it feels dry and doesn't taste as good.
Beef marinated in ginger
Enough for 4 tacos
200g beef (more on what cut below)
1 thumb size piece of fresh ginger
3 tbsp Japanese soy
3 tbsp roughly chopped cilantro
Salt, pepper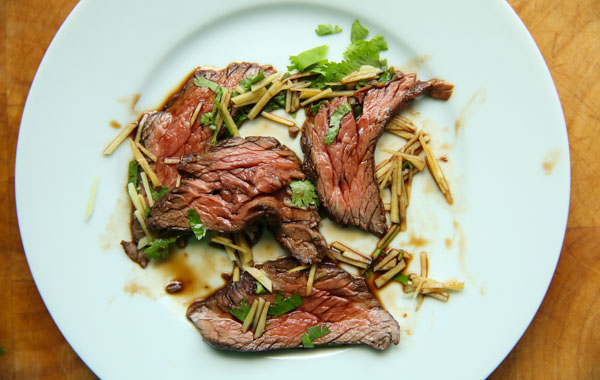 Meat is always great for tacos and there are plenty of things to choose from out there. One of my favorites is a slice of sirloin. Usually it is reasonably priced and available in most shops. It's also quick to cook which is a good thing, you don't always have the time to get started on those eight hour ribs.
Now I'm not sure how many tacos you usually eat but I often end up at around 3-4. But that is for rather small tacos which mean that you don't need that much meat. So a normal sized slice of sirloin is about 200g / 7 oz which and that is enough for at least four tacos, often more. So when you calculate on meat you can use slightly less than what you would serve if it was a sirloin for a normal meal.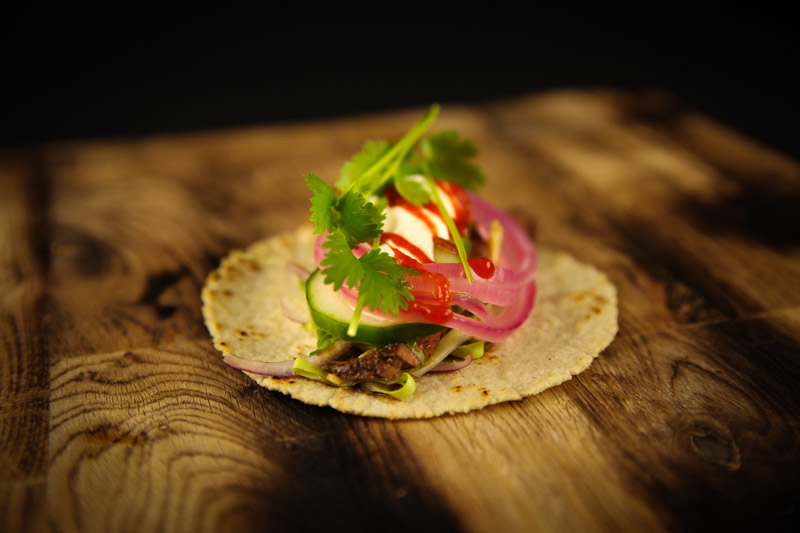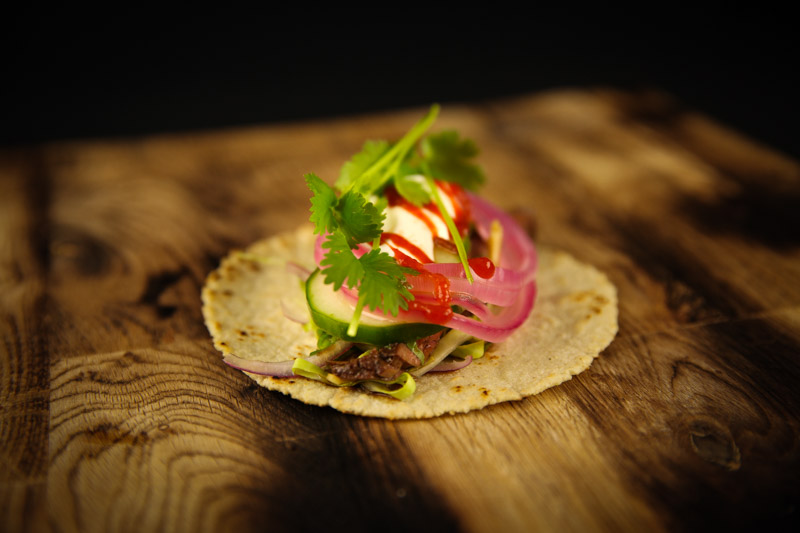 What I do then is to simply season it with salt and pepper and either grill it or sear it in some oil and or butter. The perfect taco steak for me is between medium and medium rare. Then leave the steak to rest for at least 5-10 minutes and the slice thin. Once you've cooked and sliced the meat it's time to marinate.
Just peel and slice the ginger and cut it into thin strips, chop the cilantro and add the Japanese soy. Add it all to the meat and leave to rest for about 10-20 minutes. Done. If you want to prepare the meat in advance you can leave it for up to one hour and then gently reheat it before serving.
Quick pickled cucumber
½ cucumber
1 tbsp sugar
1 tsp salt
Yes that is all it takes. Slice the cucumber in fairly thick slices, watch the video to how thick I like my slices. Add the sliced cucumber to a plastic jar and add the salt and sugar. Put a lid on the jar and gently shake it to let the moisture from the cucumber mix with the salt and sugar. Leave the cucumber for 1-2 hours turning or shaking the jar a few times.
This will give you a quick pickle flavor and texture that is amazing.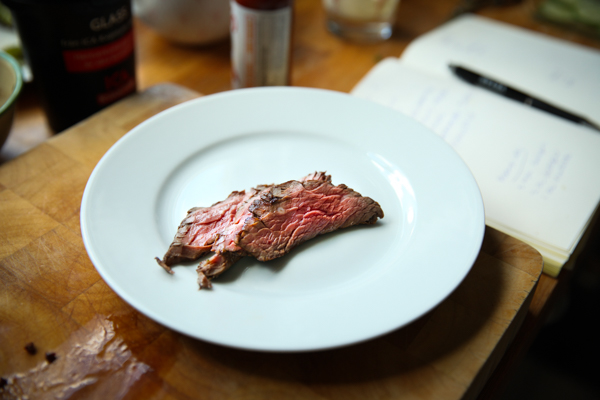 Pickled red onion
Enough for 6-10 tacos
2 red onions
1 dl / ½ cup sugar
2 dl / 1 cup white wine vinegar
1 dl / ½ cup water
1 mason jar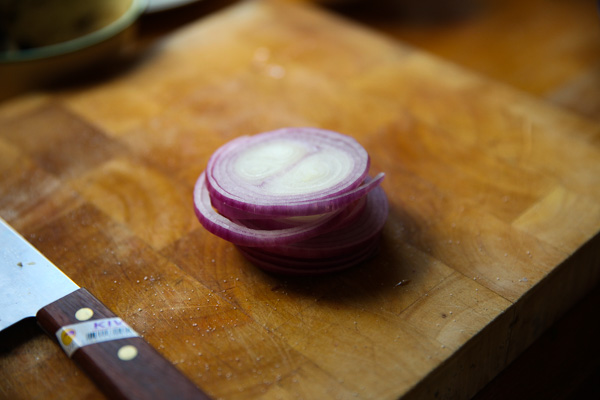 Peel and slice the onion. Add the sugar, vinegar and water to a pot and bring to a boil. Rinse the onion in cold water and then add them to the pot and bring to a quick boil.
Lift out the onion out of the pot and put them in the mason jar, pour over the liquid so all the onions are covered. Close the lid. The onion is ready to serve once it's cold. You can leave it to cool for the first hour or so at room temperature, then move it to the fridge.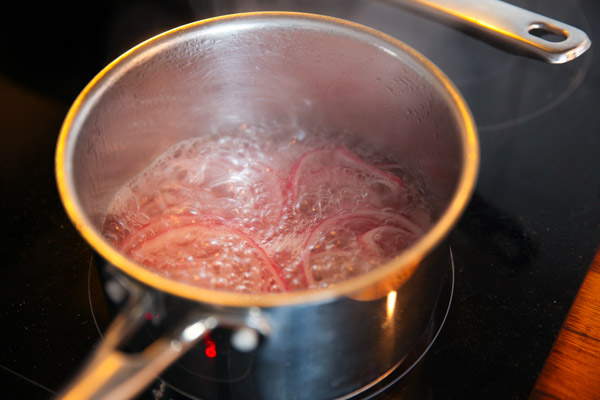 About Tacos at Ateriet
I love tacos. This means I keep making tacos and eating them and also posting them here for everyone who shares this love. I try to step away from the classic tex mex stuff and creating sort of my own twist on things. This is not easy in the world of tacos but that is part of the fun, for all tacos at Ateriet you can check the tag The Taco Gringo, eventually these will be posted on a separate site dedicated to only tacos as well.