Cod, Champagne Sauce, Fennel, Fresh Herbs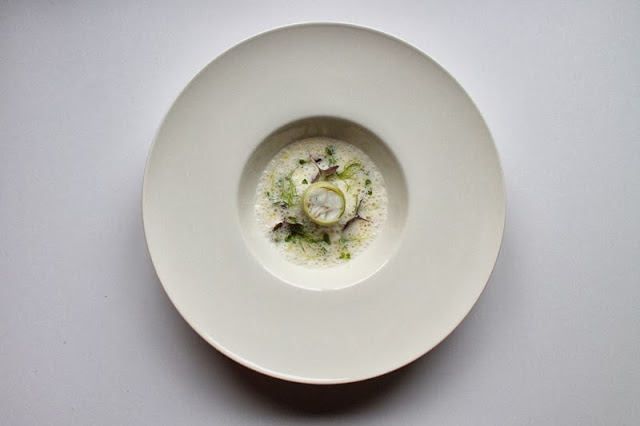 Champagne sauce, steamed cod wrapped in fennel and fresh herbs. Try this elegant and delicious recipe.
This recipe was originally made in the size of a tapas, luckily it works great when making it bigger as a main course. You'll need something on the side, maybe some steamed vegetables or potatoes.
I shaved the fresh fennel and then wrapped it around the cod fillets and fixated it with cling film. Then I poached the fish in water for about ten minutes. This may look a bit tricky and it can be but it's a fun way to present the fish in a new way. It makes no difference for the taste of the dish so if you don't want it to get to complicated then just serve the fish with the fennel lightly cooked on the side.
Cod, Champagne Sauce, Fennel, Fresh Herbs
serves 4
600g fresh cod fillets
3 dl champagne or dry white wine
4 fennel / anise bulbs
5 dl fish stock
3 dl heavy cream
2 shallots
fresh herbs, dill, cress, fennel
salt, pepper
butter
Season the cod with salt and pepper, shave the fennel lengthwise and put them side by side on top on a sheet of cling film so that almost the whole piece of film is covered. Put the cod fillets on the fennel and wrap the whole thing around the fish. Make sure the film don't get stuck in between the fennel.
Steam or poach the fish for about ten minutes, you can carefully stick a thin knife to check if it´s done before opening the package. Dice the shallot and cook on medium heat in butter until soft, season with salt and pepper and then add the champagne, let it reduce by half and then add fish stock and once again let it reduce by half.
Add the cream to the sauce and let it reduce a little bit more, season to taste and the mix the sauce using a handheld mixer. Before serving add a few drops extra of champagne. Remove the film from the fish and carefully slice it and place in a deep plate, add the sauce and fresh herbs. Serve.