Beet Salad with Feta Cheese, Chives and Sunflower Seeds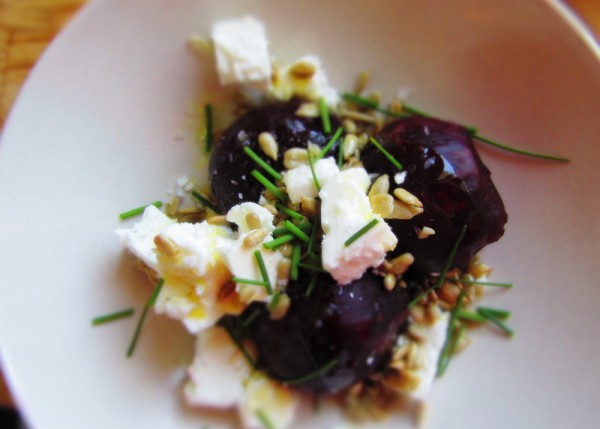 Beet salad with Greek feta cheese, chives and sunflower seeds, simple and delicious. Try this tasty salad.
Right now is the perfect time to eat beets, they are cheap, taste great and there are thousands of things you can do with them. I prepared a very simple beet salad with cooked beets, Greek feta cheese, some roasted sunflower seeds and fresh chives. Very easy to prepare so you won't really need a recipe, but I served about 3-4 beets to about 50g/1,8oz of feta cheese. Then top it with a tablespoon of chopped chives and sunflower seeds.
So your shopping list will be
fresh red beets
fresh chives
Greek feta cheese
sunflower seeds
olive oil, vinegar, salt, pepper (but you probably already have that, right?)
Ok, let's start with the beets, boil them with the skin on in salted water until done. The time will depend on how big the beets are, expect somewhere between half an hour to one hour. Check if they are done by sticking a thin knife through the beets. I should go through with little resistance. Once done, rinse in cold water and peel the beets. Cut the beets in smaller pieces.
Roast the sunflower beets in a with a few drops of olive oil and a little bit of salt in a pan until they are golden. Leave to cool.
Slice the chives and break the feta cheese into small pieces, and don't buy diced feta cheese. Breaking it into chunks with your hands will make the dish look so much better.
Finally arrange beets, feta cheese, chives and sunflower seeds on plates, add salt, pepper, olive oil and vinegar. Serve as a starter or a side dish for grilled meat or fish. Good luck!
If you want some more tasty recipes you can check out my full recipe archives here.