Calamari with Cilantro, Lime & Scallions
Try this recipe for calamari with cilantro, lime and scallions, super fresh and a perfect way to enjoy calamari.
This is probably the tastiest way I ever had calamari, simple, fresh and tasty. For this recipe I used frozen baby squid which is better since you want to slice them as thin as you can, taste wise there is no problem using larger calamaris but if you´ll find small, get them.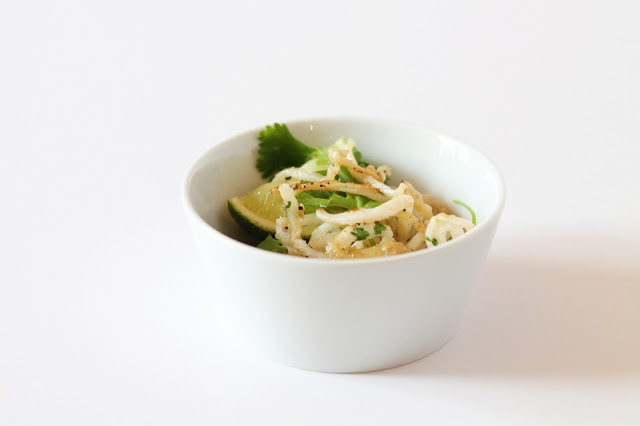 Calamari with Cilantro, Lime & Scallions
serves 4
200g / 7 oz baby calamari
1 handful fresh cilantro
2 limes
6 spring onions / scallions
salt, pepper
olive oil
Slice the calamari as thin as you can, slice the spring onion. Heat olive oil in a pan on high heat and add the calamari, sear it for about thirty seconds constantly stirring. Add salt and pepper and then the spring onion. If it starts to dry out then add a little more olive oil. Finally squeeze in lime juice and some roughly chopped cilantro, serve immediately.