Dilled Shrimps with Radishes, Chili and Lemon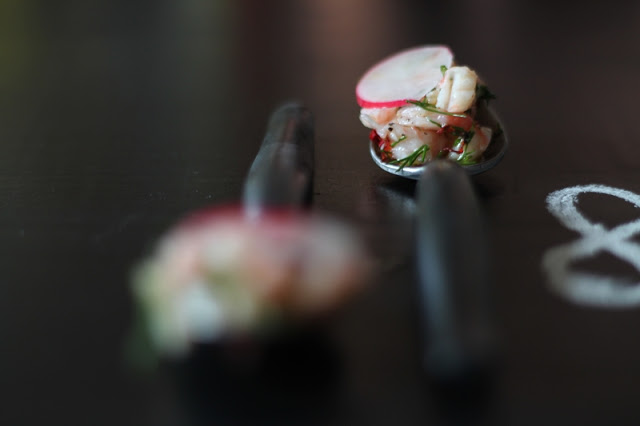 Try this fresh dilled shrimps with radishes, chili and lemon. A fresh spoonful of spicy shrimps. Great recipe for some simple snacking.
Dilled shrimps or just shrimps marinated with dill, some chili and a dash of lemon is a very simple way to create an fresh, healthy and delicious appetizer. Well not even an appetizer, this is just a spoonful of fresh tasting shrimps.
When I made this recipe I served it as a snack with a few other recipes and snacks. But you could easily make this into a appetizer on its own or mix it with some greens for a shrimp salad. A third way to use it is to serve it as a shrimp topping for some seared or grilled fish so no matter what you have planned you will get to use this recipe.
The idea for the recipe is simple, boiled shrimps, lemon, chili, radishes and dill. I use cooked shrimps, preferably fresh if you can get them. But the recipe works great with other types of seafood as well so you could go for spider crab, lobster or langoustines just to name a few.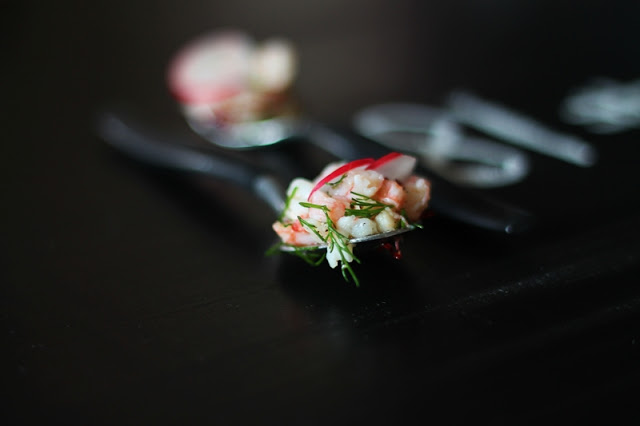 The shrimps should not sit in the marinade for very long, a few minutes is enough. So if you want to prepare this dish ahead of time you can chop and prepare all the ingredients and then combine when your guests arrive.
For serving I used teaspoons, that is almost too small. You can serve it in anything that is small that works for you. Small glasses, plates, spoons, egg cups all work fine. Maybe even some lettuce and turn it into a lettuce bite with shrimps? Enough talking here comes the recipe.
Dilled Shrimps with Radishes, Chili and Lemon
Serves 4-6 as a snack
2 handfuls of boiled, peeled shrimps
1 fresh red chili
4 tbsp roughly chopped fresh dill
2 lemons
8 radishes
1 tbsp olive oil
Salt, black pepper
Chop the shrimps and dill. Add to a bowl and season with salt and black pepper. Chop the chili and add to the the shrimps. Add the olive oil. Check the taste and adjust. Slice the radishes and rinse in cold water. Add a spoonful of shrimps onto a spoon and top with a slice of radish or two.