Grilled plums with Brie and Honey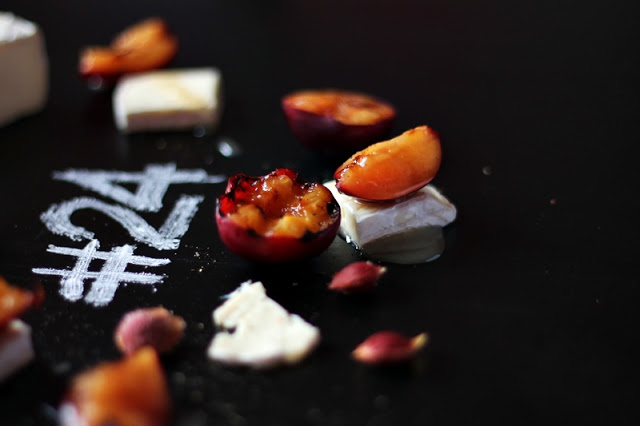 Try my recipe for Grilled plums with brie and honey, smokey grilled plums with creamy brie and sweet honey, not a bad way to eat some cheese.
Grilled plums is one of my favorite ways to cook plums. It gives the fruit a softer texture and adds that grilled and slightly smoky flavor. With some slices of brie cheese and a few drops of honey you've got yourself a great cheese dish.
When it comes to cheese I love to make simple dishes like these out of it. It makes the cheese turn into something more but you can still serve this with the same wine on the side. It doesn't even have to be a separate dish. Why not serve some of these on a tray and add some other types of cheese on the side. That will make your guests remember your cheese serving a little longer. Since it is quite sweet you can also serve it instead of a dessert.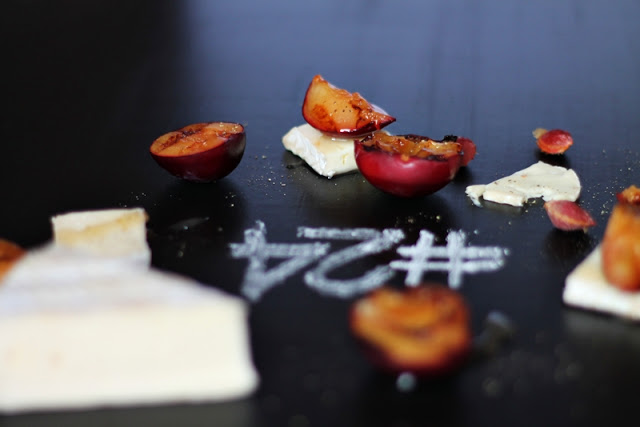 When it comes to the plums you need to make sure they are not too soft. If they are the grilling will make them too mushy and it won't be as good. For the brie I actually are going for a pasteurized young one. A ripe Brie de Maux would overpower the plums so a milder cheese works better I think.
Grilled plums with brie and honey
Serves 4 as a small cheese serving
8 plums
160g /5.6 oz Brie
4 tsp honey
Black pepper
Olive oil
Take the brie out of the fridge and let it become room temperature, slice the cheese. Cut the plums in half and remove the stone. Brush the plums with olive oil and then grill with the cut side down for about 5 minutes. Remove and season with some black pepper. Put the cheese and plums on plates and pour the honey on top, serve.