Oysters with Grapefruit, Onion and Chili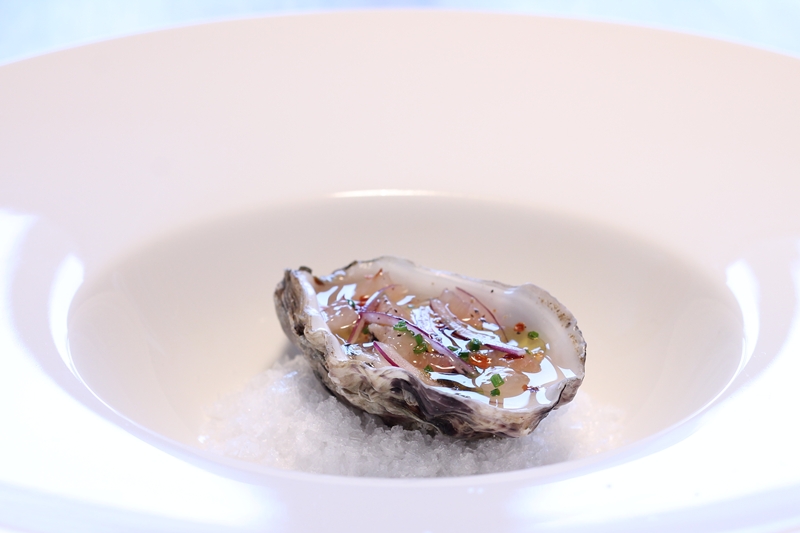 Time to learn a great way to take oysters to the next level. Try this simple recipe for Oysters with Grapefruit, onion and chili, you won't regret it.
Oysters are truly an aquirred taste, luckily I've aquired it and nowadays I am a huge fan of oysters and usually I prefer them with just a squeeze of lemon with something sparkling on the side but once in a while it´s fun to change things up.
This is a simple topping that will take the oysters to a different level, luckily it's very easy to make so sit back while I explain, even though there's not much explaining to do.
Oysters with grapefruit, onion, chives and chili
enough for 6 oysters, just double up if you need more
1 pink grapefruit
1 red fresh chili or some dried chili flakes
1 small red onion
a pinch of black pepper
a pinch of salt
a few drops of olive oil
a few straws of chives
Peel the skin of the grapefruit with a sharp knife and cut out the wedges leaving out the seeds and the white stuff, squeeze out the juice from the grapefruit into a bowl and add the grapefruit wedges.
Peel and slice the red onion thin, slice the chives, add both to the grapefruit. Dice the chili, leave out the seeds if you don´t want it too hot. Add chili to the bowl, season the topping with salt, pepper and a few drops of olive oil. Use just a little bit of salt since you will combine this with salty oysters later.
Open the oysters and top a good spoonful into each oyster, serve immediately. If you haven´t opened oysters before it is a good idea to try it once or twice before inviting a bunch of people, here is a good tutorial on how to open oysters.
For more great recipes don't forget to check out my full coverage here.