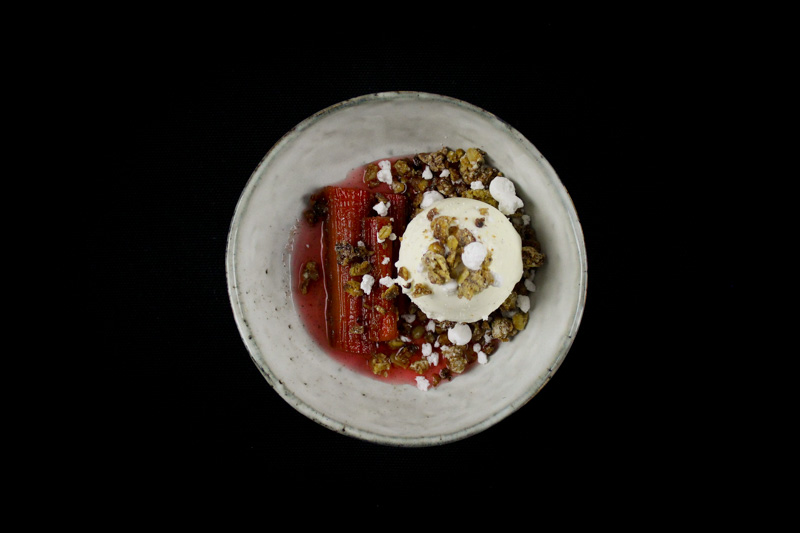 Try this simple dessert, simply made with plenty of shortcuts. Poached rhubarb, white chocolate granola crumble made from my breakfast granola and a scoop of store-bought vanilla ice cream. What more do you need?
This recipe for poached rhubarb, white chocolate granola is all about cheating. To be honest I'm not a huge fan of desserts and make them very rarely. So when I do I just try to do it quick but tasty.
In this recipe the only real job is poaching the rhubarb. And that will only take about fifteen minutes. The ice cream is bought and the crumble on top is my breakfast granola. All I did was to roast it slightly and give it some grated white chocolate and some crushed meringue, also store bought.
But it looks homemade, right? So you see, you don't have to do everything every time. Take a few shortcuts when you need them and you can spend time on the stuff in the kitchen that you like the most, or sip Champagne and hang out with your guests or family.
Now, let's make this thing.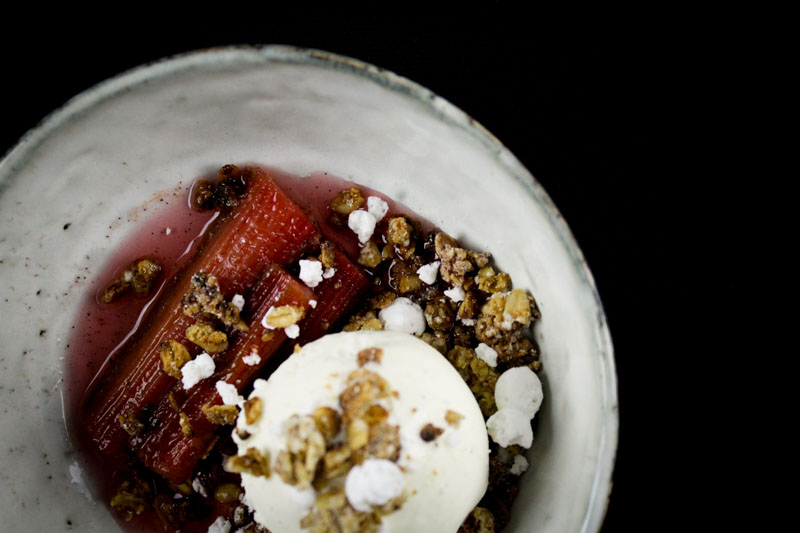 Poached Rhubarb, White Chocolate Granola Crumble & Vanilla Ice Cream
Serves 4
Poached rhubarb
2 stalks of fresh rhubarb
5 tbsp sugar
1 vanilla pod
1,2 dl / 0.5 cups dry white wine
1.2 dl / 0.5 cups water
Cut the rhubarb into 3-4 pieces depending on the length. In a wide pot or frying pan add the wine, vanilla pod, sugar, and water. Bring to a boil and let simmer for a few minutes. Add the rhubarb and simmer for five minutes. Remove the pan from the heat and remove the rhubarb. Bring the liquid to a boil again and boil it until about half the liquid remain. Pour the liquid over the rhubarb and chill.
The rhubarb will last at least a few days in the fridge so you can prepare this step if you want to.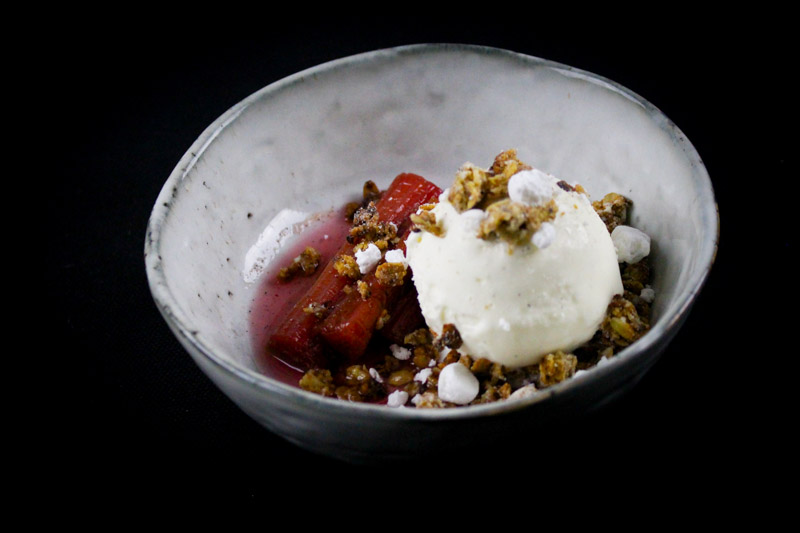 White Chocolate Granola Crumble
1.2 cups granola (some variety without raisins or berries)
1 piece of white chocolate / 2 tbsp grated
3 tbsp store bought meringue
Add the granola to a pan and bring it up to medium heat. Grate in the white chocolate, I only write one piece but my estimate is that you'll need about two tablespoons of grated chocolate. Let the chocolate melt and stir the granola gently while heating. Once the chocolate has melted remove from the heat and leave to cool.
Crush the meringue and combine with the granola.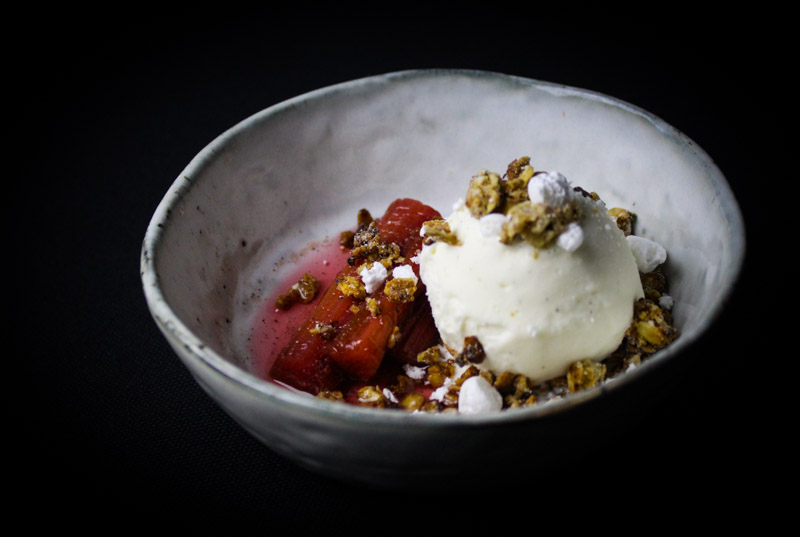 Serving
4 big spoons of your favorite vanilla ice cream.
One bowl for each serving. Start with the rhubarb, add 2-3 pieces for each serving. Then add a big spoon of vanilla ice cream and a spoon or two of the liquid from the rhubarb. Finish with 1-2 tablespoons of the white chocolate granola crumble. Good luck.
If you want to learn more about rhubarb I have a huge post all about it here.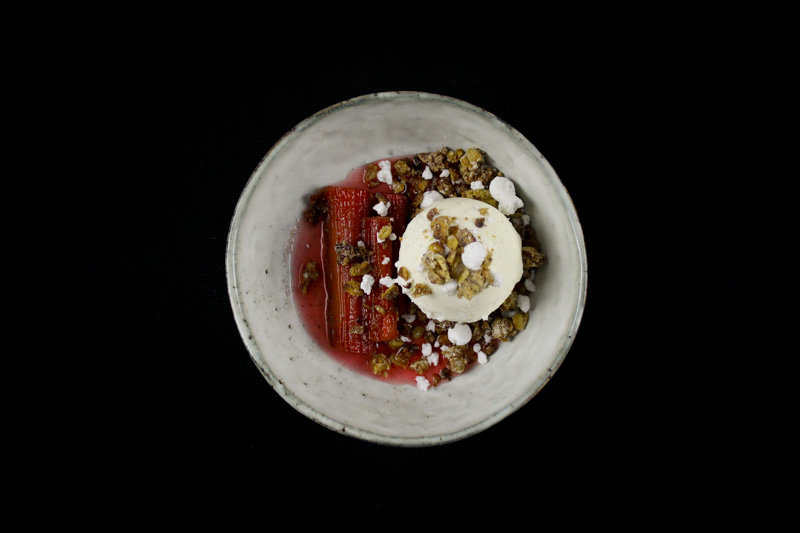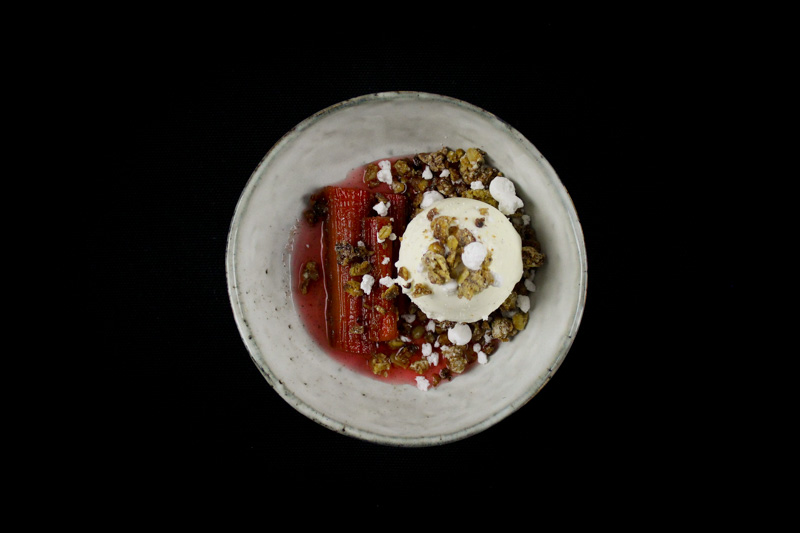 Tags: granola, ice cream, meringue, recipe, rhubarb, vanilla