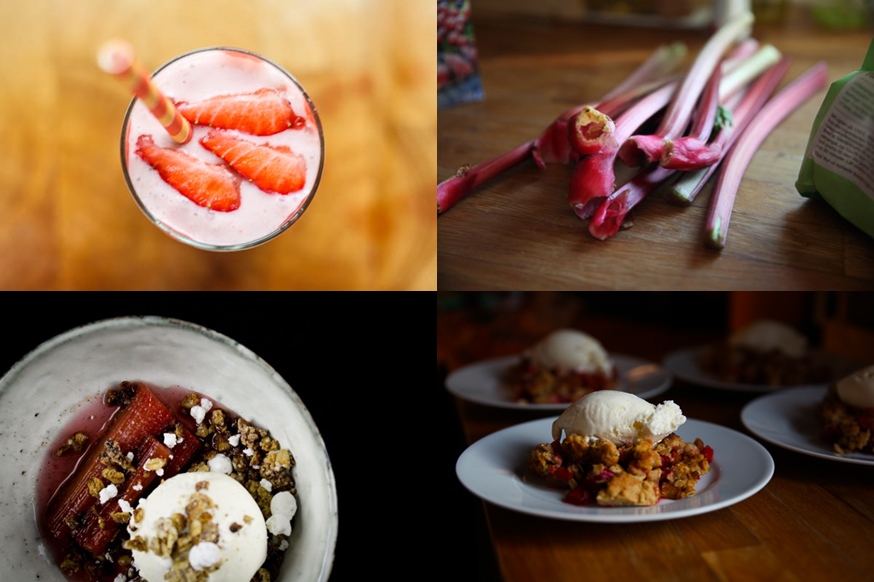 Rhubarb is one of my favorite things to use in spring, you can't beat a great rhubarb pie, can you? But what is rhubarb? Let's find out everything you need to know about rhubarb, including how to use it in another way than pie.
Once spring arrives rhubarb is one my mind. Nothing says we've survived winter than a great rhubarb pie. But rhubarb can be used in cooking in far more ways than just pies. But there is also plenty more to learn about this great vegetable. Let's start with the facts and by the end, you'll find five great recipes, none of them are for pie, enjoy!
What is Rhubarb
Rhubarb is a vegetable, not a fruit. However, it is usually sold and used as a fruit. The latin name is Rheum rhabarbarum. The perennial plant grows in single stalks with one big leaf at the top of each stalk.
The stalks have a light red color that turns more green as the stalks get bigger. Young examples are tender and can be eaten as they are but older stalks need to be peeled. It is only the stalks that are consumed.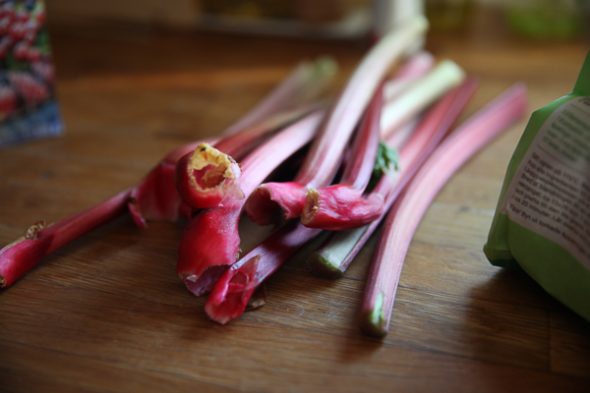 How does Rhubarb Taste
Eaten raw the stalks is sour and very tart. It has an aromatic fruity flavor that like most flavors are hard to describe. Somewhat like the combination of an almost fully ripened strawberry and a granny smith apple maybe. Fresh and crisp but not a very distinct flavor.  The texture raw is similar to a stick of celery.
More or less all recipes call for sugar. If you grew up with rhubarb in your garden you probably tried dipping a raw stalk in sugar and then eating as a child. This changes it and brings out the flavor and reduces the tartness and acidity.
Is It Poisonous?
Yes, it is poisonous. It contains oxalic acid which is a corrosive acid. Therefore the leaves shouldn't be consumed. The stalks also contain some oxalic acid but in far less quantities so they are safe to eat.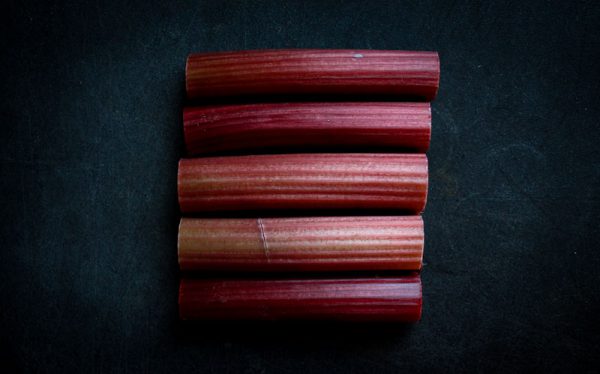 How To Grow Rhubarb
If you have a garden or somewhere else to grow rhubarb it is a great thing to have. If you take care of it you will have a safe supply for the next 20 years, maybe even longer.
You can grow them from seeds but that's not common. It takes much longer and the chances are it will die on you. Instead, go for an already grown plant. You'll have no problem finding one in your local garden shop.
You can plant it anytime as long as the soil is fairly warm. Spring and fall work best. During the first summer, you shouldn't harvest any of the stalks. This makes it stronger for the coming year and it will produce more. However, I have taken just a few stalks and mine and it survived so you can take the chance.
Once the plant is rooted you should leave a few stalks by the end of each season. This is for the same reason as you did when first planting it, to make it stronger the following year. The rhubarb might produce flowers, those should be removed, they look kind of cool but the energy for the flower means less stalks for you.
During the season you will also need to fertilize it with manure or other types of fertilizers. Also make sure to water it if it isn't raining, especially during the summer months. It likes the sun so try to find a sunny place to keep it.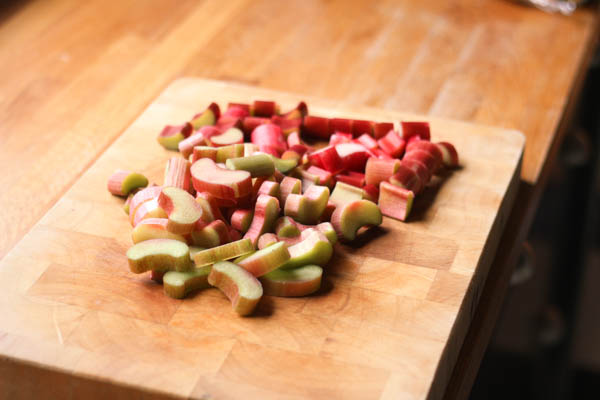 After 4-6 years the rhubarb will have grown large and then you can dig it up and split it. This will give you more plants and keep it producing more. Make sure each split part of the rhubarb have at least one or two stalk buds that look whole and healthy.
All in all, it is very easy to grow and requires very little work, give it some love and water and it will give you new stalks all season long. Just remember these points.
Get a plant, not seeds. Plant it in a sunny place.

Fertilize and provide water

Remove flowers and split once it's big
Where in the World Do Rhubarb Grow?
Rhubarb is a cool climate vegetable so it can't be grown successfully in too hot climates. It works great in the Northern States of the US and in Canada. It is also commonly grown in most parts of Europe.
How To Harvest Rhubarb
Harvesting is as easy as it gets. Once a stalk is big enough just take a firm grip on it and pull it out. It should come out easy. If it happens to sit firm you can cut it off close to the soil. Remove and discard the leaf and rinse in water. Done.
When Should Rhubarb Be Harvested
Here's the great thing. You can harvest all through summer. As long as there are new stalks growing you can pick as much as you need. I live in Sweden and I usually start picking in May and pick them from time to time until October. Just take the biggest ones and leave the small to get bigger.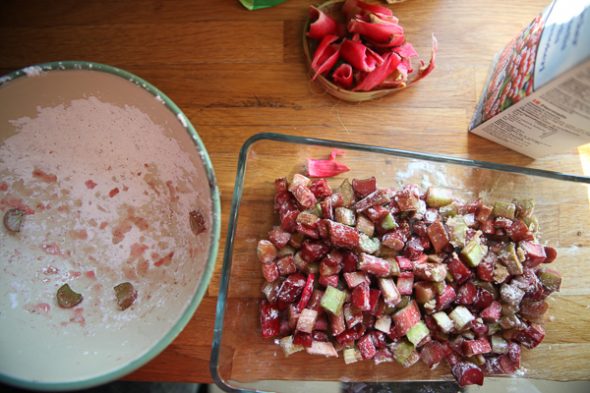 How To Store Rhubarb
This is easy. First, don't harvest unless you plan on eating the rhubarb. The best place to store it is not to harvest it, at least not as long as it is reasonably warm. Once you've harvested some they will keep for at least a week in the fridge if they are clean and not damaged.
If you are harvesting much rhubarb you can freeze it as well. Just rinse in cold water and cut into pieces and freeze as they are. A great thing to have in the freezer during those winter months.
Rhubarb Varieties
There are around 100 different varieties of rhubarb and they all have different characteristics. Some grow early in spring, some get long, more red, more green, sourer or tart. The best idea is to simply go to your local garden shop and ask what types they have and which suits your garden best.
Rhubarb History
The root of the rhubarb has been used in Chinese medicine for thousands of years. The plant reached Europe via the Silk Road in the 14th century. It also spread to Europe via Russia by land. The stalk of the rhubarb wasn't popularized until the 18th century when the cost of sugar had been decreased. The variety that was used then was the so-called Siberian rhubarb which is the ancestor of modern rhubarb.
5 Great Rhubarb Recipes
The most important thing about growing it is that we get the chance to eat some. I love this ingredient and I'm sure you will too. So to get you started I've rounded up five great recipes, none of which are a pie. Let's get cooking.
Serves 4
Poached rhubarb
2 stalks of fresh rhubarb
5 tbsp sugar
1 vanilla pod
1,2 dl / 0.5 cups dry white wine
1.2 dl / 0.5 cups water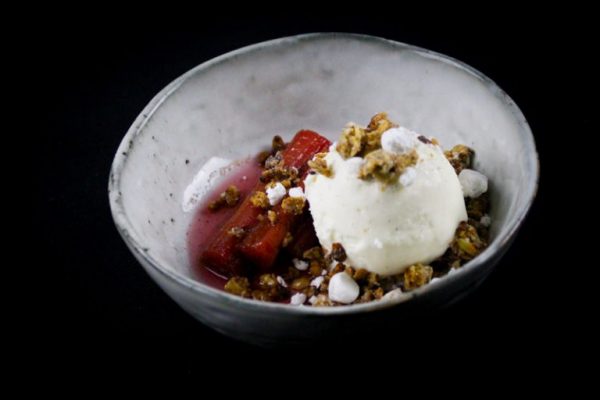 Cut the rhubarb into 3-4 pieces depending on the length. In a wide pot or frying pan add the wine, vanilla pod, sugar, and water. Bring to a boil and let simmer for a few minutes. Add the rhubarb and simmer for five minutes. Remove the pan from the heat and remove the rhubarb. Bring the liquid to a boil again and boil it until about half the liquid remain. Pour the liquid over the rhubarb and chill.
This will last at least a few days in the fridge so you can prepare this step if you want to.
White Chocolate Granola Crumble
1.2 cups granola (some variety without raisins or berries)
1 piece of white chocolate / 2 tbsp grated
3 tbsp store bought meringue
Add the granola to a pan and bring it up to medium heat. Grate in the white chocolate, I only write one piece but my estimate is that you'll need about two tablespoons of grated chocolate. Let the chocolate melt and stir the granola gently while heating. Once the chocolate has melted remove from the heat and leave to cool.
Crush the meringue and combine with the granola.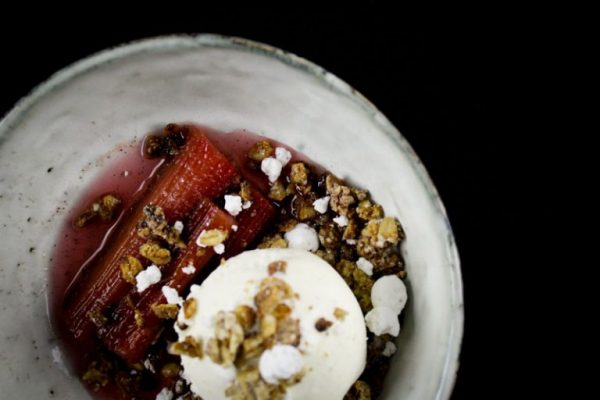 Serving
4 big spoons of your favorite vanilla ice cream.
One bowl for each serving. Start with the rhubarb, add 2-3 pieces for each serving. Then add a big spoon of vanilla ice cream and a spoon or two of the liquid from the rhubarb. Finish with 1-2 tablespoons of the white chocolate granola crumble. Good luck.
Serves 4 as a main course
Slow cooked Pork Ribs
1 kg / 2.2 lbs pork ribs
1 dl Japanese soy
1 tsp fennel seeds
1 tbsp salt
1 tsp black pepper
2 tbsp honey
Poached Rhubarb
4 stalks of fresh rhubarb
1 tbsp honey
1 tbsp sugar
2 tbsp white wine
½ tsp five spice powder
½ tsp fennel seeds
Fennel dill for serving.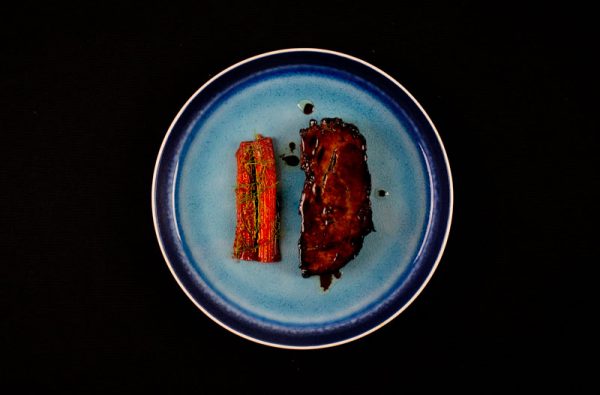 Let's start out with the ribs. Add the ribs to a pan. Combine the soy and honey and then pour it over the ribs, add the fennel, salt, and pepper. Cook the ribs in the oven at 175 Celsius / 350 Fahrenheit for about 4 hours. This is the time it took mine to get cooked. You want the bones to almost fall off. Turn the meat a few times during cooking and adjust the time since it can vary.
Once cooked remove the meat and pour the juices into a pot. With a spoon remove most of the fat and then reduce the juice into a slightly sticky syrup.
Cut four slices of the meat and brush with the syrup and serve. If you prepared the meat beforehand you can reheat it when it's cut in a pan with some of the syrup.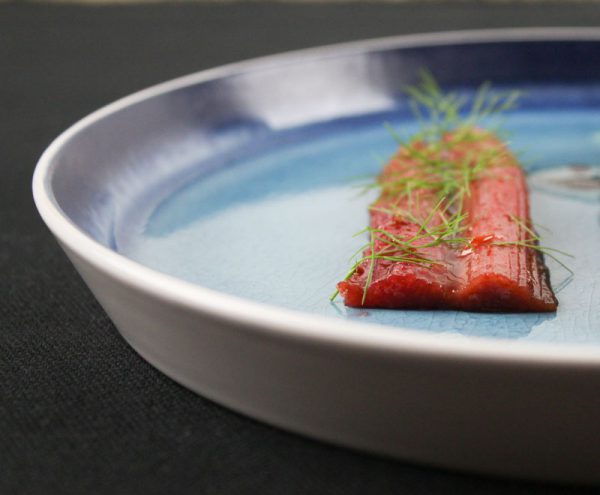 Now, let's make the rhubarb.
Cut each stalk into four pieces. In a frying pan add the white wine, sugar, honey, five spice and fennel seeds and bring to a boil. Add the rhubarb and turn down the heat. Simmer for about five minutes. Remove the rhubarb and reduce the liquid until half remains.
Plate the pork and brush it with the reduced pork juices, put four pieces beside the pork on each plate. Brush the rhubarb with the poaching liquid, add a little bit of fresh fennel dill on top of the rhubarb. Serve and good luck.
Serves 4-6 persons as a dessert
For poaching
8 stalks of rhubarb
2 dl / 0.85 cups white wine
2 dl / 0.85 cups water
1 dl / 0.4 cup sugar
1 vanilla pod
3-4 strawberries
Strawberry puré
10 fresh strawberries
2 tbsp sugar
For the shake
500 g / 18 oz vanilla ice cream
200g / 7 oz cream cheese
2 dl / 0.85 cup milk
4-6 strawberries, for serving
Start with poaching the rhubarbs. First, rinse them and cut away any bad pieces. Then chop into smaller pieces. Bring water, white wine, sugar, strawberries and the vanilla bean to a boil. Add the rhubarb and leave to simmer under a lid for about ten minutes. Set aside and leave to cool.
Then make the strawberry puré, this is dripped onto the inner sides of the glass when serving the shake. It doesn't add that much to the flavor but it looks very nice. Just blend the sugar and strawberries into a smooth puré using a blender or a handheld blender.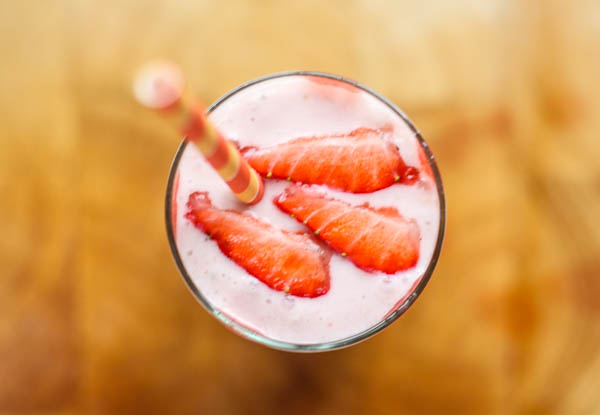 Now it's time to make the shake. First, lift out the strawberries and rhubarb from the poaching liquid and add to a blender. Then add the ice cream and cream cheese and finally the milk. Mix for about one minute and then check the flavor. Add a little bit more milk or ice cream if you want to adjust the thickness.
Then drip some of the strawberry puré onto the insides of the glasses and then pour the rhubarb milkshake into glasses. Decorate with a few slices of fresh strawberries. Serve.
Rhubarb Compote
200g / 7oz fresh rhubarb
80g / 2,8oz water
80g / 2,8oz sugar
½ vanilla pod (optional)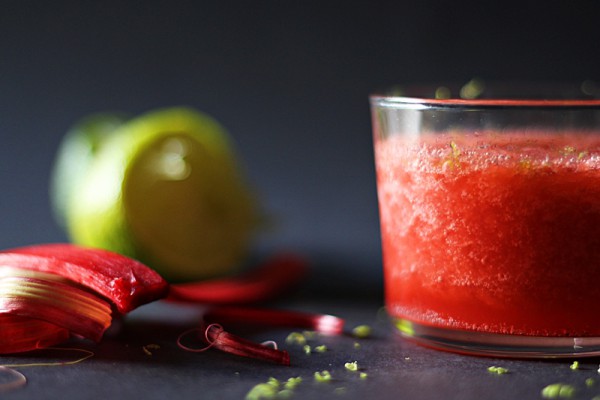 Clean and chop the rhubarb rough, put water, sugar, and rhubarb in a pan and bring to a boil. Split the vanilla pod in half and scrape out the seeds and add to the pan. Let the compote simmer for about ten minutes, check the taste and add more sugar if it is too acidic. Leave to cool.
2 parts rhubarb compote
1 part fresh lime juice
1 part white rum
a few pieces of ice
1 lime for grating
Combine all ingredients in a blender except for the whole lime, make sure not to use the vanilla pod from the rhubarb compote. Blend until smooth. Pour into a glass (or glasses) and grate the lime on top using a grater or Microplane. Serve straight away.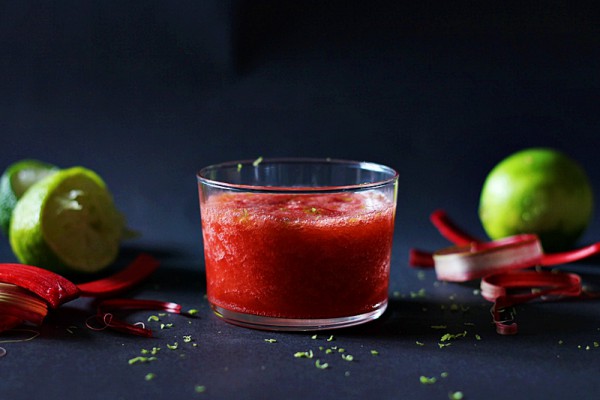 serves 4 as a snack or small appetizer
2 rhubarbs
100g / 3,5oz fresh blue cheese
3 tbsp cream
50 g / 1.75 oz sugar
50g / 1.75 oz water
16 pieces of crisp bread or salty crackers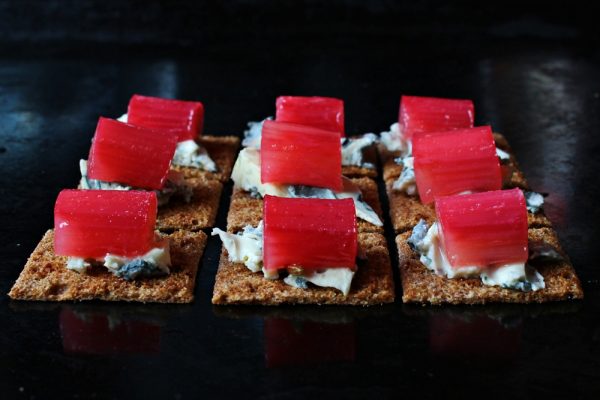 Peel the rhubarb if the skin is thick, then cut into 16 pieces. Combine sugar and water and bring to a boil in a pan. Add the rhubarb and slowly simmer for a few minutes. Remove and leave to cool.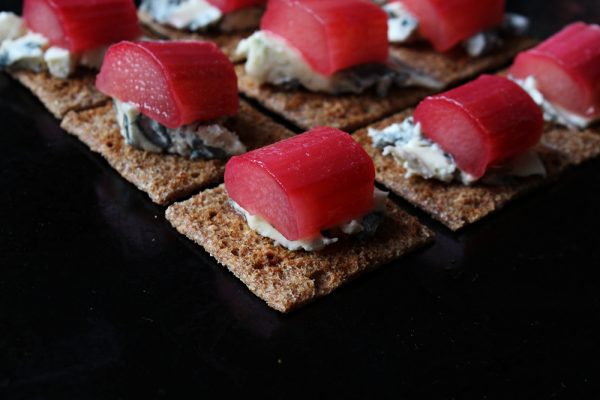 Mash the cheese with a fork and combine with the cream, this is to make the cheese softer and creamier. Spread the cheese on the crisp bread. Carefully lift out the rhubarb from the liquid and let any excess liquid drip off. Place the rhubarb on top of the cheese and serve.
Are you still craving that rhubarb pie? Don't worry, I've got a recipe for that here too.