Rhubarb Blue Cheese On Crisp Bread, That's it!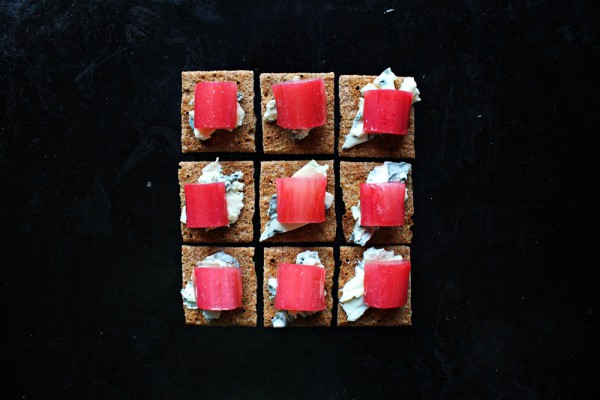 About as simple as it gets. Rhubarb, blue cheese on crisp bread, that's it! The sweet rhubarb pairs perfectly in this little snack that will help you use rhubarb in a new way and best of all, it's delicious.
It's super simple, just break some crispy bread, spread it with a soft blue cheese. Then put the rhubarb on top and serve. Rhubarb, blue cheese, and the crisp is a great combination. The flavors are actually pretty close to just having blue cheese with a jam or anything sweet. Like blue cheese and jam for example.
What I think is fun about this recipe is the fact that I'm using rhubarb, a vegetable more used in pies and desserts than for a savory snack. That's what makes it fun, the acidity from the rhubarb and the crips from the bread complete this and make this snack a more complex bite than you would expect. Now let's make rhubarb blue cheese on crisp bread.
Rhubarb Blue Cheese on Crisp Bread
serves 4 as a snack or small appetizer
2 rhubarbs
100g / 3,5oz fresh blue cheese
3 tbsp cream
50g / 1,75oz sugar
50g / 1,75oz water
16 pieces of crisp bread or salty crackers
Peel the rhubarb if the skin is thick, then cut into 16 pieces. Combine sugar and water and bring to a boil in a pan. Add the rhubarb and slowly simmer for a few minutes. Remove and leave to cool.
Mash the cheese with a fork and combine with the cream, this is to make the cheese softer and creamier. Spread the cheese on the crisp bread. Carefully lift out the rhubarb from the liquid and let any excess liquid drip off. Place the rhubarb on top of the cheese and serve.
If you want to learn more about rhubarb I have a huge post all about it here. 
In that post, you'll find more about the rhubarb in general but there are also a few great recipes with rhubarb. Pie, drinks and even some savory dishes. Enjoy and happy cooking!